Blue Jays Morning Brew: With 14 games remaining…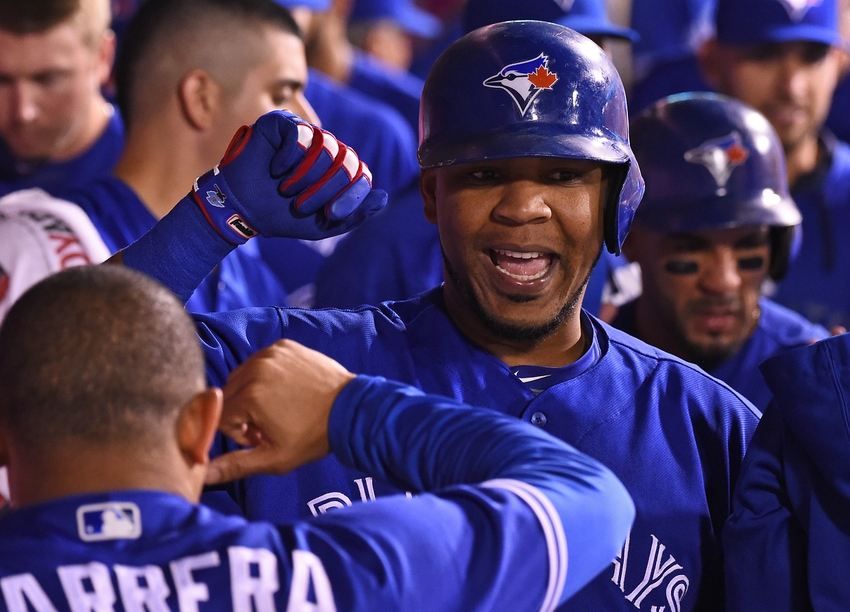 The Toronto Blue Jays sit 3.0 games back of the Boston Red Sox in the American League East with 14 games left to play
Saturday's loss to the Los Angeles Angels of Anaheim added another game to Boston's lead in the division, but the Blue Jays and Baltimore Orioles still hold a three-game lead over the Tigers, Astros, and Mariners in a crowded wild card race.
Following Sunday's finale in Los Angeles, the Blue Jays face those Mariners for a three-game set in Seattle. Until then, here are some stories that you may have missed from the past few days in baseball.
Encarnacion's pending free agency
Edwin Encarnacion could conceivably be just over two weeks away from the end of his career in Toronto, but he's certainly produced on the field in a year that many struggle. His 118 RBI already represent a career high, and with 40 home runs, his current best of 42 is well within sight.
"That's why I didn't want to negotiate during the season," he told Sportsnet's Shi Davidi earlier this weekend. "I just wanted to concentrate to help the team and make this team win and enjoy the season."
Odd man out in the starting rotation
R.A. Dickey could feel the squeeze when the Blue Jays decide to trim their starting rotation to five down the stretch, and as the veteran told Gregor Chisholm of MLB.com, he'll accept any role that the team needs.
"I know kind of where I stand right now, so any time I can contribute, I'm happy to do that," he said. "I think the thing that we all need to do, this is not a time for ego or hubris. If we want to make it far, we have to take that component out of it. So, when my number is called, I hope to contribute and thankfully today it ended up in a win."
Then again, given Dickey's lack of bullpen value, it's conceivable that Francisco Liriano makes the bullpen move as he profiles to be a more valuable reliever.
Estrada's back woes
In case you missed the most recent health update on Marco Estrada, Jon Morosi reported on Thursday that the Blue Jays' right-hander has been pitching with a herniated disc in his back. He hasn't looked like his usual self since mid-August and only lasted two and a third innings on September 9th versus the Red Sox, so this will be something to monitor down the stretch.
Mr. Irreplaceable?
For Sportsnet, Arden Zwelling wrote an excellent long-read on why Russell Martin is the Blue Jays most irreplaceable player. There are at least 23 reasons in here, including insight from his pitching staff, and imagining a playoff roster without Martin healthy should only further the argument.
ICYMI: Jays Nest Podcast Episode 90
Earlier this week, a new episode of the Jays Nest Podcast dropped where Shaun Doyle of Jays From the Couch talked Ben Cherington, Josh Donaldson, the playoff picture, and much more. I'll be back to bring down the team's average this week, with a new episode dropping on Wednesday morning.

The Jays' Nest Podcast- Talking Toronto Blue Jays – Jays Nest #90- Toronto Blue Jays' New VP, No MVP & More!

Serving up batting practice
Here's a fun one from CBC profiling Jesus Figueroa, who has been the Blue Jays' left-handed batting practice pitcher since 1989. Figueroa played one season for the Cubs in 1980.
This article originally appeared on