Best pitching duels of the day: July 20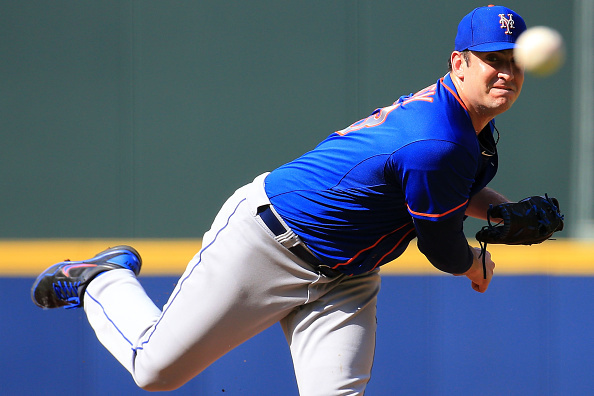 With just 11 games across today's MLB slate—including a doubleheader—it's a pretty lean field to select from, but we did our best to find good pitching matchups. Check 'em out:
Matt Harvey (NYM) vs. Gio Gonzalez (WAS)
7:00 p.m. ET, ESPN
This is still a really good matchup on a day where they're hard to come by. Harvey's great season is going to set a ridiculous new standard for what people expect from pitchers coming off Tommy John surgery. No, not necessarily pitching to a 3.00-ish ERA and a strikeout per inning, but essentially doing right around what they did before being injured. Harvey has proven to be a physical freak, with blips on the radar coming very infrequently over the 17 starts he's made. Something to watch: he's walked nine batters over his last two games, and it's worth wondering what kind of innings count he's on this year.
Gonzalez has been a bit erratic this year, as evidenced by his 1.44 WHIP and an ERA that didn't dip under his 4.00 until his last start. But even when he's right his game is about lots of strikeouts, lots of walks and lots of grounders. The strikeouts are down a bit—7.9 K/9 after 9.2 last year—but he's ratcheted the groundball rate up to a career-high 57.8 percent. In some ways he's like the good version of Ubaldo Jimenez. That's a pitcher with value, even if it's headache inducing at times.
Warm-Up Tosses
Today's "ace in isolation" is A.J. Burnett (opposed by Kansas City's Yordano Ventura). Burnett finds himself third on MLB's ERA list and in the same spot in the NL, as the senior circuit has the market cornered on that leaderboard. Zack Greinke and Max Scherzer—who battled on Sunday—are ahead of Burnett on that list, but our hero today can pass the National with a scoreless first inning. Burnett's jam this year has been grounders, a fair amount of strikeouts, and a good walk rate. That's not entirely different from his previous seasons of success, though he is doing it as a guy throwing 91 mph rather than 95 mph, and I think that's pretty special. I'm not sure many people would have believed a young Burnett would evolve past being a thrower, and into a very polished pitcher in his late 30s. Well, he may still have a little thrower in him, as he's using the fastball 65 percent of the time, his highest mark since 2010. Pittsburgh has certainly been good to him—both times.
Eduardo Rodriguez versus Hector Santiago in today's early game (5:05 p.m. ET) pits a pair of lefties that have probably been better than you're aware. Rodriguez was apparently tipping his pitches earlier in the season, and has apparently righted that issue with a solid three-start stretch. He's got a 2.08 ERA over that stretch, and opposing batters have hit just .234/.290/.359 as he's pitched the Red Sox to wins over Toronto, Houston, and New York. In short, that's sort of a who's who of AL contenders this season. As for Santiago, would you believe me if I told you he was in the top 10 of pitchers by ERA over the last calendar year? Believe it, as he's ninth with a 2.61 ERA. The next pitchers on the list: Johnny Cueto, Chris Sale, Gerrit Cole, Corey Kluber, Francisco Liriano, Jake Arrieta, and David Price. He's got some weird things going on. Santiago throws a ton of sinkers (55.6 percent), and has held opposing batters to a .194/.289/.321 line with it. But oddly enough, he's inducing grounders just 22.5 percent of the time on it. That could be a reason why his FIP and xFIP numbers are nearly two runs over his raw ERA over the last year. Even so, a year is a pretty long sampling, so maybe Santiago is able to evade peripherals a bit more than some guys are. It worked for Matt Cain for a long time.
Statistics courtesy of Baseball Reference, Brooks Baseball, and Fangraphs.
More from The Sports Post: