Atlanta Braves Were Right: McCann Not Worth Folty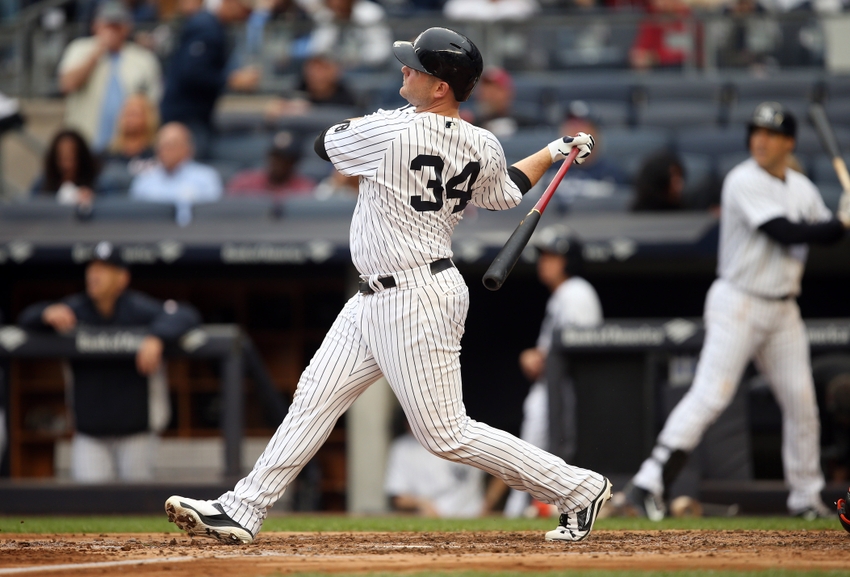 ESPN reports that the Atlanta Braves and New York Yankees were discussing Brian McCann during the 2016 season… until a certain name was requested from the Front Offices in the Bronx.
It's funny how time changes perspectives… and how inside knowledge plays a factor as well.
Just after the departure of former GM Frank Wren, Atlanta Braves' then GM John Hart – likely with the urging of former Yankee employee John Coppolella – once floated an enormous deal to the Yankees in response to their interest in Andrelton Simmons:
New York expressed interest in Heyward and shortstop Andrelton Simmons when they were with the Atlanta Braves in 2014, Heyman reports, and turned down a blockbuster that would have sent several top prospects to Atlanta.

The Braves floated a deal to the Yankees that would have sent Heyward, Simmons, [Melvin] Upton, RHP David Carpenter and 3B Chris Johnson to New York in exchange for RHP Luis Severino, OF Aaron Judge, catcher Gary Sanchez, RHP Ian Clarkin and RHP Manny Banuelos.
Subsequently, we understand that there were additional attempts to pry Sanchez away from New York – obviously to no avail.
After that, the Braves did complete these trades involving many of those same players noted above:
– Heyward to St. Louis for Shelby Miller and Tyrell Jenkins
– Evan Gattis to Houston for Mike Foltynewicz, Rio Ruiz, and Andrew Thurman
– Melvin Upton Jr.and Craig Kimbrel to San Diego for Cameron Maybin, Carlos Quentin, Matt Wisler, Jordan Paroubeck and the 41st draft pick for 2015, which became Austin Riley
– Andrelton Simmons to the Angels for Sean Newcomb, Chris Ellis, and Erick Aybar
– David Carpenter and Chasen Shreve were ultimately sent to New York for Manny Banuelos
Aside from illustrating how some trades work out better than others, let's now fast-forward about 20-ish months ahead to July 2016.  The Braves are talking with the Yankees again – this time about Brian McCann.
Both sides were right on their stance regarding Gary Sanchez, it seems: the Braves for their interest and the Yankees for their desire to keep him.  But now McCann represents excess baggage for the New Yorkers.  You might think that the situation might make for an amicable deal.
The New York Yankees and Atlanta Braves had trade discussions regarding catcher Brian McCann during the season, but the talks did not progress very far.

That could be because of the Yankees' fondness for Braves right-hander Mike Foltynewicz, George A. King III of the New York Post reports. King cites industry sources that suggest the Yankees' affinity for Foltynewicz in a possible deal "likely killed more serious talks."
I'll bet it did.
We also heard rumblings at the time that there might have been additional conditions demanded by New York – namely another significant prospect and the remaining terms on McCann's contract… even before his no-trade clause is negotiated.
Had this been 20 months prior, would the Braves or Yankees have have turned down a Foltynewicz-for-Sanchez deal then?  Would either side have turned that down after the Gattis deal had been made?
Yet in July 2016, Sanchez was nigh untouchable and Folty was starting to look like a frontliner in the rotation.  Just 20 months ago, both were on-the-cusp prospects.
So in the meantime, you have to wonder what is going on in Brian Cashman's mind when teams ask about Brian McCann's availability.
If this is his price of admission, it seems that Cashman believes that the 2008-2011 version of his catcher is in play.  Or maybe he is somehow trying to get Atlanta to bail him out of the contract he himself offered to McCann… while the Braves sat on the sidelines and let him hang himself by the wallet.
It's not that McCann has no trade value… but it's also not at the rarefied air level that the Yankees seem to expect.
Fortunately, Coppolella already knows all of this.
This article originally appeared on