Atlanta Braves Should Try To Sign Catcher Brayan Pena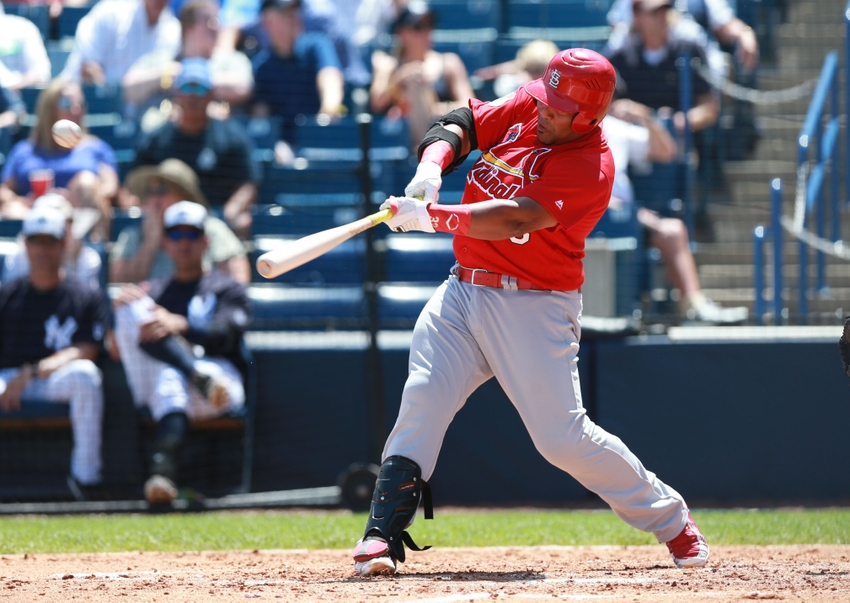 Pena Is Available, Braves Should Go After Him
The St. Louis Cardinals announced Monday afternoon that they granted veteran catcher Brayan Pena his unconditional release.  The Cards signed the 11-year veteran to a two-year, $5 million deal during the 2015 offseason, but only played in limited games in 2016.  Needing a backup catcher, will the Braves purse Pena?
St. Louis added Pena on November 30, 2015 to serve as the backup catcher to Yadier Molina.  Unfortunately for both parties, Pena went through lingering knee problems and only appeared in nine games in 2016.
Pena underwent knee surgery back in April and sat out the rest of the 2016 season.  Then on Monday, the news broke that the Cards have decided to go another route.
It's a tough situation for the team and Pena.  The fan base, I'm sure, was pretty excited to get a reliable catcher behind Molina and got nothing in return.
@Cardinals release catcher Brayan Pena.

— MLBRosterMoves (@MLBRosterMoves) November 28, 2016
Year in and year out, it's extremely difficult to find a solid backup catcher.  Pena is that guy.   He's always been backup and will continue to stay in that role.  Everything on paper says to me that he's the perfect combo for Tyler Flowers in Atlanta.
The 5'9″ 240 pound catcher is a switch hitter with already 12 years under his belt.
Does the name sound familiar to you?  It probably should…The Atlanta Braves signed him as an amateur free agent in 2000 and was with the Braves organization until 2008.  From 2005 to 2008, he played in Atlanta backing up Brian McCann for the majority of the years (Johnny Estrada in 2005).
In 2008, the Kansas City Royals picked Pena up off of waivers and he played there until 2012.  He played 2013 with the Detroit Tigers, but was released after the season.
Pena spent 2014 and 2015 with the Cincinnati Reds and this is where he enjoyed his best two seasons as a pro.  He appeared in 115 games in 2014 and 108 games in 2015 playing catcher and first base.
I've covered what happened to Pena in the 2016 season above.
Now, he's a free agent looking for work.  Braves have been searching for a backup catcher this offseason and haven't found success.
Currently the Braves have Flowers as the starting catcher, Anthony Recker as the backup catcher and recently signed Tuffy Gosewisch.  All three catchers are currently on the Braves 40-man roster.  All three hit right-handed.
The Framing Craze
The Braves have made it known that they are looking for a backup catcher who has a high skill set of pitch-framing.  They're not interested in signing just any old catcher who still doesn't have a job, General Manager John Coppolella and the Braves front office are looking for something specific and diving deep into stats.
If you missed Alan's article yesterday about pitch-framing and who's at the top of the list, check it out here…it's worth the read.
In Alan's post, he brought up the Stat Corner's chart about the catchers who got the strike calls.  If you go back through the years, Pena ranked really high from 2009 to 2014.  He dropped way off the map in 2015 for some reason and 2016 he was injured.
Pros for the Braves to Sign Pena
Switch hitter
Great clubhouse guy
Plays the game with a lot of energy
Veteran catcher
From 2009 to 2014, Pena graded as a "plus" framer
Career throw-out rate of 28 percent
Great MLB reputation with players around the league
Amazing to the fans
He can play first base (if Freddie Freeman needs a break and Sean Rodriguez is locked in at second)
He hits better against right-handed pitchers
Cons for the Braves to Sign Pena
Health…had lingering knee issues (but did have surgery)
Is Anthony Recker a safer play?
Getting older, but still only 34-years-old
Never caught a knuckleball pitcher
This article originally appeared on