Atlanta Braves News: The Morning Chop, Freddie Freeman and Wife Chelsea Have Their First Child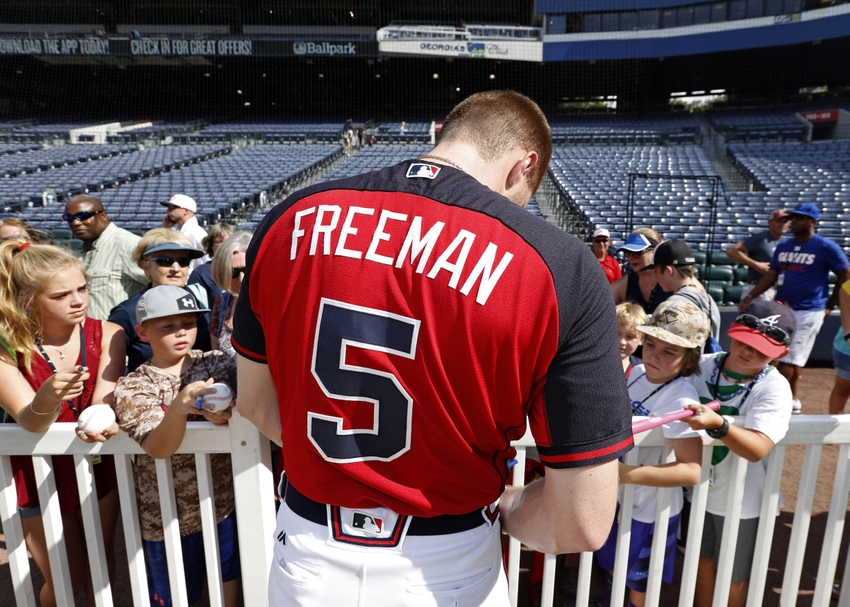 Generals capture Southern League Championship
Tomahawk Take Editor's Note: What a great season the Mississippi Braves had.  They went 39-30 in the second half of the Double-A season and 34-35 in the first half.  The MBraves had so many top prospects playing for them this season, it must have been great to go out to their ball games this season.  Unfortunately we also saw the injury happen to top prospect Ozzie Albies, but we also saw so many great things throughout the season.  These names are the faces of the Atlanta Braves in the future.  After watching this season, you should be excited, very excited!
The Jackson Generals defeated the Mississippi Braves 11-3 Thursday night at Trustmark Park, completing the sweep to clinch the 2016 Southern League Championship.

For the Generals, Paul Blackburn (1-0) picked up the win, holding the M-Braves to three earned runs on 11 hits. Brandon Sisk and Matt Anderson tossed the final three frames to close out the game. Offensively, Tyler O'Neill led the club with a 3-for-6 night at the plate. Four other Generals added two hits apiece.

Patrick Weigel (1-1) started but exited with two outs in the first. He surrendered four earned runs on one hit, five walks and one strikeout. Chad Sobotka came on in relief and tossed 2.1 innings. He surrendered one hit and a walk while fanning three.
Braves' outfield situation could be interesting this winter
Tomahawk Take Editor's Note: This will be easily the most talked about topic this offseason — what will the Braves do with their three outfield spots in 2017?  Many feel as though Nick Markakis will be dealt this offseason, but is that the best idea to win ball games?  He's lost a step or two in the outfield and probably shouldn't be playing right field anymore, but the guy can still hit consistently.  Braves General Manager John Coppolella spoke briefly about this topic in his latest TweetUp, but obviously gave no hints on what they plan on doing.  Another fun winter is right around the corner for the Atlanta Braves!
In what will be another busy offseason for the Braves, one interesting situation will be the outfield, where a healthy Mallex Smith gives the team four pieces to fit into three holes.

The 30-something veterans currently filling two of those spots — right fielder Nick Markakis and left fielder Matt Kemp — are finishing strong seasons and playing every day. Markakis was tied for the National League lead in games played before Thursday and Kemp has started 40 and played in all 41 games since coming over via trade from San Diego.

Center fielder Ender Inciarte has been the second-best player on the team behind Freddie Freeman, asserting himself as a leadoff hitter — .307 average and .368 OBP in 62 games in that role — and playing such stellar defense that interim manager Brian Snitker says, "If Ender doesn't win a Gold Glove, there's something wrong"
Twitter
Tomahawk Take Editor's Note: The Freeman's had their first child! Baby Free arrived to the world yesterday. Perfect planning by either the Freeman's or the Braves to have an off day on that same day. I'm guessing we won't see Freddie for a few days as he spends time with his new born and his wife.
Congrats to the Freeman's on their first born child!

— Aaron Blair (@A_Blair19) September 16, 2016
Our first picture as a family of three!!! 24+ hours of active labor, epidural at 8-9cm dilated… https://t.co/85uF6FES1z

— Chelsea Freeman (@chelseafree5) September 16, 2016
Truly blessed! Thank you everyone for all your kind words! Mama and baby doing great! https://t.co/8U7FzPL9Ft

— Freddie Freeman (@FreddieFreeman5) September 16, 2016
This article originally appeared on