Atlanta Braves News: The Morning Chop, Braves Add Depth To Roster, Stephen Vogt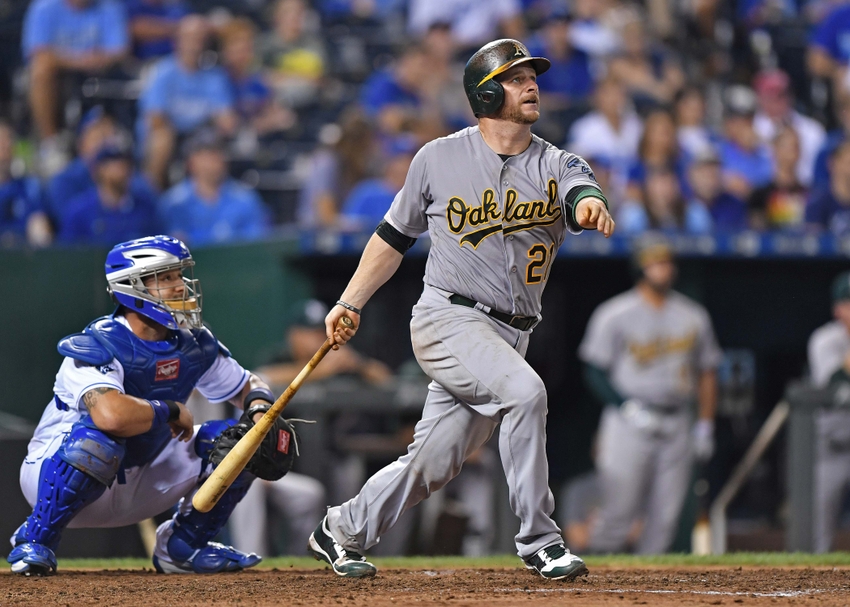 Tomahawk Take Editor's Note: Atlanta Braves add depth to their minor league system as we signed Balbino Fuenmayor to a minor league contract.  Guess what?  It's his birthday today!  The 27-year-old has played at the AAA level the past two seasons.  He's hit for high average and many homers until 2016.  He still hit .291 at the plate, but only recorded six home runs for the season.  The big framed 6'3″, 230 pound first baseman/third baseman will most likely go to Gwinnett and play first. In 2015, G-Braves used a combination of seven players at first — Barrett Kleinknecht, Jordan Lennerton, Sean Kazmar and Joey Terdoslavich played the most time there in 2016.  Fuenmayor will provide a more stable asset at first.
First baseman Balbino Fuenmayor has signed on with the Braves on a minor league deal, his agents at True Gravity tweeted.

The former Blue Jays and Royals farmhand, who'll turn 27 tomorrow, didn't quite repeat his impressive 2015 season, in which he hit a robust .358/.384/.589 with 17 home runs over 378 plate appearances in the upper minors.

Taking his first full-season crack at Triple-A, Fuenmayor managed a much more pedestrian .291/.325/.405 output with just a half-dozen dingers in 381 trips to the plate. He continued to post rather drastic platoon splits, and this time around posted a middling .626 OPS against righties. Fuenmayor is still looking for his first chance at major league action.
Cobb buying buses for new transit routes
Tomahawk Take Editor's Note: Everyone wants to know how they'll be getting to the new ball park in 2017 and probably won't know exactly until the time comes.  Cobb county has helped this situation by adding two new public transit routes to help fans get to watch the Braves in 2017!  Public transportation is great and hopefully it's a little better then it was getting to Turner Field.  There's got to be, but I haven't seen any proposals yet, some areas to park and tailgate.  Tailgating is huge in the south so we've got to have a place to do so!
Cobb commissioners took steps toward implementing two new public transit routes at their meeting this Tuesday, one of which would provide express service from Kennesaw to Atlanta and another aimed toward local travel in Cumberland.

Commissioners voted 5-0 to secure funding from the state to purchase 12 new buses for its proposed Route 10X. Jim Wilgus, Cobb's transportation director, said one of the goals of the new route is to reduce traffic on Cobb Parkway.

"Everybody's been asking for more transit," Wilgus said. "(Route 10X) is a limited-stop service from (the) Kennesaw/Town Center area down to midtown (Atlanta)."
Tomahawk Take Editor's Note: I'm going to have to agree with DOB on this one and hope that the Braves don't trade for 32-year-old catcher Stephen Vogt.  The Oakland A's catcher has made two straight AL All-Star games.  Vogt is known for having a solid bat from the left side, but is batting average dipped to .251 at the end of 2016.  Vogt is always known for not being a great defensive catcher — as you'll see below Baseball Prospectus is ranked near the bottom in both framing and blocking last year.  Braves will be better off staying with Tyler Flowers and Anthony Recker for another year if it comes down to Vogt. You won't get that lefty, righty combo, but who needs that with a catcher? 
With the Braves looking for catching, the Athletics' Stephen Vogt makes some sense as a trade target but David O'Brien of the Atlanta Journal-Constitution (Twitter links) isn't sure about a fit.

The Braves prioritize game-calling and framing behind the plate, which is why they were pursuing Jason Castro before he signed with the Twins.

Baseball Prospectus ranked Vogt near the bottom of the league in terms of both framing and blocking runs last season, so O'Brien isn't sure Atlanta would offer much for Vogt despite his solid bat.
This article originally appeared on