Atlanta Braves Minor League Season Review: Mississippi Braves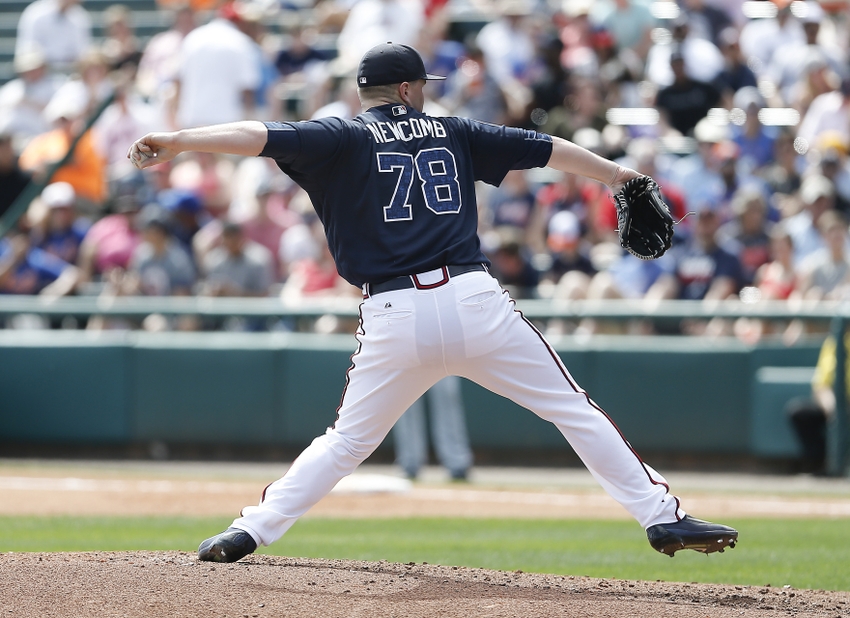 Atlanta Braves Minor League Season Review: Mississippi Braves
The Mississippi Braves were one of the Atlanta Braves affiliates that reached their league championships, but they ended up being swept by an incredibly strong Jackson team (Seattle Mariners affiliate) 3-0 in the championship game. The team saw a ton of guys come through Pearl this year, but this was often discussed as the most talented roster in the entire Atlanta Braves system. Their final record was 73-65.
Stat Leaders (no AB/IP limits on rate categories)
BA: Mallex Smith .438, Ozzie Albies .321, Sean Godfrey .304, Dustin Peterson .282, Willians Astudillo .267
OBP: Mallex Smith .550, Ozzie Albies .391, Dustin Peterson .343, Dansby Swanson .342, Carlos Franco .339
SLG: Mallex Smith .563, Sean Godfrey .478, Ozzie Albies .467, Dustin Peterson .431, Connor Lien .408
2B: Dustin Peterson 38, Johan Camargo 26, Ozzie Albies 22, Jake Schrader 18, Carlos Franco 14
3B: Ozzie Albies and Connor Lien 7, Johan Camargo 6, Dansby Swanson 5, Matt Lipka 4
HR: Dustin Peterson and Jake Schrader 12, Dansby Swanson 8, Connor Lien 6, Levi Hyams 5
R: Dustin Peterson 65, Ozzie Albies 56, Dansby Swanson 54, Johan Camargo 46, Jake Schrader 38
RBI: Dustin Peterson 88, Carlos Franco 53, Dansby Swanson 45, Johan Camargo 43, Jake Schrader 38
SB: Ozzie Albies 21, Matt Lipka 13, Connor Lien 12, Dansby Swanson 6, Dustin Peterson and Stephen Gaylor 4
G: Steve Kent 41, Jason Hursh and Madison Younginer 35, Jed Bradley 32, Sean Newcomb and David Peterson 27
IP: Sean Newcomb 140, Rob Whalen 101.1, Lucas Sims 91, Jed Bradley 89.2, Chris Ellis 78.2
W: Chris Ellis and Sean Newcomb 8, Jed Bradley and Rob Whalen 7, Evan Phillips 6
SV: Madison Younginer 14, David Peterson 7, Mauricio Cabrera 4, Jason Hursh and Stephen Janas 3
K: Sean Newcomb 152, Lucas Sims 101, Rob Whalen 94, Jed Bradley 89, Chris Ellis and Steve Kent 61
ERA: Jordy Lara, Trevor Belicek, Chad Sobotka, and Wes Parsons 0.00, Brandon Cunniff 0.71
WHIP: Jordy Lara and Chad Sobotka 0.00, Matt Marksberry 0.58, Hunter Cervenka and Wes Parsons 0.75
K/BB: Chad Sobotka, Jordy Lara, and Trevor Belicek Infinity (dividing by 0), Stephen Janas 6.25, A.J. Minter 5.17
K/9: A.J. Minter 14.95, Bradley Roney 13.30, Akeel Morris 12.62, Evan Phillips 11.27, Madison Younginer and Lucas Sims 9.99
Ben's Award Winners
Player of the Year – In a theme for both selections, I'm going to go with the guy who was the excellent performer for the entirety of the season rather than the guy who shined brightest in his short time with the team. On this award, Ozzie Albies was absolutely incredible in a little over half of a season with Mississippi, but Dustin Peterson was a consistent presence in the lineup all season long, providing power (and legit power if you know the power suck that is the Mississippi stadium!) with 52 extra base hits, elite defense, the ability to take a walk, and very good athleticism overall. He was doing all of this in Carolina in 2015 before the bus crash, and it seemed a nagging injury the rest of the year kept him from showing that talent level. Now he's turned a ton of heads, including those in the front office as they're talking quite a bit about him for future outfield plans.
Pitcher of the Year – He'll be discussed heavily when the organization pitcher of the year comes up later this week, but Robert Whalen simply was at Mississippi for just over half the season while the guy I'm going to choose, Sean Newcomb, pitched the entire season with Mississippi, throwing better and better as the season went on. Newcomb is one of the guys in the system with the upside of a true major league ace, and the team was working with him to work in the low part of the zone with his incredible fastball and change and then using his excellent breaking stuff to finish off hitters rather than as primary pitches. He flashed simply dominant stuff throughout the season and certainly was the team's ace going into the playoffs. Newcomb led the team in wins, innings, and strikeouts.
Guys To Watch
With Atlanta Braves Coming to Town, D-Backs Disastrous Season Comes into Focus
Ozzie Albies, 2B, .321/.391/.467, 33 XBH, 21 SB, 33/57 BB/K, 330 AB – Albies was incredible before heading to Gwinnett. He hit well in his return to work alongside Swanson, though not quite to the same level he was before his promotion. The broken elbow in the playoff game puts his 2017 in question, not that he'll play at all, but how his season will break down. The team talks optimistic that he'll be ready immediately for spring training, but I'll believe that when I see it based on history of the injury. His overall line for the season between AA/AAA was .292/.358/.420 with 33 doubles, 10 triples, 6 HR, 30 SB, 52/96 BB/K over 552 AB.
Willians Astudillo, C, .267/.293/.332, 4 HR, 5/11 BB/K, 322 AB – Astudillo was a peculiar guy coming into the season due to his long streak of not striking out. He doesn't strike out or walk very often, and he doesn't have a ton of power, but he does offer solid contact ability. What surprised many with Astudillo was his ability to handle pitchers behind the plate, ranking as one of the best pitch framers in all of minor league baseball by Baseball Prospectus this season. He's a minor league free agent after the season, and it will be interesting to see if the team brings him back.
Mauricio Cabrera, RHP, 25 G, 33 2/3 IP, 3.21 ERA, 1.25 WHIP, 22/35 BB/K – Moved straight from Mississippi to the big club, and he'll use up his rookie eligibility this season. I'm still not sold on his future based on what I've seen out of him and his sling motion on his pitches allowing guys to get a long, long look at pitches. Right now, he's had almost 90% of hitters face him only one time in the big leagues so far. As that changes going into 2017, I worry he'll start getting hit hard.
Johan Camargo, IF, .267/.304/.379, 36 XBH, 24/82 BB/K, 446 AB – Camargo was asked to go to the Arizona Fall League last season and work on his ability to be a defensive-focused utility guy, and he showed his ability to handle multiple positions around the dirt this year. He also flashed a lot more offensively than he had to this year, which is good timing as he will be eligible for rule 5 this offseason and the Braves will have to decide if they add him to the 40-man roster.
Keith Curcio, OF, .271/.352/.389, 8 triples, 24 SB, 54/64 BB/K, 458 AB – Curcio was the Braves' 6th round selection in 2014, and he's shown to be a very valuable piece wherever he's at. Curcio was promoted after the regular season to Mississippi for their playoff run, so the numbers you see are his numbers for Carolina. Curcio is a very underrated player who may never be a major league star, but he has a lot of defensive flexibility (and excellence) along with solid balance of offensive skills with gap power and speed along with a good eye and contact skills.
Caleb Dirks, RHP, 21 G, 29 2/3 IP, 0.91 ERA, 0.98 WHIP, 11/32 BB/K – The Braves originally drafted Dirks in 2014 before trading him last summer for international free agent slot money. They got him back this summer as part of the Bud Norris, and he was absolutely lights out for Mississippi upon being acquired. I'll have a scouting report on Dirks coming out Friday, so look for that! His overall line with his time in the Dodgers' AA affiliate and Mississippi was 49 G, 61 IP, 1.18 ERA, 1.00 WHIP, 18/67 BB/K.
Carlos Franco, 3B, .255/.339/.330, 4 HR, 53/134 BB/K, 424 AB – Franco was a minor league free agent last year after a solid 2015. He was not as solid in 2016 for sure, either at the plate or at third base, however, he turned things up in the playoffs and really hit well in the middle of the lineup during the playoff run.
Stephen Gaylor, OF, .250/.289/.287, 18 SB, 32/66 BB/K, 302 AB – Gaylor's a pure speed guy who was also known for his high-end defense, but he was underwhelming defensively in 2016. Already 24, he's likely not going to make it at the big league level, but he's a Rome, Georgia native, so he'll be a good org guy to keep as a 4th outfielder in the upper minors as long as he's willing to chase the dream.
Kyle Kinman, LHP, 13 G, 14 2/3 IP, 3.07 ERA, 9/15 BB/K – Kinman had flashed simply incredible stuff out of the bullpen (especially for a smaller guy) since being drafted, and he was on the way to another great season this year before injury. Kinman has electric stuff from the left side, if a bit wild with it. Hopefully he'll be back 100% in 2017!
Taylor Lewis, RHP, 9 G, 13 IP, 2.08 ERA, 1.15 WHIP, 2/9 BB/K – Lewis was the one college arm that the Braves drafted in 2015 from the 4th to the 10th round that they intended all along to keep in the bullpen. He worked his way up to Rome last season, but this year, he jumped all the way up to Mississippi, flashing incredible strikeout stuff along the way. Overall on the season, his line was 41 G, 66 IP, 2.05 ERA, 1.18 WHIP, 14/63 BB/K.
Connor Lien, OF, .233/.320/.408, 7 triples, 6 HR, 12 SB, 23/85 BB/K, 223 AB – In the first game of the season, Lien went down with an injury, and he wasn't activated again until late June. He never really was 100% on the season, which makes his numbers all the more impressive in review. Lien resembles an outside linebacker roaming the outfield, but he has incredible raw athleticism that allows him to be in the argument for the best defensive outfielder in the entire system, and certainly at the top of the list of the best arm in the system. Lien has a great combination of power and speed that still needs refinement, but he continues to get bit by the injury bug.
Michael Mader, LHP, 5 G, 30 IP, 2.40 ERA, 1.10 WHIP, 6/26 BB/K – The Braves picked up Mader in their trade with the Marlins that sent Hunter Cervenka to Miami. He was promoted from the high-A Florida State League to Mississippi, and he sure looked like he belonged at the advanced level. Mader is not a guy with overwhelming raw stuff, so he'll need to be sharp in his command and control to be successful. He'll likely start 2017 back in Mississippi with the quick track to Gwinnett.
Joey Meneses, OF/1B, .234/.289/.329, 2 HR, 15/40 BB/K, 222 AB – The Braves signed Meneses out of Mexico, and while he's known as a pitcher in his home country (the primary starter on their last WBC team), he has worked as a hitter in the Braves system. He had a break through season with Carolina this year, earning the promotion to Mississippi, where he was moved to the outfield, and the combination of learning a new position and adjusting to high-minors pitching was a bad combo for Meneses. However, he really picked up his game in mid-August, seemingly about the time Swanson was promoted to Atlanta, and he was the best bat in Mississippi's championship series. He's got the arm to handle right field, but he showed very good defense at first as well. His overall numbers between both levels were .290/.348/.413, 28 doubles, 7 HR, 38/78 BB/K, 465 AB.
A.J. Minter, LHP, 18 G, 18 2/3 IP, 2.41 ERA, 1.02 WHIP, 6/31 BB/K – The crazy thing is that the 2.41 ERA seems incredibly high when you realize how dominant Minter actually was all season long. He came to Mississippi not having allowed a run on the season in 13 appearances, and he only had two appearances for Mississippi where he actually allowed a run. Add in the playoffs, and he made 34 appearances on the season, and he did not allow the opposition to score in 32 of them! Overall on the season, he had 31 G, 34 2/3 IP, 1.30 ERA, 0.84 WHIP, 11/47 BB/K.
Dylan Moore, IF, .343/.415/.457, 4 doubles, 4/6 BB/K, 35 AB – Moore was acquired from Texas in the three-team deal that sent Jeff Francoeur to Miami. Moore was a senior sign player out of Central Florida in 2015 drafted in the 7th round, and he's been a tremendous player ever since. The numbers you see are his numbers with Carolina as he was promoted just for the playoffs with Mississippi, so he had no regular season numbers. His crazy numbers combined among low-A and high-A with the Rangers and high-A with the Braves were .269/.379/.441, 14 HR, 42 SB, 63/95 BB/K, 449 AB.
Akeel Morris, RHP, 25 G, 35 2/3 IP, 2.27 ERA, 1.35 WHIP, 21/50 BB/K – In the annual "steal a Mets pitching prospect" trade involving Kelly Johnson, Morris was the acquisition this year. He came over to Mississippi and was absolutely lights out out of the bullpen. He'll be getting a long look next spring for sure for the big league bullpen. Combined between the Mets AA club and Braves', Morris had 47 G, 61 IP, 3.25 ERA, 1.36 WHIP, 37/86 BB/K.
Sean Newcomb, LHP, 27 G, 140 IP, 3.86 ERA, 1.31 WHIP, 71/152 BB/K – See Pitcher of the Year write-up.
Joseph Odom, C, .259/.294/.333, 7 doubles, 7/27 BB/K, 135 AB – Odom worked on his swing in the Arizona Fall League without much success there, but he saw the results in Carolina this year, earning a quick promotion to Mississippi, though the three-headed monster at Mississippi really made it difficult to get in rhythm as a hitter. Odom has a high defensive pedigree and solid power behind the plate and could be a guy that shows up in Atlanta in 2017. His combined numbers were .278/.327/.431 with 9 home runs and 22/67 BB/K over 327 AB.
Michael O'Neal, LHP, 2 G, 5 IP, 1.80 ERA, 0.80 WHIP, 2/1 BB/K – O'Neal pitched most of his season for Carolina, but he had a nice showing in his limited time for Mississippi. O'Neal is not a young guy at 24 already, but after being signed out of independent ball this season, O'Neal made a solid showing, especially against lefties. He could work as a future LOOGY, but as an independent league guy, the team doesn't have a ton of investment in him, so he may not be back in 2017.
Dustin Peterson, OF, .282/.343/.431, 38 doubles, 12 HR, 45/100 BB/K, 524 AB – See Player of the Year Write-Up.
Philip Pfeifer, LHP, 11 G, 10 1/3 IP, 4.35 ERA, 1.45 WHIP, 6/8 BB/K – Pfeifer facilitated his forging to Mississippi's bullpen after his fortuitous procurement by the Braves from the Dodgers. Future function for the franchise is figuring reappearance in the AA foray. Full season figures: 34 G, 47 2/3 IP, 3.02 ERA, 1.32 WHIP, 28/60 BB/K.
Evan Phillips, RHP, 22 G, 34 1/3 IP, 4.46 ERA, 1.43 WHIP, 16/43 BB/K – Big, heavy fastball and slider combo seemingly went hard after grounders in lieu of strikeouts in Carolina before being promoted to Mississippi. It seemed as if he became more erratic with his command as he allowed himself to cut loose and go for strikeouts upon reaching AA. Total stats on the year: 43 G, 62 2/3 IP, 3.02 ERA, 1.20 WHIP, 24/62 BB/K.
Max Povse, RHP, 11 G, 70 2/3 IP, 2.93 ERA, 1.03 WHIP, 12/48 BB/K – Povse started out April on an absolute roll, and many fans remembered that in spite of struggles in the middle of the season for Povse in Carolina, but he ended up getting the promotion to Mississippi when their rotation needed reinforcements. His height will always have his next time of struggling around the corner as he struggles tremendously with location when his motion is even a little off. His style is not as a strikeout pitcher, more a guy who will get a lot of ground balls and hope for his defense to take care of him, but Povse does stay around the zone in general, even when he's off his mark, which hurts him as he leaves the ball in the zone in bad spots for hitters to hit hard. Overall numbers: 26 G, 158 IP, 3.36 ERA, 1.13 WHIP, 29/139 BB/K.
Jake Schrader, 1B, .232/.294/.390, 12 HR, 28/113 BB/K, 341 AB – Schrader could not stay healthy through the season, but when he was healthy, his big right swing made very solid contact when he did make contact. Schrader is really not going to hit for good average, but he can drive the ball, and guys like Schrader are frequently the types of guys you see have a spike at 27-28 and have 2-3 years in the bigs as a platoon 1B sort of guy.
Kade Scivicque, C, .182/.182/.182, 0/3 BB/K, 11 AB – Scivicque was promoted at the very end of the season, so he did not get much time with Mississippi in the regular season, but he was tremendous in the playoffs for the M-Braves. He was acquired in August from Detroit from Erick Aybar, and the LSU product showed much better bat and glove in the playoff games I saw him than what I had viewed of him when he was acquired. Will be at the Arizona Fall League this year. Total line on the season: .273/.317/.362, 6 HR, 25/91 BB/K, 458 AB.
Lucas Sims, RHP, 17 G, 91 IP, 2.67 ERA, 1.31 WHIP, 55/101 BB/K – Sims started off fast with Mississippi, and when he was promoted to Gwinnett in late April, he was leading all of the minor leagues in strikeouts, but his time in Gwinnett did not go so well. He lost his location and looked injured for a lot of this time in AAA. He returned back to Mississippi and did have better results, but he still struggled with his location after coming back down, and that will be the determining factor for his future. Total stat line: 28 G, 141 IP, 4.40 ERA, 1.50 WHIP, 92/159 BB/K.
Mallex Smith, OF, .438/.550/.563, 3 SB, 4/5 BB/K, 16 AB – Smith started in Gwinnett, but when he did his recovery work before returning to Atlanta, he did it with Mississippi. He'll burn off his rookie eligibility this season, so this will be his last review. Smith hit very well with Mississippi for sure and sparked the top of the order, but his defensive routes don't look much better, making me worry he may a future left fielder due to his difficulty reading fly balls.
Chad Sobotka, RHP, 2 G, 2 IP, 0.00 ERA, 0.00 WHIP, 0/2 BB/K – After starting the season late due to injury, Sobotka made a successful transition to the bullpen, where his hard, sinking stuff from his tall (6'7) angle will be incredibly hard to read in short stints. He worked his way up three levels in 2016 as a reliever, and it would not surprise me at all if he works his way into the major league bullpen at some point of 2017. His total line was 30 G, 38 2/3 IP, 3.03 ERA, 1.29 WHIP, 15/45 BB/K.
Dansby Swanson, SS, .261/.342/.402, 8 HR, 6 SB, 35/71 BB/K, 333 AB – After a fast start, Swanson was promoted from Carolina, and he may not be rookie-eligible after the season. Regardless, he's not coming back to the minors again. Combined, Swanson put up .275/.362/.426, 25 2B, 5 3B, 9 HR, 13 SB, 50/84 BB/K, 411 AB.
Patrick Weigel, RHP, 3 G, 20 2/3 IP, 2.18 ERA, 0.82 WHIP, 8/17 BB/K – I selected Weigel as my pitcher of the year at the Rome level after he had a brilliant season there. Weigel was a guy drafted out of college with little experience starting. He has done nothing but start for the Braves and a lightly-regarded pair of breaking pitches have turned into weapons. The biggest concern for Weigel will be his command, and in the last start of the season in the playoffs, he had a poor location game, but he rarely had a game with 0 walks, and that will be something to continue working more toward in 2017. His combined line for 2016 was 25 G, 149 2/3 IP, 2.47 ERA, 1.04 WHIP, 55/152 BB/K.
This article originally appeared on