Atlanta Braves go long again in loss to Washington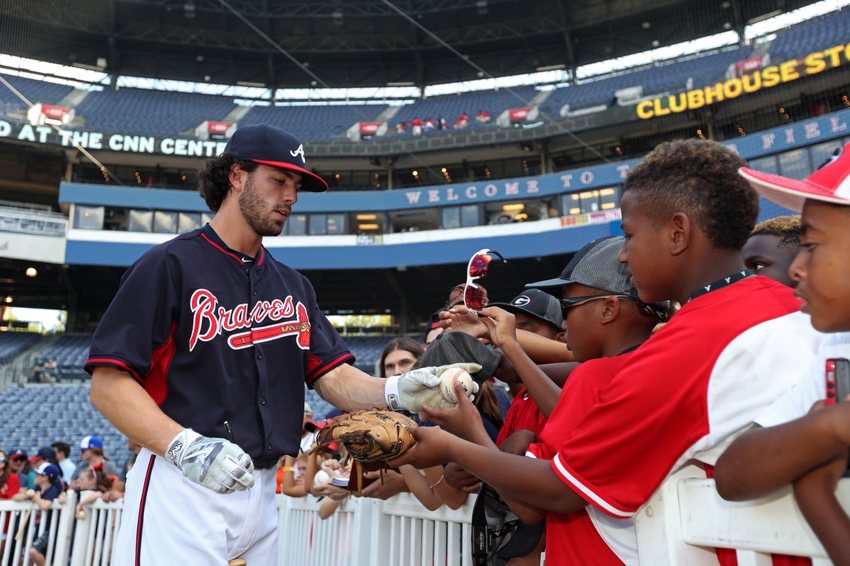 The Atlanta Braves go to extra innings–again–in loss to the Nationals.
I'm young enough to remember the Stephen Strasburg that was a national phenomenon and potential decade-long Atlanta Braves foil, not just a well above-average starting pitcher.
I take you back to 2008, when a lanky righty from San Diego State took America by storm because he could fling a baseball like no one else. I remember the silly goatee; the fawning ESPN pieces; the realization that the freaking Nationals, by virtue of being well and truly horrible, were going to make him the most obvious 1-1 since… A-Rod? Junior? The distance between the perception of Strasburg and the perception of the rest of his draft class was less a gap and more of a chasm. Take what we know now—that same draft would churn out Mike Trout, Nolan Arenado, Paul Goldschmidt and others—and I'm not sure the Nats wouldn't roll the dice on Strasburg again.
(That's a lie, they'd take Trout. But I bet they'd think about it for a second.)
He blew through the minors and debuted almost a year to the day after he was drafted. I watched him completely befuddle a hapless Pirates team in his first start—seven innings, 14 strikeouts—and thinking the rest of the NL East was in serious trouble.

4

5
I still think about that night every time I hear "Stephen Strasburg had to leave his start early tonight" on a late SportsCenter, and I thought about it again tonight when he stalked off the mound in the third inning, night over, after experiencing more discomfort in his first start following a DL stint for elbow discomfort. I won't waste a lot of my space lamenting an opponent injury in a game recap, but Strasburg has the stuff to be an all-timer and his body seems set against cooperating with him. That's sad, regardless of who you root for.
The night began promisingly–albeit late, with weather pushing the start back an hour–for Washington, with Strasburg striking out four of the seven Braves he faced and took an early lead thanks to a Jayson Werth single in the second—he scored Wilmer Difo, who beat out an infield single to second that was challenged and upheld by the men in blue.
Strasburg's departure brought on Sean Burnett for a couple of batters before Lucas Giolito took over, and the Braves were able to tag him for three runs over 3.1 innings, including Dansby Swanson's first career home run of the hit-it-a-long-way-and-job variety to lead off the seventh inning.
.@LieutenantDans7 decided to pick up his second career home run the old-fashioned way. #ChopOn pic.twitter.com/JStOgT5Dd1

— Atlanta Braves (@Braves) September 8, 2016
Adonis Garcia doubled home Swanson in the third inning for the Braves first run and then Tyler Flowers plated Freddie Freeman in the sixth on a ground out, although Danny Espinosa's diving stab up the middle kept the Braves from putting up a crooked number.
For the Braves on the hill, Mike Foltynewicz was sharp yet again for the Braves, scattering five hits and one earned over six innings while striking out eight. Folty hasn't allowed more than four earned runs since August 2 and has a 6-to-1 K/BB rate in his last four starts.
@ThePitcherList 95 MPH fastball with movement from Mike Foltynewicz pic.twitter.com/RG8Z6oVQGV

— Matthew Sanders (@mattds1993) September 8, 2016
Folty wouldn't factor into the decision, unfortunately, because as soon as he departed the wheels fell off for Atlanta. Chris Withrow loaded the bases without recording an out in the seventh before getting pulled and Ian Krol gave up a single to Daniel Flippin' Murphy to tie it up. Krol (strike out of Bryce Harper) and Mauricio Cabrera (Wilson Ramos flyout, Ryan Zimmerman strikeout) would get the Braves through the rest of the frame unscathed.
Tied this game would remain until Jace Peterson slapped a two-hopper past Anthony Rendon and brought home Nick Markakis to make it 4-3 in the 10th.
Jim Johnson was brought back out for the bottom of the 10th and after a solid ninth, he was unable to hold things down for Atlanta. Rendon's slow roller to third scored Espinosa, and although Johnson would induce a Trea Turner double play in the next AB, we would see another frame.
The best thing about the next frame was Ender Inciarte extending his hitting streak to 18 games. The worst thing was Jed Bradley issuing a leadoff walk to Werth, a double to Murphy (of course he did) and a free pass to Harper. Brandon Cunniff, called in to get the Braves out of this mess, did his best–which in this case meant giving up the game-winning hit to Ramos.
An off day awaits on Thursday before the Atlanta Braves pick up the thread of the schedule again with the opener of a three-game series against the Mets, Friday. John Gant and Robert Gsellman (???) will be the men on the mound for the 7:35 p.m. (ET) start.
This article originally appeared on