5 reasons Theo Epstein's the greatest GM in sports history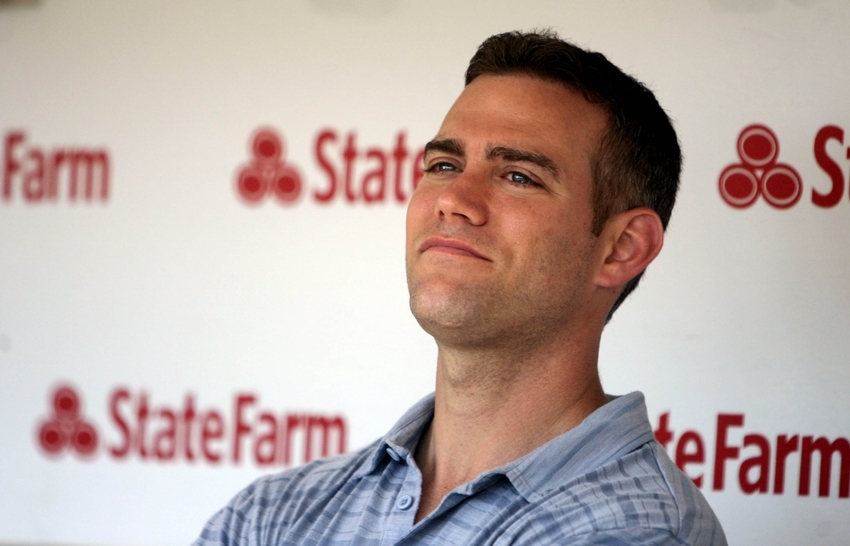 These are five reasons why Cubs GM Theo Epstein is the greatest general manager of all time.
You might remember Theo Epstein for being one of the youngest general managers ever when the Boston Red Sox introduced him in 2004. Before that, Epstein was an assistant for the Baltimore Orioles; he also worked in public relations for the San Diego Padres. Looking even further back, Epstein was completing a law degree at the prestigious Ivy League university, Yale.
Epstein would eventually transfer his talents to baseball. By employing the New York-born scholar, the Boston Red Sox took one big step closer to a World Series title. During Epstein's reign in Beantown, many of the star-studded cast members from the Red Sox — past and present — would join forces with Epstein. Then, in 2011, Epstein found a new calling, venturing to the Midwest to help out the North Side of Chicago.
Things didn't pan out well in his first three seasons with the Cubs. In his first season alone, as President of Baseball Operations, Epstein's Cubs recorded 101 losses. It wasn't until a few seasons later that a sudden beam of hope reflected off the Chicago River. The Cubs would make their first postseason appearance since 2008 when, in 2015, they made it to the NLCS. Unfortunately for the Cubbies and their fanbase, a World Series title would be delayed until 2016.
With the 2015 NLCS sweep by the Mets behind them, Epstein recharged his troops for the 2016 season. With the good graces of a young, power hungry team, the 2016 Cubs finished the season with an MLB-best 103 wins and a World Series title. There's no one else but Theo Epstein to thank for the transformation.
That said, here are five reasons why Theo Epstein is the greatest GM in sports history.
5. Theo's a good scout (player development > sabermetrics)
Though Epstein has demonstrated his love for numbers in the past, it's also worth noting he's been willing to sideline them for a better approach where necessary. Back when Epstein started with Boston, Bill James was appointed advisor to the organization. James' job was to gather statistical information to be used to his team's advantage. The dawn of baseball's new information age was, of course, made famous by Oakland GM Billy Beane, who resorted to stat tracking. This obsession was eventually transferred over to entertainment as Moneyball depicted Beane's story.
Epstein loved the ideas behind moneyball and harnessed them rather well, but they weren't the only factor in his scouting repertoire.
Epstein took an interest in the individual rather than what a scorecard had to say. In Epstein's eyes, a player's response to adversity was the biggest sign. If a baseball player — minor leaguer or seasoned pro — folded under pressure, then Epstein wanted very little to do with him. Conversely, if he respond positively and constructively to stress, then he caught Epstein's attention.
If you were to ask Epstein himself about sabermetrics 15 years ago, he wouldn't hesitate to show support for it. Fifteen years ago, though, stat tracking wasn't mainstream. The only organizations that used it knew where to look and what to look for. Now the numbers movement is relatively old news, Epstein wishes to focus more on player development. He's done just that with the Chicago Cubs current farm system.
With this management strategy in place, Epstein makes room for a flower bed of young talent. And "talent," according to Epstein's philosophy, is more than just having the best batting average. Talent requires a mental capacity that's defined and refined over time. With that, the ingredient of mature young players results in a recipe for success. Just look at how Epstein's handling one of MLB's youngest rosters.
4. Restructuring Boston: Major signings under Theo Epstein
Before the Theo Epstein era started in Boston, the Red Sox were fairly quiet in the postseason. In the decade from 1994-2004, the Red Sox witnessed only four postseason appearances (1995, 1998, 1999, 2003). In the first three instances, Boston was made a fool of, recording a postseason record of 2-10. That alone doesn't instill a whole lot of confidence in a team that averaged more than 80 wins per season during those four postseason trips.
Thankfully, Theo Epstein swooped into town like Superman. After all, a moment of singularity pushed the Red Sox to trash then-manager Grady Little. And that was one of the first items on Epstein's to-do list. Regardless of the Red Sox winning 93 games in 2002 and 95 games in 2003, they'd be shocked by their American League rivals, the New York Yankees in Game 7 of the ALCS.
Just as things got underway in 2004, Epstein would make his second move — an on-the-field personnel change that meant getting rid of SS Nomar Garciaparra in order to make room for Orlando Cabrera. As a first-year member of the Red Sox, Cabrera would conclude his season with a .294 average, in addition to a .465 slugging percentage. But that's just the tip of the iceberg for Epstein acquisitions.
The Boston Red Sox would also welcome in a transfer from the Minnesota Twins, DH David Ortiz. After spending a few years in Minnesota, Ortiz joined forces with Manny Ramirez and Epstein-purchased 1B Kevin Millar. Those three ball players would become key cogs for the team that'd win the 2004 World Series over the St. Louis Cardinals in four games.
Other notable additions to Epstein's squad included Dustin Pedroia (2006) and CF Jacoby Ellsbury (2007). Pedroia wouldn't have a decent year until 2008 (17 HR, 83 RBI, .326 BA), where he finished first place in the MVP voting. Ellsbury, on the other hand, would record a .353 batting average and three home runs in 127 plate appearances in 2007.
3. Epstein brings Francona to Boston, Maddon to Chicago
Probably Theo Epstein's most glorious maneuvers came in the coaching department. Even though Boston didn't hate the work of Grady Little, Epstein released him anyway. When Epstein found a full-time job in Chicago, the Cubs kept recycling their options at manager, so Epstein got tired of that and let Mike Quade, Dale Sveum and Rick Renteria go. With these two moves, Epstein wasted little time in repairing the clubhouse. The math was simple: if he wanted a championship, then he'll start by dumping managers.
First victim: Little. Sure, Little was praised by Red Sox President Larry Lucchino. All things have to come to an end, unfortunately. It was a coaching decision in Game 7 of the 2003 ALCS between the New York Yankees that sealed Little's fate. That decision concerned the use of Red Sox P Pedro Martinez, who was commanded by Little to stay on the mound in the eighth inning. Needless to say, that inning was more friendly towards the Yankees as they scored three runs to Boston's one.
To improve the reputation of baseball in Boston, Epstein went ahead with Terry Francona in 2004. Spending three years as the Philadelphia Phillies manager (1997-2000), Francona wasn't the answer for the Red Sox at first. During his time in Philly, Francona's highest win total was 77 (1999). It turns out, though, that all he needed was a four-year hiatus to get his bearings straight. So, in 2004, Francona auditioned for another skipper position, this time with the Boston Red Sox. Under Francona, Boston won two World Series titles (2004, 2007).
Second round of victims: Quade, Sveum and Renteria. Not much debate really comes out of Epstein's decision to relieve all three of these men of their managerial duties. During their 2011 season, the Cubs won only 71 games, while finishing 25 games behind the NL Central leaders under Mike Quade. Epstein would then sort through the bad excuses known as Sveum (2012-13) and Renteria (2014), before settling on Joe Maddon.
Simply put, the chemistry between Epstein and Maddon is exquisite. Since Maddon became manager in 2015, the Cubs have made it to the postseason twice, winning the World Series once. While it's nothing short of a coincidence that both Francona and Maddon were hired by Epstein, it goes without saying that both turned out very well.
2. Theo Epstein, M.D.: Redesigning Chicago's roster
Epstein's eye for talent is what sets him apart from other GMs. He showed that in Boston by introducing Dustin Pedroia and Jacoby Ellsbury, and he applied the same recruiting expertise to the Cubs.
Before Epstein set foot in Chicago, the Cubs were depleted and outdated. Veteran hitters like Alfonso Soriano and Derek Lee weren't able to carry the team, and while they had some talented young players in Darwin Barney and Starlin Castro, the Cubs were still prone to self-destruction.
The cosmetic surgery Epstein had to perform would take many procedures to finalize. Soriano and Lee eventually called it quits, while both Castro (Yankees) and Barney (Blue Jays) found new homes. As for pitching, the Cubs were also in a death spiral. The bullpen of 2011 (Epstein's first year) allowed more than two runs per 9 innings. Both wins leaders, Ryan Dempster (10) and Matt Garza (10), were fairly unimpressive that same year.
That said, Epstein figured it was time to seriously reinvent the team. He started his roster reconfiguration by bringing along Anthony Rizzo, who was selected by the Boston Red Sox in 2007. Epstein then traded Scott Feldman to the Baltimore Orioles in exchange for pitchers Pedro Strop and some guy named Jake Arrieta. Though his bullpen was full of MLB experience, Epstein continued sculpting his offense around young talent that hadn't yet played in the majors. But that didn't faze Epstein as he proceeded with his own itinerary. The most notable additions of the Epstein era are Kris Bryant, Kyle Schwarber, Jon Lester and Ben Zobrist.
It's a mixed bag of goodies for Theo Epstein. And since he's signed a five-year, $50 million extension in 2016, you can bet your next salary he's not finished in Wrigleyville.
1. Theo "The Curse Breaker" Epstein
Theo Epstein is a magician.
He lit up the faces of two baseball cities, both of which were in their own Dark Ages. Boston hadn't brought home a World Series title since 1918, so Theo Epstein remedied that in 2004 and again in 2007, since once wasn't enough. He did the same favor for the Chicago Cubs. It might have taken him longer, but his adjustments over the past two seasons paid off. And after 108 years, the North Siders can celebrate a World Series title in 2016.
During the 2004 postseason, the Francona-led Red Sox would make the Yankees believe in karma. After sweeping the Anaheim Angels 3-0 in the ALDS, the BoSox played the Boys in Pinstripes in a rematch of the 2003 ALCS. Unlike in 2003, the Red Sox won, inching four games closer to a World Series that'd be played between Boston and St. Louis. The heroes of that 2004 World Series were Pedro Martinez, Manny Ramirez and David Ortiz. In just his first season as a GM, then-28-year-old Epstein became a household name. It took 86 years and one Yale graduate to finally turn things around.
If you're not a believer or supporter of miracles, then Epstein's 2016 campaign with the Chicago Cubs will change your mind.
Everyone alike — insiders and outsiders, fans and rivals — glared differently at the 2016 Chicago Cubs. There was a different swing to their bats. Their deep pool of rookies were firing on all cylinders. The bromance between Kris Bryant and Anthony Rizzo was the best in baseball. Unsung heroes, like Dexter Fowler and Ben Zobrist, were constant features this season for the Cubs. Whether you marveled at them or not, the 2016 Cubs owe their success to Epstein. In fact, winning the World Series for the Cubs was such a big deal some are saying Epstein has already earned his place in Cooperstown.
This article originally appeared on