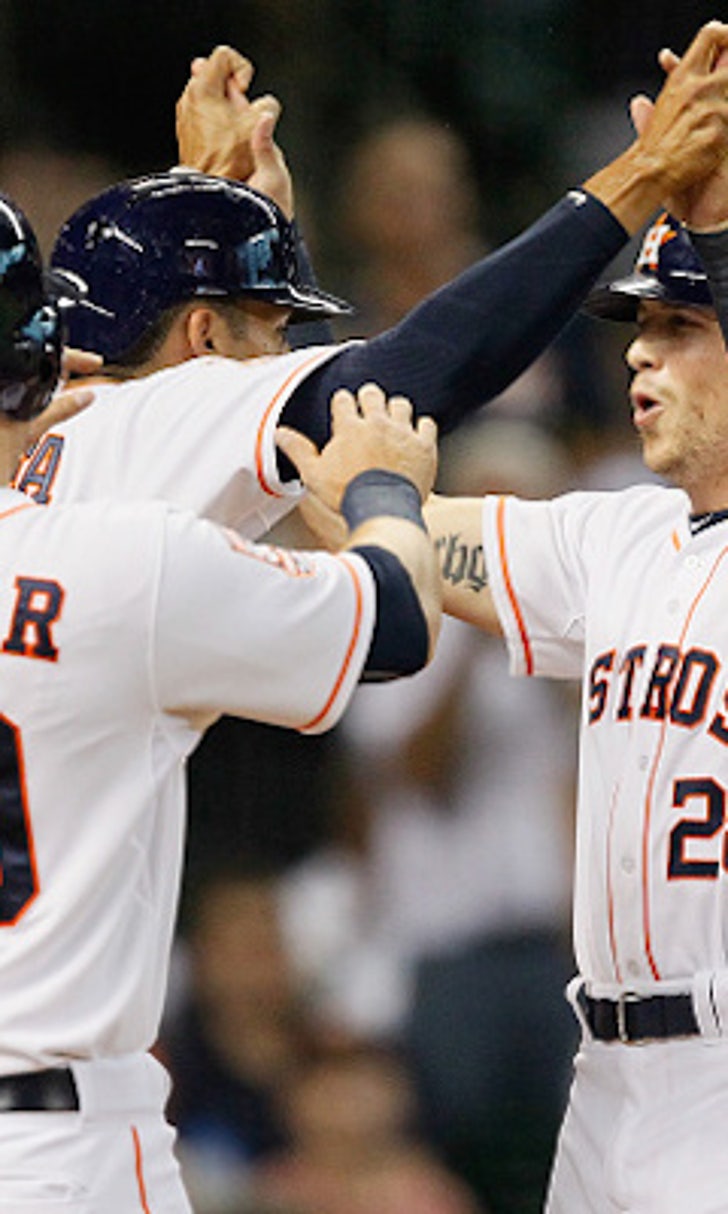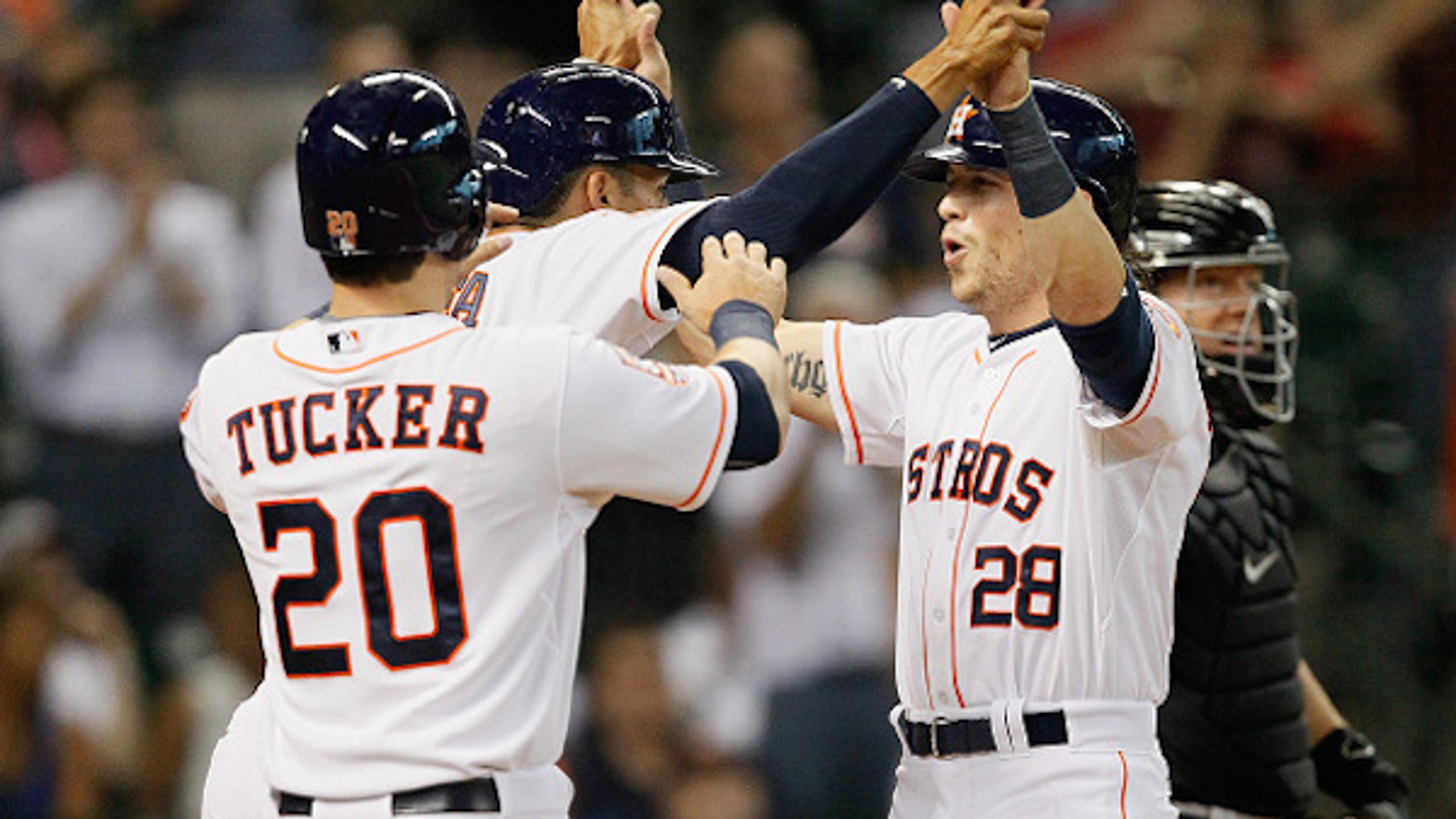 Why the Houston Astros can proceed with cautious optimism
BY foxsports • June 16, 2015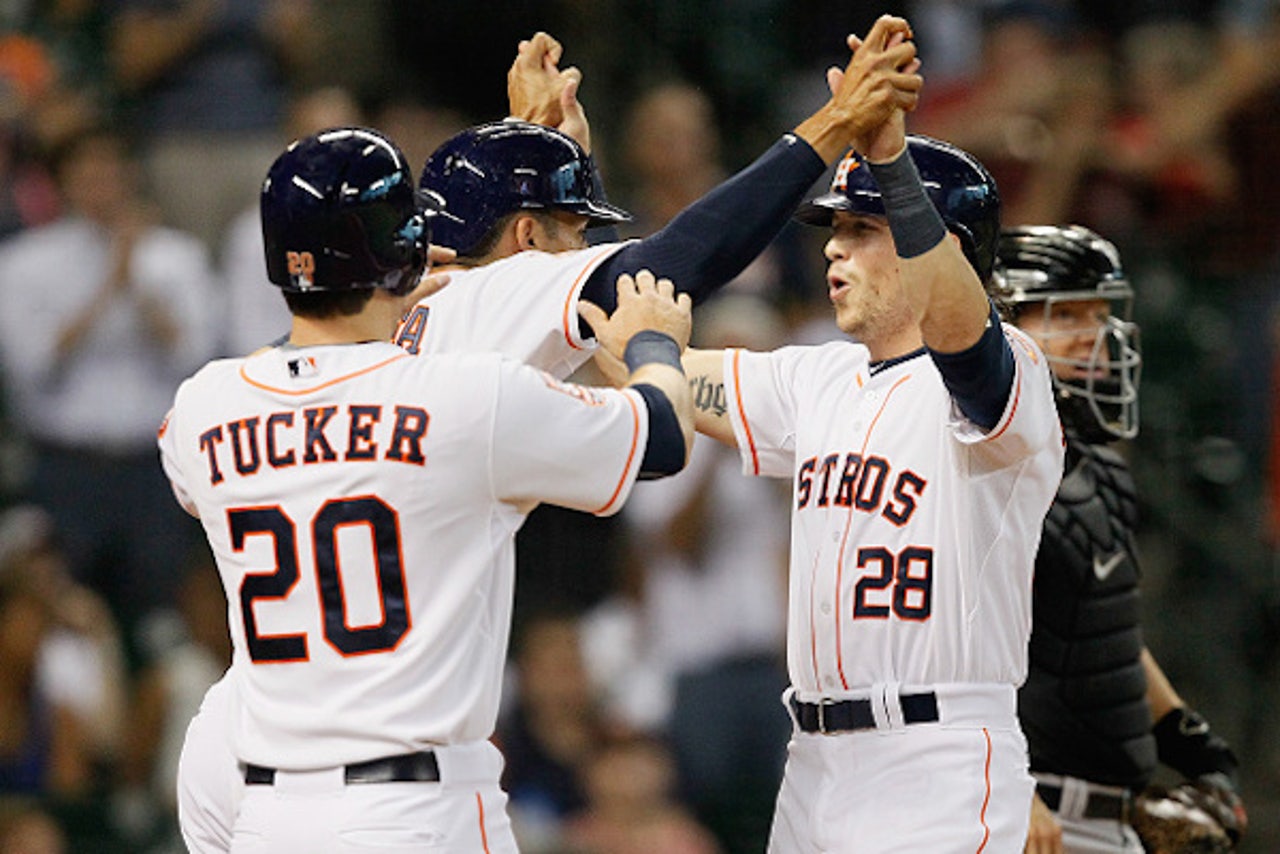 By Shaun Ranft
While the dawn of the new-look Houston Astros is upon us, be wary of regression. While first place is theirs at the moment, we saw them lose eight of nine entering Sunday's rubber match against the Seattle Mariners. That's fine; teams streak, good or bad. While 27-year-old Dallas Keuchel — a 2009 seventh-rounder — has slowly turned himself into an ace over the past season and a half, he cannot do it alone. Fortunately help has already arrived in the form of 21-year-old Lance McCullers — the 41st overall pick in the 2012 amateur draft — as well as 25-year-old Brett Oberholtzer who has been a rotation regular for a few seasons.
Finally, while this may read as a negative commentary on the 2015 Houston Astros, it is simply a word of caution for what may lie ahead. Nobody expected this club to be in first place this far into the season; surely nobody should be upset if they do not finish that way by season's end. But they have arrived on the scene, and the rebuild as we knew ithas concluded.
This project began in December of 2011 when the Astros hired Jeff Luhnow as general manager. He had served as Vice President of the St. Louis Cardinals since 2003, witnessing four postseason appearances and two World Series appearances as well as one championship (2006), "and was involved in selecting several players who contributed to their World Series championship this year [2011], including Jaime Garcia, Allen Craig, Jon Jay and Lance Lynn."
The Cardinals continue to thrive and have reached the postseason 11 times since the year 2000. "In 2006, Luhnow added player development to his duties. Cardinals farm teams have won five minor league championships since then." It is obvious what the Astros organization saw in Luhnow and while the results of such a long-term rebuild shouldn't necessarily come as a surprise, to act as though it were simple would be a massive oversight. Selling a losing club to your fan base, one that had a World Series appearance as recently as 2005, is a monumental task.
Houston hasn't made the playoffs since that World Series when the Chicago White Sox swept them. Change was needed and when Luhnow stepped forward Houston endured three consecutive seasons of some of the worst baseball we have ever seen, averaging 54 wins from 2011–13 before hitting the 70-win mark last year. In 2013 Jeff Moore wrote a piecefor The Hardball Times explaining how Luhnow and company were going about this rebuild in precisely the correct way, stating: "The organization must be all-in," something they proved to be the case when trading the likes of Hunter Pence, Michael Bourn, Carlos Lee, and Wandy Rodriguez over the years.
They didn't make the mistake we often seen during rebuilds, when teams "hold onto other assets to keep from having to field a completely uncompetitive [sic] teams [sic]." Months before the new GM arrived Pence was shipped to Philadelphia, netting 1B/OF Jon Singleton (23, top 100 prospect as of last year) as well as pitcher Jarred Cosart—flipped this past offseason for a couple of minor league players, everyday outfielder Jake Marisnick, and a 2015 compensation draft pick.
Also before Luhnow took charge, Bourn was shipped to Atlanta for four players including Oberholtzer, who in four starts this season has registered a 2.25 ERA and a 3.15 FIP. Of course, prospects don't always work out for the better. In 2012 outfielder Carlos Lee was dealt to Miami for promising third baseman Matt Dominguez, who after spending 2014 at the major league level is currently slashing .251/.289/.371 at Triple-A Fresno. He hadn't played in the minors since 2012.
Yet through all the trades, losses, and promising draft picks which included George Springer, recently promoted Carlos Correa and a pitcher in McCullers who has impressed in five starts this season, it'd be misleading to suggest there weren't a few unexpected bumps along the way. Mark Appel, selected first overall in 2013 and still a highly rated prospect, has yet to make it past Double-A. He's turned in some quality performances recently but his numbers in 11 starts at that level show a 5.04 ERA, and a SO/9 rate of only 6.7 compared to a relatively high BB/9 rate of 3.8. The second overall pick in that draft? Kris Bryant of the Chicago Cubs. This shouldn't make you second-guess Luhnow and it also shouldn't make the current GM second-guess himself. Predictably and rightfully, he hasn't. Say the roles were reversed; we'd be saying similar things about the Cubs front office. Hindsight is one helluva mistress.
Still, that hasn't been the biggest obstacle recently. Not only did they fail to sign top overall pick Brady Aiken in 2014 over medical concerns that they were ultimately right to have (he underwent Tommy John surgery in March), 10 months of internal trade talks leaked last year as well. Luhnow stayed the course despite criticisms and mounting losses, and nothing painted a more clear picture of faith in the overall plan than when manager Bo Porter was fired with the Astros holding a 59–79 record at the time. This had nothing to do with wins and losses, but everything to do with clashing philosophies:
"This decision was not made because of our current level of competitiveness in the Major Leagues. I recognize that our win-loss record is largely a product of an organizational strategy for which I am responsible. Rather, I made this decision because I believe we need a new direction in our clubhouse."
He and Porter were never in sync, and with so much time invested in a complete overhaul why would you abandon it then? You wouldn't. Luhnow hasn't, and right now the Astros sit atop the AL West. Have they peaked early? Perhaps, but in already calling up top prospect Correa, they don't intend to wither away. The next order of business is sustaining a winning franchise, or as the GM states: "… we feel we've got a foundation in place to build on to get the team to the next level, and the next level really is a .500 team or better."
That's where we're at now, and when the objective is staying there, personnel moves become that much more important. With trade season and the rumors it brings in full swing, should the Astros be buyers? Not if it means ditching the philosophy of the past four years, but this ballclub does have a couple glaring weaknesses. They hold MLB's worst batting average (.234); the three teams behind them? Milwaukee, Seattle, and Philadelphia — who are all very bad. Their OBP is seventh lowest (.302) but they are top-10 in slugging (.411).
With their most consistent bat in Jose Altuve battling hamstring problems, another firm presence at the plate is necessary. Speaking of, after winning the batting title last year while slashing .341/.377/.453 with an AL-best 56 stolen bases, he's seen that line dip to .290/.330/.395—which are certainly more in line with his career numbers but below what's now going to be expected out of the 25-year-old second basemen. Still, transforming from a free agent amateur signing in 2007 to becoming an everyday starter from 2012 onward, there's little reason to doubt the two-time All-Star. Moreover, the Astros only owe him roughly $10.5 million through 2017, while securing team options in 2018 and 2019 that if activated would only cost a combined $12.5 million through his age 28–29 seasons.
Despite being a top-10 pitching club, Houston is only middle of the road when it comes to strikeouts, not to mention boasting only Keuchel as a "big-name" rotation regular who just started showing his greatness last year. Relying on the inexperience of McCullers or the inconsistent Oberholtzer isn't sound, while the likes of Scott Feldman, Roberto Hernandez, and Collin McHugh have all been disappointing.
They are said to be in the market for a "No. 1 or No. 2 starter," but does that automatically mean Philadelphia's Cole Hamels? The Phillies want to trade him but he's expensive and can block a trade to 20 different clubs including Houston. While they have the prospects to make a deal happen, how much would be too much? Though they wouldn't dare part with Correa or McCullers, there's always the possibility of forming a package of prospects around Singleton or Appel. The former struggled mightily in the majors last year while the latter has yet to break through the minor league ceiling.
We'll know what the Astros intend to do a few weeks down the line, but there's no disputing they're on the right track. Over the last four seasons the question had always been: What veteran are they going to trade for the future this time? Now it's gradually shifting to: Which prospects could they ship out in order to build on their success?
The road has been long and painful for Houston's fan base, and although they should proceed with a cautious optimism, don't let that diminish the fact that they're playing good baseball again. Hopefully they've shed the lovable losers tag once and for all.
More from The Sports Post:
---
---