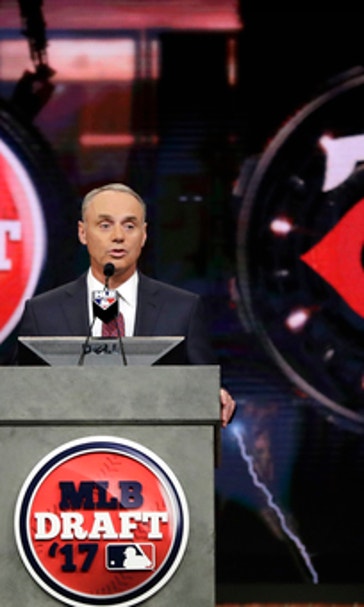 Top draft pick Lewis marks 1st bold move for Twins' Falvey
June 13, 2017

MINNEAPOLIS (AP) The takeover of the Minnesota Twins by new chief baseball officer Derek Falvey has been a slow churn over the past six months.
With Falvey in the captain's chair for the first time during the first-year player draft, the first bold move was finally made.
Royce Lewis, a high school shortstop, with the first overall pick became the first franchise-caliber player acquired by the organization since Falvey and general manager Thad Levine assumed control of the baseball operations last fall. This Southern California kid with the fast feet, soft glove and budding bat , fair or not, will be forever linked with the Falvey-Levine era in Twins history.
''I feel like I haven't grown into my man strength yet. I just turned 18 last week,'' Lewis said. ''Being young like this, it's pretty amazing knowing I feel like I still have a lot of potential I haven't even tapped into yet.''
Falvey, the 34-year-old prodigy tasked with turning around a team that bottomed out with 103 losses last season, could've said the same about his career if he were cockier about it.
Bearing a confident smile as he met with the media on Monday night soon after the Twins defied analyst predictions and took Lewis instead of Hunter Greene, Brendan McKay or Kyle Wright , Falvey touted his strategy of maximizing a draft class over selling out for the top pick under the relatively new signing bonus rules.
If the Twins were to pick a college pitcher like McKay or Wright, they might've paid more than the $7.77 million recommended value for the draft slot and had less from their overall pool to sign players in lower rounds. Lewis won't cost quite as much, giving the Twins more leverage for the rest of their negotiations.
Another priority for Falvey and his lieutenants and scouts was the intangible value of leadership, for which Lewis received rave reviews.
''It's an obvious trait he has. Not very many guys have that,'' vice president for player personnel Mike Radcliff said. ''So when you add that on top of his skill set, it just makes him a very attractive package.''
For Lewis, who has signed with UC Irvine, celebration of the moment meant cake and bowling with his family. No matter how his professional career turns out, he at least sounded like a player who won't wilt in the spotlight.
''I have no pressure. I just love the game of baseball,'' he said.
It marked the third time in the last four years the Twins used their first-round selection on a high school player, a route they've frequently taken. Joe Mauer, Denard Span, Ben Revere and Aaron Hicks were all preps-to-pros first-rounders who produced varying degrees of major league success.
The Twins used their competitive balance pick in the sandwich round to take Mississippi State outfielder Brent Rooker, who led the SEC this season in batting average, home runs and RBIs. Then in the second round they reached across the border to select right-handed pitcher Landon Leach, a 17-year-old native of Ontario who has signed with Texas.
As the second day of the draft unfolded on Tuesday, the Twins took right-handed pitcher Blayne Enlow, a native of Louisiana, in the third round with the 76th overall selection. The LSU signee was ranked by Baseball America as the 33rd-best prospect available this year. Enlow, thus, was an example of the type of player the Twins can potentially use saved pool money toward signing when other clubs might have shied away from drafting him with the idea he'd pick college instead.
''This is about getting as many players as we can in the Twins organization to help get us back to where we want to be as a team,'' Falvey said.
---
More AP baseball coverage: https://apnews.com/tag/MLBbaseball
---
---