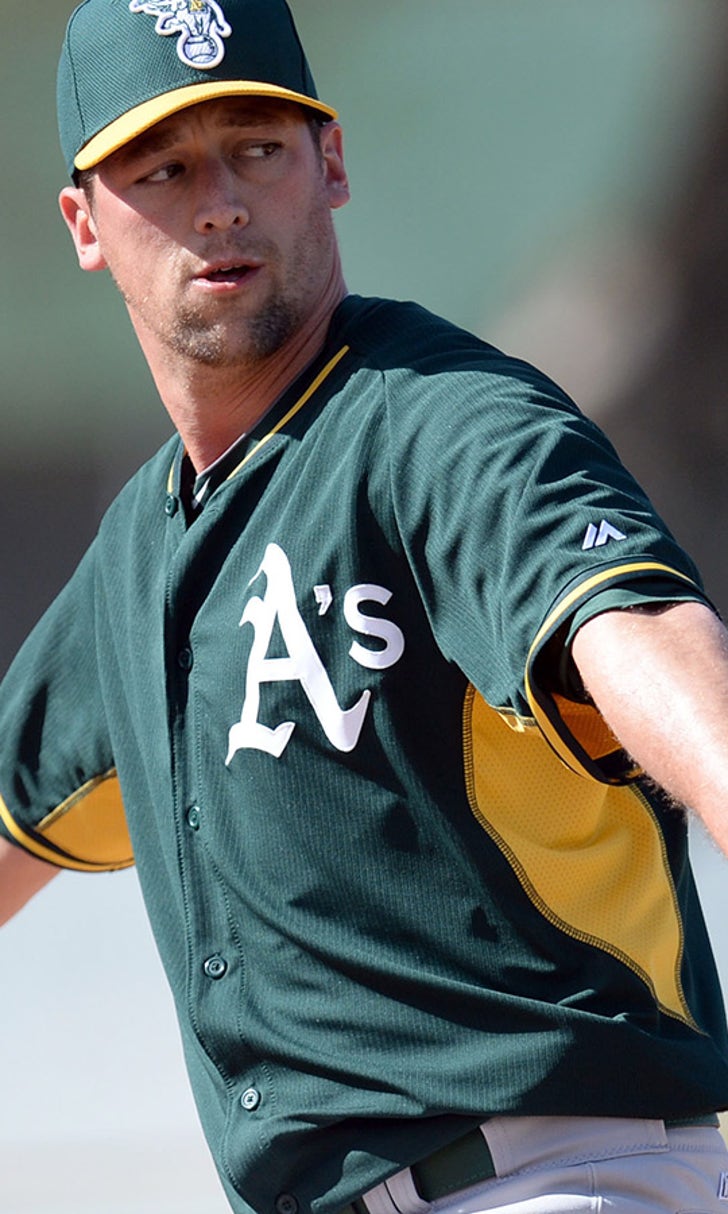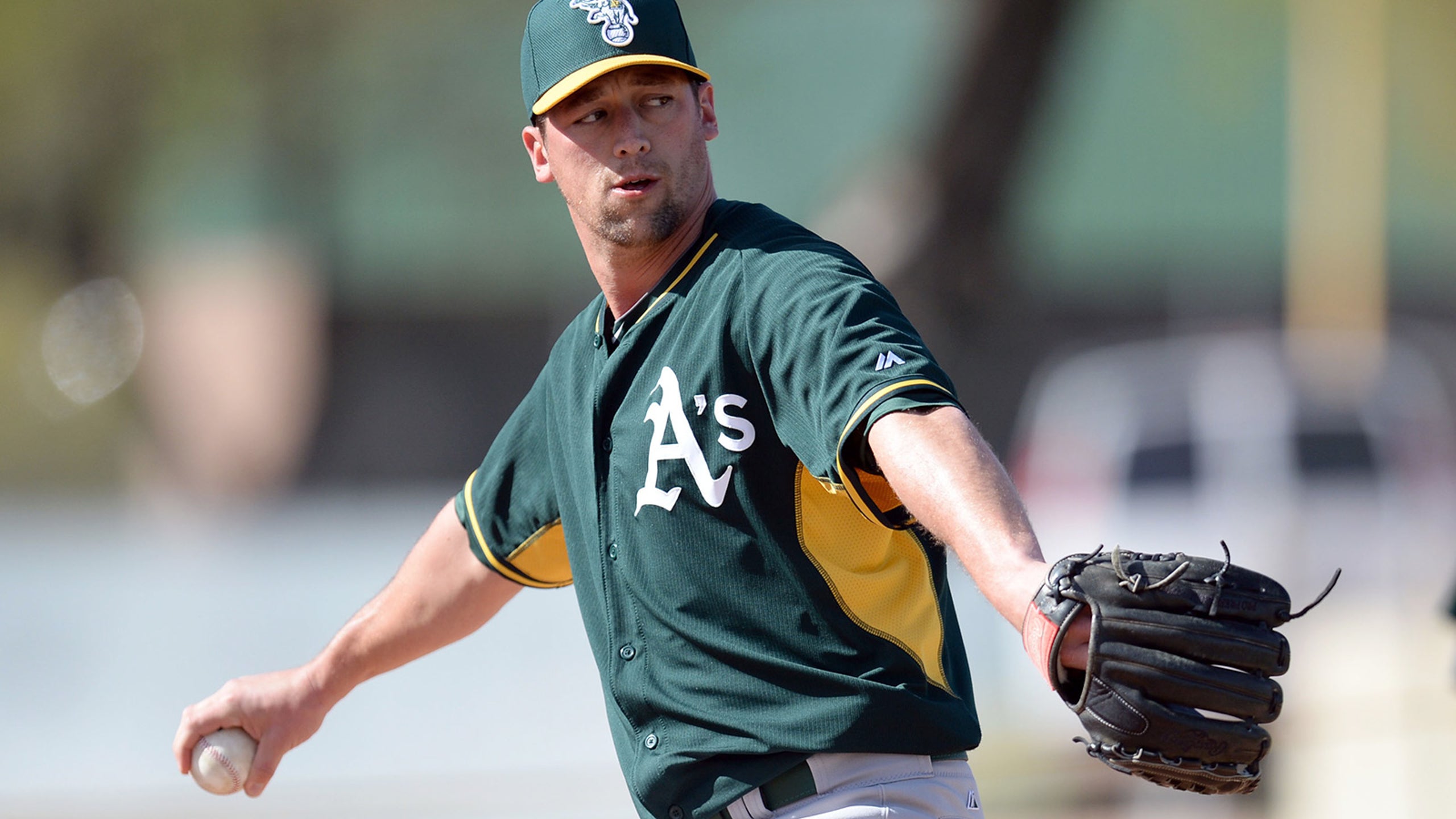 Rosenthal: Deep, cheap bullpen will bolster A's top-shelf rotation
BY Ken Rosenthal • March 13, 2014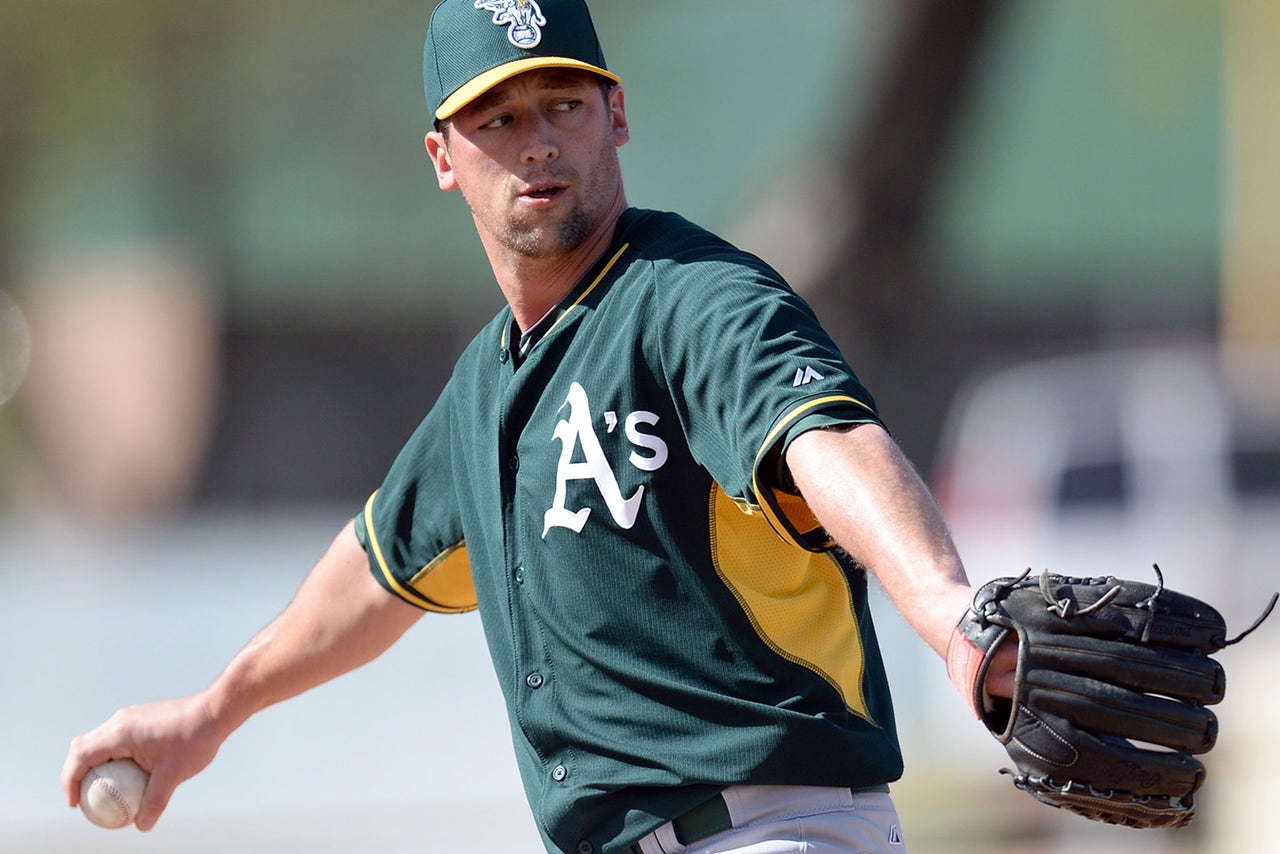 PHOENIX -- Two Rays-turned-A's, catchers Stephen Vogt and Chris Gimenez, were sitting around the Oakland clubhouse Wednesday morning, musing about the strength of the Athletics' pitching staff.
"Playing on this team is good for 25 points a year on your batting average," said Gimenez, who joined the A's off waivers on Dec. 20. "I went from .225 to .250 real quick -- with nine less punchouts."
Gimenez laughed, but he and Vogt were serious in their praise of the Athletics' staff.
Monday night, the A's faced the Dodgers' top five relievers, who will earn more than $30 million combined this season. The A's top five will earn about $16.5 million total, with $15.065 million of it going to new closer Jim Johnson and new setup man Luke Gregerson.
And the Oakland group might be just as good, if not better, than the Dodgers'.
Righty Ryan Cook, recovering from right shoulder tightness, is likely to open the season on the disabled list. But the A's still will have Johnson, Gregerson and Dan Otero from the right side and Sean Doolittle and Fernando Abad from the left, with righty Jesse Chavez as the long man and lefty Eric O'Flaherty expected back from Tommy John surgery in June.
"The way that we are structured, the guys that we have, we're not just going to be hanging on one guy every single day," said Johnson, whom the Athletics acquired from the Orioles in a trade on Dec. 2 for second baseman Jemile Weeks and minor-league catcher David Freitas.
The Athletics' depth should reduce the workloads not only of the relievers but also of the starters. Right-handers Jarrod Parker, Sonny Gray, Dan Straily and A.J. Griffin are all 26 and under, and each has started at least one postseason game in the past two seasons.
Yet, the strengthening of the bullpen wasn't exactly by design, general manager Billy Beane said.
Closer Grant Balfour was departing as a free agent, but the Athletics didn't figure to spend $10 million on a closer, as they did with Johnson. In fact, Johnson said that when assistant GM David Forst called him after the trade, he said something to the effect of, "Bet you didn'€™t see that one coming."
No one did, but Beane said his plan is always to acquire the most affordable players who can make the biggest impact. Johnson is relatively expensive, even for a closer, but his deal is only for one year.
"In some cases, you take what's available to you, even if it's a strength already," Beane said.
Gregerson was part of a three-man, late-inning tag team with Mike Adams and Heath Bell that nearly carried the Padres to the postseason in 2010. Gregerson said the A's bullpen is deeper than that group -- so deep he does not even know the order yet in which manager Bob Melvin plans to deploy his various weapons.
The rotation essentially is no different. Vogt pointed out that a 10-game winner from last season -- most likely lefty Tommy Milone, but possibly right-hander Griffin or   Straily -- will open the season at Triple-A.
So, at the moment, the Athletics hold a clear edge over the Rangers, who currently are without injured lefties Matt Harrison and Derek Holland, and the Angels, who could award starting jobs to unproven lefties Hector Santiago and Tyler Skaggs.
Free-agent hitters generally do not sign with the Athletics, but perhaps now they will change their thinking.
As Gimenez said, joining the A's is the best way to avoid their staff.
AND IN RANGERS CAMP ...
The outlook for the Rangers' rotation seems to change daily, but club officials are reasonably confident they will piece together a representative group until Holland returns.
The way the Rangers see it, righty Yu Darvish looks like himself, lefty Martin Perez is on the verge of a breakthrough and righty Alexi Ogando has a career 3.40 ERA in 267 2/3 innings as a starter. His issue is durability.
Lefty Harrison, coming off three back surgeries, threw his first competitive inning in 11 months and looked good doing it. Righty Colby Lewis could be a great comeback story after missing all of 2013 with arm and hip injuries. Righty Tommy Hanson and lefty Joe Saunders are intriguing veteran options, righty Tanner Scheppers and lefty Robbie Ross internal alternatives.
Is the overall picture ideal? No. But the Rangers have a longer list of possibilities than say, the Angels. Whether those possibilities prove fruitful -- and whether the Rangers try to add to them -- remains to be seen.
D-BACKS: NO HURRY TO TRADE SHORTSTOP?
While the Diamondbacks are open to trading Didi Gregorius or Chris Owings, they have not engaged in serious discussions with clubs about either shortstop this spring, according to major-league sources.
In fact, the D-Backs might prefer not to make a move at all.
Owings also can play second base, where Aaron Hill appeared in only 87 games last season due to a broken left hand. Hill, who turns 32 on March 21, is generally durable and signed through 2016. But the added protection couldn't hurt.
Besides, while the D-Backs view Owings as the superior hitter and Gregorius as the superior defender, some scouts question how well Owings will hit in the majors.
Owings never has drawn 25 walks in a minor-league season, his career OBP in the minors is just .320 and his breakout last season was partly attributable to "Reno inflation;" the D-Backs' Triple A park is notoriously hitter-friendly.
In any case, if the Diamondbacks make a trade, it is more likely to involve one of their relievers, specifically right-hander J.J. Putz or lefty Joe Thatcher.
Right-hander Randall Delgado is out of options, but the D-Backs value him as a swingman who could start or serve as a long reliever. Thatcher fits as the second lefty with Ollie Perez, making Putz perhaps a more likely odd man out.
Putz, though, is earning $6.5 million this season, so the D-Backs likely would need to include cash in any deal. Another factor: Putz is a leader, and the D-Backs claim to value clubhouse chemistry.
AROUND THE HORN
• A scout covering the Orioles in Florida says Jonathan Schoop is the team's clear front-runner at second base, adding that the competition with Ryan Flaherty, Jemile Weeks and Alexi Casilla is "not even close."
The re-emergence of lefty Zach Britton, who is out of options, could position the Orioles to trade a pitcher, maybe even Britton.
The more likely scenario is that the team will keep Britton, demote righty Kevin Gausman and protect its depth.
• Royals outfielders Justin Maxwell and Jarrod Dyson are out of options, and not all that dissimilar from Lorenzo Cain, the team's starting center fielder (through Dyson is a left-handed hitter).
Ideally, the Royals want to keep all three players, knowing that Norichika Aoki could depart as a free agent after this season.
The Philies' John Mayberry and Athletics' Michael Taylor are among the other outfielders who are out of options and could be moved before Opening Day.
The White Sox's Dayan Viciedo and Alejandro de Aza also are in play, as first reported by CBSSports.com, as is the Yankees' Ichiro Suzuki.
• Speaking of the Royals, the team believes it can overcome the loss for the season of righty Luke Hochevar by returning Wade Davis to the bullpen and relying on its depth. The loser of the Yordano Ventura-Danny Duffy battle for the fifth starter's job could end up in the bullpen.
The bullpen still should be one of the game's best, but one rival executive warns not to discount the loss of Hochevar. Among relievers who faced 150 or more hitters last season, Hochevar's 0.82 WHIP ranked second only to Koji Uehara's 0.57.
Ken Rosenthal has been the FOXSports.com's Senior MLB Writer since August 2005. He appears weekly on MLB on FOX, FOX Sports Radio and MLB Network. He's a member of the Baseball Writers Association of America. Follow him on Twitter @Ken_Rosenthal.
---
---