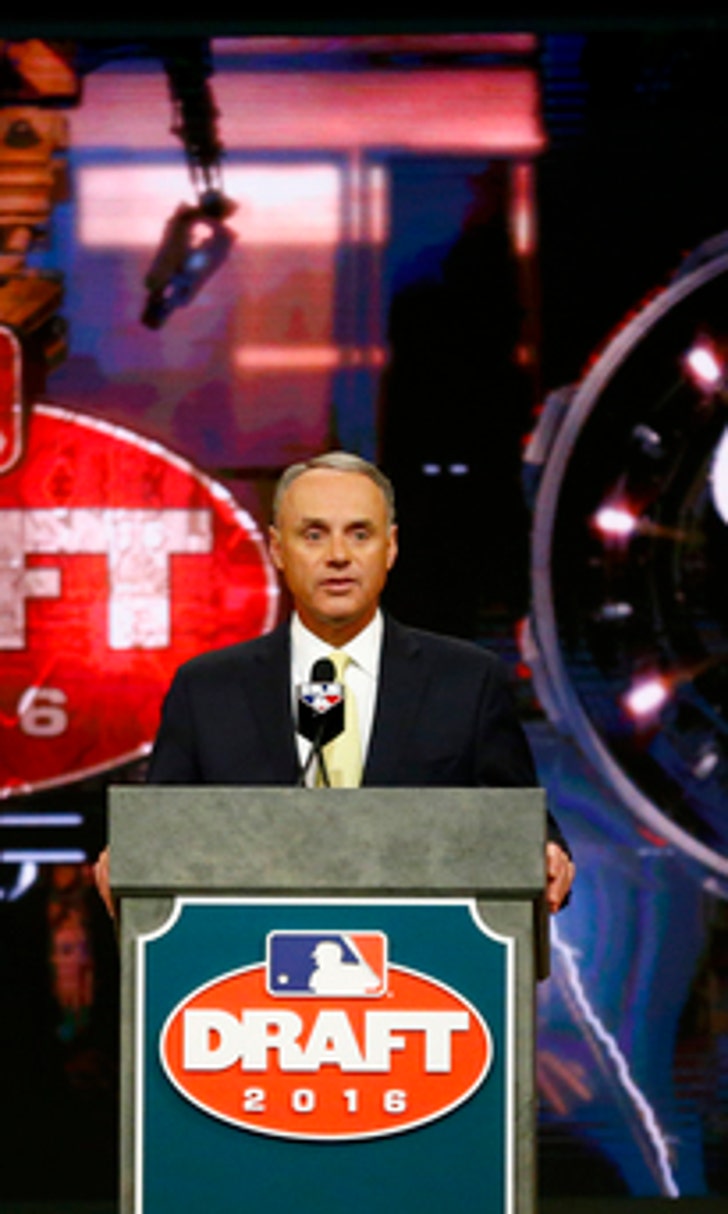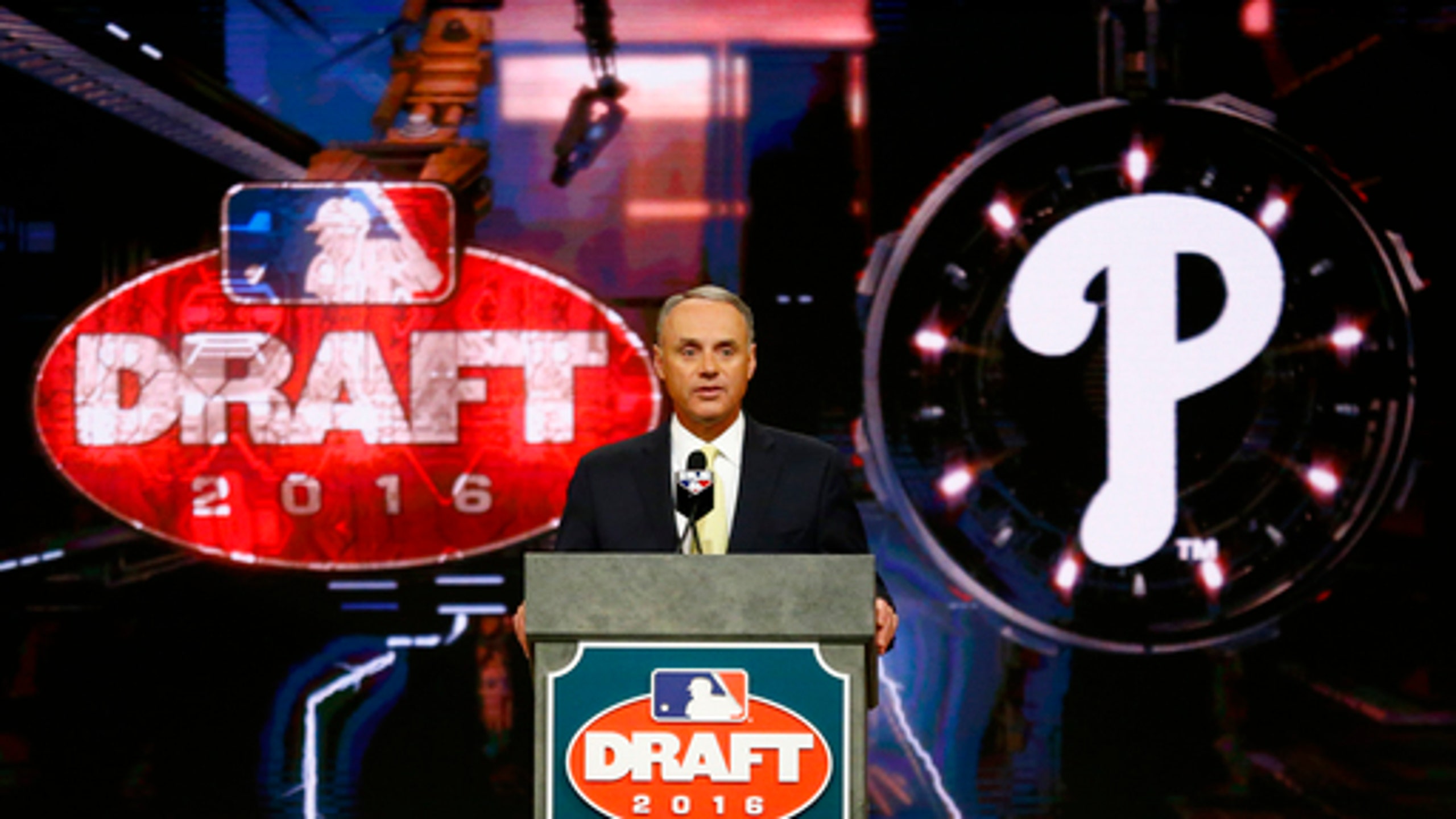 Moniak goes No. 1 to Phillies, buddy loses tattoo bet
BY foxsports • June 10, 2016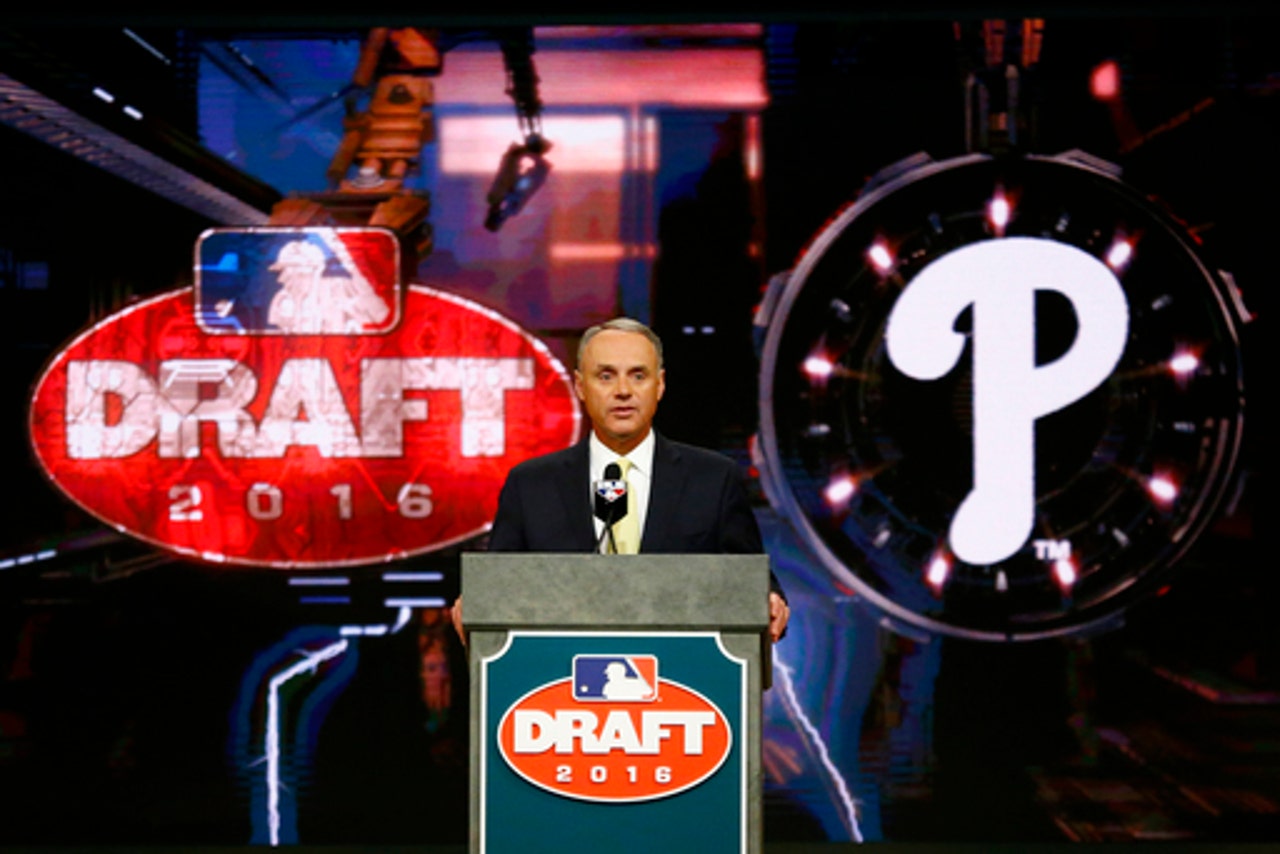 SECAUCUS, N.J. (AP) Mickey Moniak made his mark in the Major League Baseball draft - and his buddy could soon be getting a permanent reminder.
Moniak, a high school outfielder from California, was selected first overall by the Philadelphia Phillies on Thursday night. Long before the draft, he bet La Costa Canyon High School teammate Ethan Abrams that he'd go in the top 10.
At stake: Moniak's signature tattooed on Abrams' rear end.
Just a few minutes after Commissioner Rob Manfred announced at MLB Network studios that the Phillies were on the clock, Moniak didn't have to wait long for his friend's fresh-ink fate to be sealed.
''That is very true,'' a smiling Moniak said in an interview on MLB Network. ''I'm holding him to that, too.''
Abrams, a freshman pitcher at Columbia this season, can return the favor by getting picked in the first 20 rounds someday, Moniak said.
Moniak became the first prep outfielder chosen No. 1 since Tampa Bay drafted Delmon Young in 2003. The selection marked the first time the Phillies led off the draft since they took Miami slugger Pat Burrell in 1998.
''I definitely wouldn't say there's pressure,'' the 6-foot-2, 190-pound Moniak said. ''I'm excited to hopefully prove the Phillies right.''
With no consensus No. 1 talent this year, there was plenty of suspense right up until the pick was announced. At least five players were considered in the mix for the top spot.
''Collectively, we believe Mickey was the best player available in the draft,'' Phillies scouting director Johnny Almaraz said in a statement. ''He's a true center fielder with incredible offensive ability and the potential to be a perennial All-Star.''
Tennessee third baseman Nick Senzel went second to Cincinnati, giving the Reds a slugger who might someday provide pop in the middle of their lineup.
''This is the guy we wanted,'' scouting director Chris Buckley said. ''He's a very polished player, one of the better hitters, if not the best hitter, in the draft.''
With the third pick, Atlanta took high school right-hander Ian Anderson. At No. 4, Colorado went with fireballing Kansas high school righty Riley Pint. Milwaukee selected Louisville outfielder Corey Ray to cap the first five picks.
Here are some other things to know about the first day of the draft:
SHOWING UP
Two prospects were in attendance at the draft site: Anderson and Georgia high school outfielder Will Benson, who went 14th to Cleveland.
Anderson, from Shenendehowa High School in upstate New York, slipped on a Braves home jersey and cap, and his mother, sitting with his father in a makeshift dugout in the studio, wiped away tears as her son shook hands with Manfred and placed his own name on the draft board.
''You never know going into the draft where you're going to go, and going into the season you don't know what's going to happen,'' said Anderson, who was projected to be picked later in the opening round. ''I'm happy with the way it played out.''
The 6-6, 220-pound Benson, who was also with his parents, was a standout in both baseball and basketball at The Westminster Schools in Georgia.
''I love basketball, but baseball is my calling. It's my future,'' Benson said. ''So I think I'm obligated to the Cleveland Indians to kind of just put my full focus on being great at baseball.''
He added that he will ''definitely'' sign with the Indians rather than go to Duke.
SLIPPING
Two players who were mentioned as possibilities for the No. 1 pick dropped out of the top 10.
Mercer outfielder Kyle Lewis went to Seattle with the 11th overall pick, and New Jersey high school left-hander Jason Groome was selected by Boston, his favorite team growing up, at No. 12.
Lewis is a two-time Southern Conference player of the year.
''We thought he was going to be picked before us,'' Mariners scouting director Tom McNamara said. ''We're very excited that he made it to us.''
Groome, from Barnegat High School, fell over some concerns about his makeup despite a low-to-mid-90s (mph) fastball, nasty curve and solid changeup. He threw a no-hitter with 19 strikeouts early in the spring, but was suspended three weeks by the New Jersey State Interscholastic Athletic Association over transfer rules after spending his junior season at IMG Academy in Florida.
Delvin Perez, a shortstop from the International Baseball Academy in Puerto Rico, also dropped after being mentioned as a possible top-5 pick. He went 23rd to St. Louis after reports surfaced a few days before the draft that he tested positive for performance-enhancing drugs.
FAMILIAR NAMES
Stanford right-hander Cal Quantrill, the son of former big league pitcher Paul Quantrill, was taken at No. 8 by San Diego despite missing this season after having Tommy John surgery last year. He still easily got family bragging rights: his father was a sixth-rounder by Boston in 1989.
Detroit also picked a player with pro bloodlines, selecting California high school righty Matt Manning, the son of former NBA forward Rich Manning.
At 20th overall, the Los Angeles Dodgers selected Wisconsin high school shortstop Gavin Lux, the nephew of Augie Schmidt - the No. 2 pick in 1982 by Toronto.
CALLING AN AUDIBLE
Miami took Alabama high school left-hander Braxton Garrett with the seventh overall pick. He played quarterback and wide receiver before quitting football after his sophomore year to focus on baseball.
So, how did that decision go down in SEC country?
''Oh, goodness,'' he said. ''I was pretty good, so it was a pretty big deal. But it was a decision I had to make, and it was the right one.''
ON DECK
After the first two rounds and compensatory picks were made Thursday night, the draft continues with rounds 3-10 on Friday and 11-40 on Saturday - all via conference calls with teams.
---
AP Baseball Writer Mike Fitzpatrick, and AP Sports Writers Tim Booth, Pat Graham, Beth Harris, Rob Maaddi, Steve Megargee and Steven Wine contributed to this report.
---
---