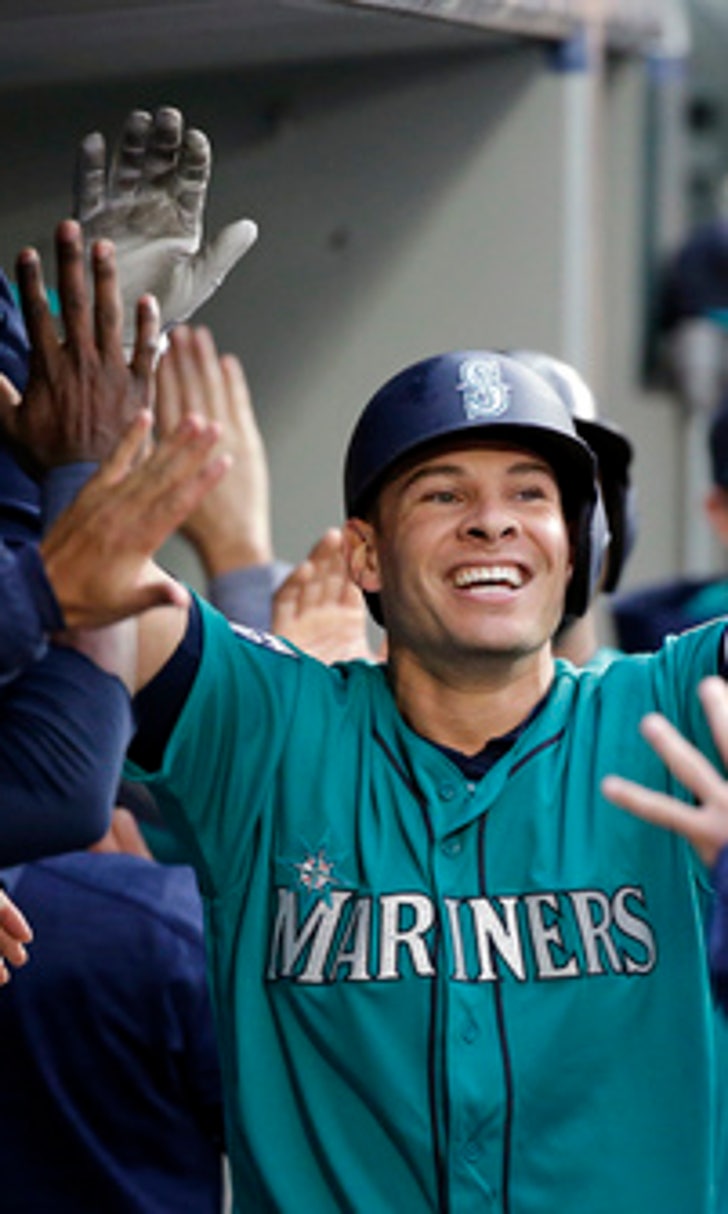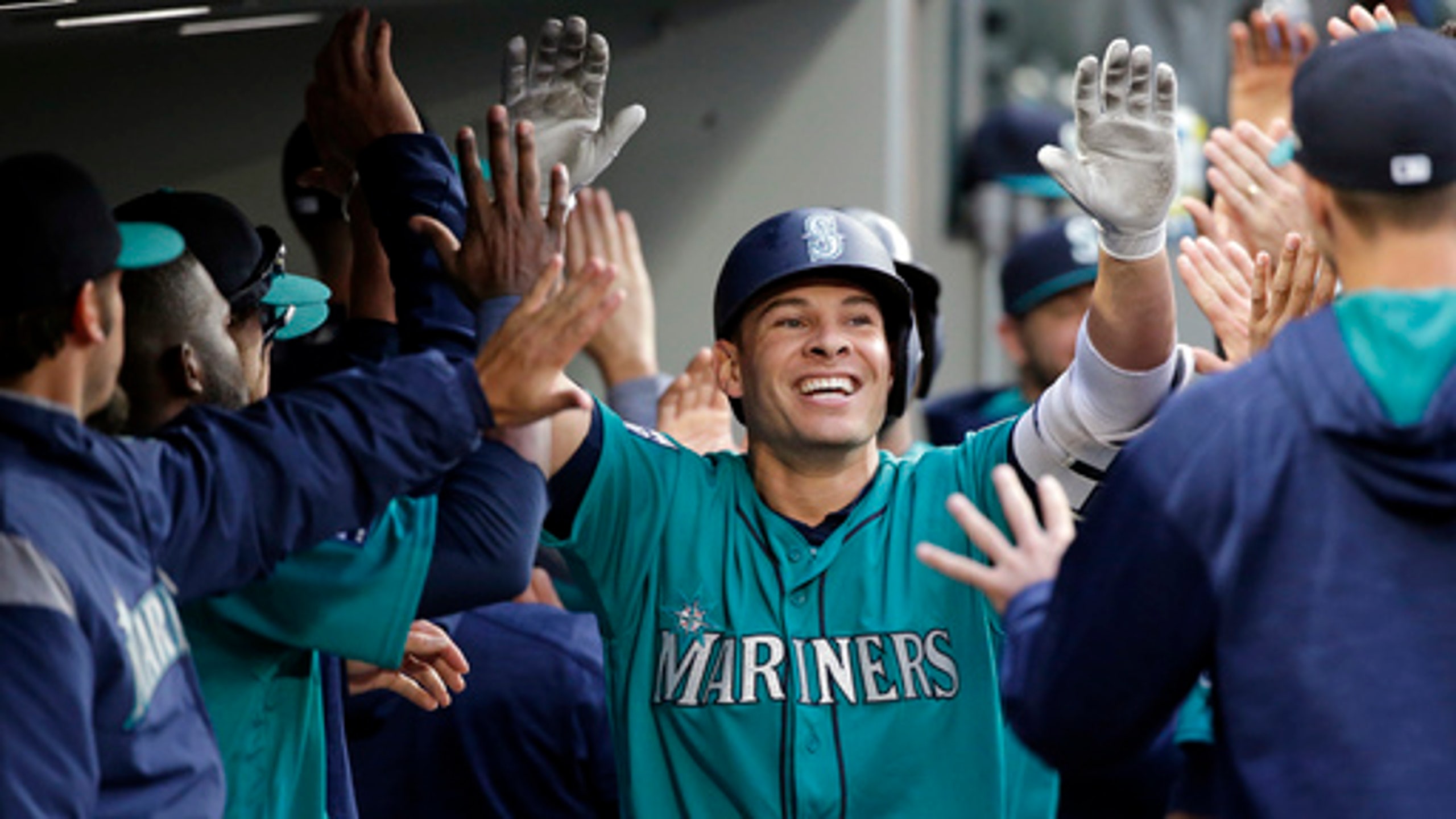 Mariners use long ball to slug their way past Rays, 12-4 (Jun 02, 2017)
BY AP • June 3, 2017
SEATTLE (AP) The first few weeks of the season were miserable for Danny Valencia. Over the last month, however, he's been giving the Seattle Mariners exactly the sort of production they expected.
Valencia hit a three-run homer and tied a career high with five RBIs, Taylor Motter connected for a first-inning grand slam off Jake Odorizzi, and the Mariners routed the Tampa Bay Rays 12-4 on Friday night.
While Motter's sixth homer staked Seattle to a big early lead, Valencia's fifth home run broke the game open. Despite being out in front on a breaking ball, Valencia was able to keep his bat back long enough to line Odorizzi's final pitch into the left-field bullpen for a three-run shot and an 8-0 advantage.
Valencia also drew a key, two-out, bases-loaded walk in the first inning and added an RBI single as part of Seattle's four-run seventh to match his career high. His last five-RBI game also came against Tampa Bay last season.
Since May 2, Valencia has a hit in 21 of 27 games and is batting .314 with 20 RBIs during that stretch.
''May was good. Hopefully, June will be better. Obviously, I didn't want to get off to a slow start like I did. But it's in the rearview mirror,'' Valencia said.
Seattle jumped on Odorizzi (3-3) for five runs in the first, although none were earned after Brad Miller's error at second base helped create the big inning. Motter followed Valencia's walk with his second slam of the season. He also hit one April 23 at Oakland.
It had a little extra meaning for Motter coming against his former team.
''To do it against them means more than anything,'' Motter said. ''They gave me my chance in baseball, but I'm going to succeed somewhere else. I'm glad to show them that.''
That was plenty of offense for Christian Bergman, who pitched well for the third time in his last four starts. Bergman (3-2) threw seven shutout innings against Boston in his previous outing and followed up by allowing just a pair of solo home runs over six innings against the Rays.
With the exception of a 10-1 loss at Washington, where Bergman allowed 14 hits and all 10 runs, the right-hander has been outstanding since being plugged into a Mariners rotation decimated by injuries.
Colby Rasmus and Tim Beckham hit back-to-back homers off Bergman in the fourth, and Kevin Kiermaier added a two-run shot off reliever James Pazos in the seventh.
It was the first time since late in the 2012 season that Odorizzi failed to finish at least three innings in a game when he wasn't injured. Odorizzi left a start earlier this season against Boston after the first pitch of the second with a hamstring strain. He had pitched at least six innings in six of his nine starts entering Friday.
''By the third inning I was really tired and my control suffered, but I still thought I could get some outs for us and ended up hurting us again,'' said Odorizzi, who threw nearly 50 pitches in the first inning. ''I was just trying to be as much of a team player as I could and go out there and manufacture outs any way that I could.''
MOTTER'S POP
Motter's grand slam was his first homer since that other slam in late April. Motter will get the bulk of the playing time at shortstop for a while with Jean Segura out for an extended period due to a high right ankle sprain sustained in Thursday's loss to Colorado. Segura entered Friday tied for the American League lead in batting average at .341.
DEBUT MOMENT
Seattle rookie Tyler Smith made his major league debut as a defensive replacement in the eighth inning and doubled off Tampa Bay reliever Ryne Stanek in his first at-bat. ''I was breathing, but it was a crazy moment taking it all in,'' Smith said.
ROSTER SHUFFLE
Miller was activated from the 10-day disabled list for Tampa Bay after missing time with a lower abdominal strain. Mallex Smith was optioned to Triple-A Durham to clear the roster spot. Miller had not played since May 15 and went 0 for 4 with two strikeouts to go along with his critical error. ''I just didn't catch it and put Odo in a pretty tough spot to battle through there. Not good,'' Miller said.
UP NEXT
Rays: Alex Cobb (4-4) looks for his first win since May 17. Cobb had a no-decision in his last start against Minnesota.
Mariners: Sam Gaviglio (1-1) goes for his second career victory. Gaviglio gave up five runs in five innings but got his first win in his last start against Colorado.
---
More AP baseball: https://apnews.com/tag/MLBbaseball
---
---