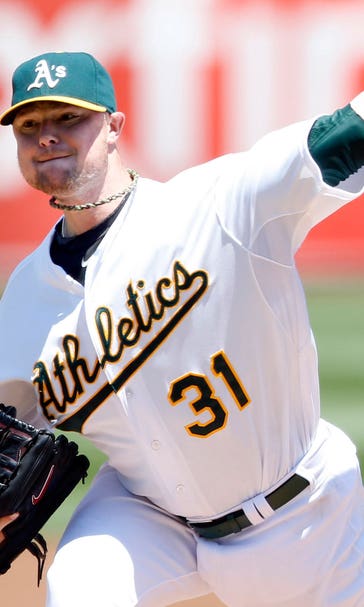 Lester beats Royals in A's debut with help from Gomes
BY foxsports • August 2, 2014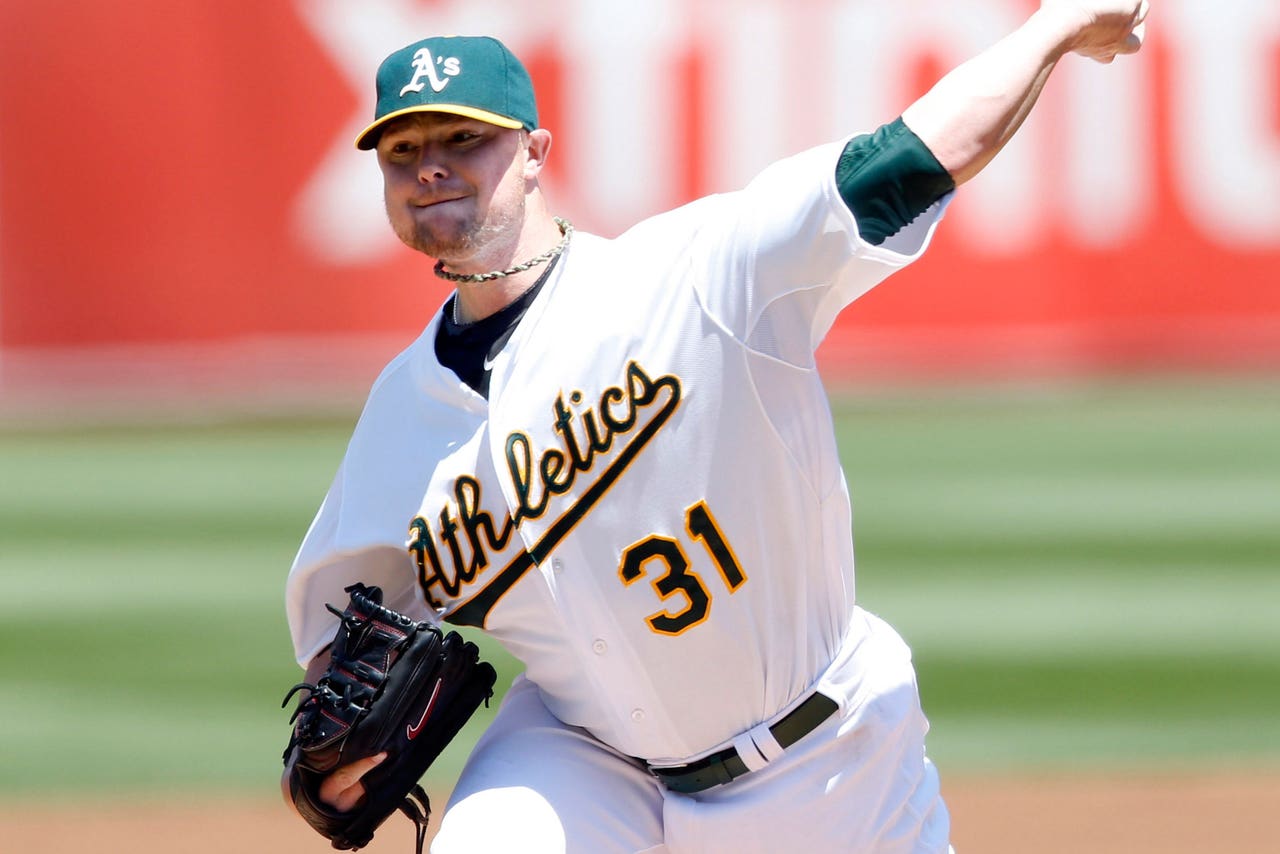 Jon Lester took the mound in a different uniform and, for the first time in his major league career, felt just slightly out of place.
Quickly enough, he put aside the newness of pitching for Oakland -- and the expectations that he'll help lead baseball's winningest team on a deep run in October.
Lester worked into the seventh inning to win his Athletics debut and Gomes produced two timely hits during an eight-run burst in his Bay Area return for an 8-3 victory against the Kansas City Royals on Saturday.
Two days after being traded from the sagging World Series champion Boston Red Sox, Lester and Gomes teamed up on a nice win out West.
"After warming up it felt a little more normal, getting back to the pitching performance and worrying about that and not worrying about living situations or moving or anything like that," Lester said. "It was a little different at first."
Lester's parents flew down from the Seattle area for his start.
The 6-foot-4 lefty instantly became an imposing presence in the pitcher-friendly Coliseum. Fans in the crowd of 30,097 cheered as he went through his warmup routine in left field, then Lester (11-7) tipped his cap to a roaring ovation when he left after 6 2-3 innings and 104 pitches.
"To walk off to the ovation was great," Lester said. "It kind of makes you feel welcome."
Lester gave up three runs and nine hits, striking out three and walking one.
Manager Bob Melvin joked about being scared to take him out.
"I said, `Nice going, big fella.' He is a big fella," Melvin said.
Back with the AL West-leading A's, Gomes delivered like old 2012 times. He singled and scored off Jason Vargas (8-5), then added a hit a two-run single off Aaron Crow.
"Every once in a while some new blood, some new energy can help out," Gomes said.
Pitching on seven days' rest after being scratched Wednesday ahead of the trade deadline, Lester improved to 8-3 with a 2.20 ERA in 12 career starts against the Royals. He hasn't lost in nine starts overall since June 7 at Detroit.
"Jonny Lester is one of the best pitchers in the American League," Royals manager Ned Yost said.
The A's went ahead with their planned promotion, passing out 10,000 Yoenis Cespedes T-shirts reading "La Potencia" -- it pays tribute to his power. The two-time Home Run Derby champ was traded to Boston in the big swap and made his Red Sox debut Saturday.
Vargas came off the disabled list to make his first start since undergoing an appendectomy July 9. After the first 12 A's batters were retired in order, the next 12 produced eight hits and eight runs.
Oakland lost second baseman Nick Punto when he strained his right hamstring, and he will require a disabled list stint. He rounded third on Jed Lowrie's RBI single in the fifth, but slid toward the coach's box and grabbed the back of his leg before hobbling back to the bag.
REPLAY REVIEW: In the fourth, the umpires went to replay to determine whether A's catcher Derek Norris improperly blocked the plate when he tagged a sliding Alex Gordon. The out call was confirmed, with newly acquired center fielder Sam Fuld's throw resulting in a sensational double play.
"I knew I had a chance," Fuld said. "It's hard to throw guys out at home, especially with the new rules."
TRAINER'S ROOM
Royals: First baseman Eric Hosmer went on the 15-day disabled with a stress fracture of the third finger on his right hand.
Athletics: Center fielder Coco Crisp missed his sixth straight game with a strained neck. Melvin said the A's aren't putting him on the DL because Crisp has shown he can make quick progress once back doing baseball activities, which could be Sunday.
ON DECK
Kansas City right-hander James Shields (9-6, 3.50 ERA) makes his team-leading 24th start. Scott Kazmir (12-3, 2.37) opposes him.
---
---