Braves get SS back, Dodgers lose starting pitcher, result goes accordingly
BY foxsports • August 13, 2014
The Atlanta Braves needed six tries to beat the Los Angeles Dodgers this season.
Justin Upton thinks the Braves took too long.
"We've battled them hard and we've let some games get away late," Upton said. "It's nice to get a win. We had to work for this one, so it was nice to see."
Ervin Santana won his sixth straight start at Turner Field, Upton drove in the go-ahead run in the fifth inning and the Atlanta Braves snapped a two-game skid with a 3-2 victory over the Los Angeles Dodgers on Wednesday night.
Andrelton Simmons returned to the lineup after missing six games with a sprained left ankle and had two RBIs for the Braves, who had lost 11 of 13.
Hyun-Jin Ryu (13-6) left the game with a right gluteus muscle injury after allowing six hits and three runs with two walks and seven strikeouts in 5 2-3 innings.
"I don't think it's something serious right now," Ryu said through a translator. "It's not like my arm blew out. I think I can jump right back on the mound. I just want to be cautious of it as well."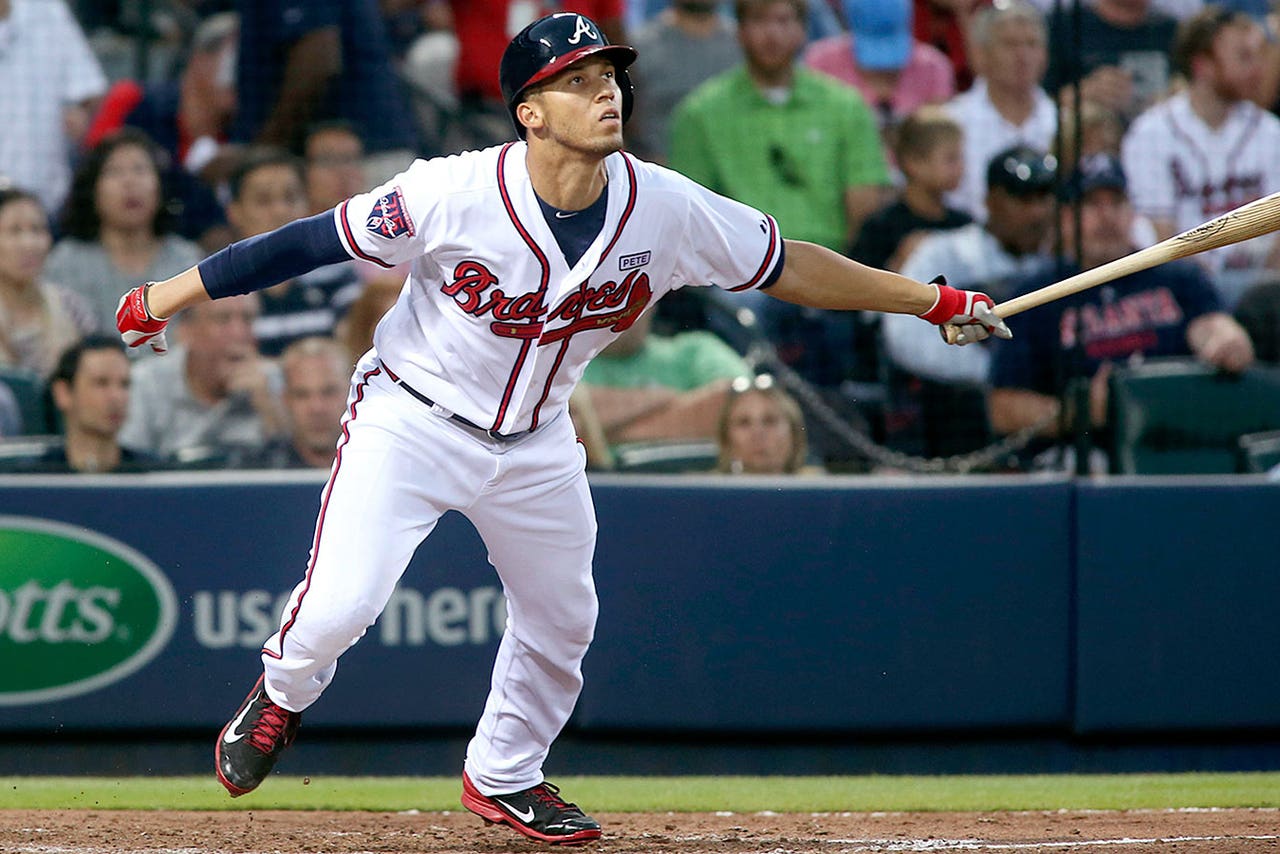 The Braves certainly liked seeing shortstop Andrelton Simmons back on the field after he missed six games, and Simmons liked the way this hit ended, knocking in Justin Upton in the fourth inning.
The victory allowed second-place Atlanta to stay five games behind Washington in the NL East.
Los Angeles, which leads San Francisco by five games in the NL West, was trying to earn a sixth straight win over the Braves for the first time since Sept. 20, 1987-April 16, 1988.
Santana (12-6) improved to 5-0 with a 2.70 ERA in his last six starts overall, giving up eight hits, two runs and two walks with nine strikeouts in six innings. The right-hander improved to 8-2 with a 3.48 ERA at Turner Field this year.
Atlanta closer Craig Kimbrel got the last three outs to earn his 35th save in 39 chances. He walked the first batter he faced, pinch-hitter Andre Either, and the next batter, Dee Gordon, reached on a bunt single.
Kimbrel struck out Yasiel Puig for the first out and gave up a single to Adrian Gonzalez to load the bases before Matt Kemp grounded into a double play to end the game.
"The moment doesn't get away from him," Braves manager Fredi Gonzalez said of Kimbrel. "He has the maturity of being in situations closing big games, but he doesn't get rattled a lot."
The Dodgers took a 2-0 lead in the second on RBI singles by Carl Crawford and Miguel Rojas.
The Braves cut the lead to 2-1 in their half of the second when Evan Gattis doubled, moved to third on a bunt and scored on Simmons' RBI groundout.
Chris Johnson, who was hitting .434 against left-handers this season, decided on his own to move over Gattis with a rare sacrifice against Ryu.
"Whatever it takes to win ballgames, whatever it takes to runs, we've got to do that," Johnson said. "We can't sit on our ego or anything like that. If I have to bunt, I have to bunt."
Simmons' bloop RBI single in the fourth tied the score 2-2.
Atlanta went up in the fifth. Jason Heyward, batting leadoff for the first time since June 17, singled, advanced when Freeman was hit by a pitch and scored from second on Upton's RBI single.
Puig went 0 for 4 with four strikeouts and one walk.
TRAINER'S ROOM
Dodgers: Ryu grabbed the back of his top right leg after as he stood in front of the mound after walking B.J. Upton in the sixth and motioned for a trainer. He walked off the field under his own power. The Dodgers are listing him as day to day.
Braves: Simmons, who went 1 for 4, appeared to run and field with no ill effects after missing the last six games with a sprained left ankle.
UP NEXT
Dodgers: RHP Roberto Hernandez (6-8) will make his second start since arriving in an Aug. 8 trade with Philadelphia, has a 2.87 ERA and a .189 opponents' batting average in his last eight games.
Braves: RHP Aaron Harang (9-6) didn't receive a decision in his last five starts despite a 2.81 ERA.
SMILES IN THE USA
Atlanta bullpen coach Eddie Perez, a native of Venezuela, said before the game that he took a U.S. oath of naturalization in the morning with his family in attendance. Perez, the 1999 NLCS MVP and a Braves coach since 2005, was shown on the video board before the start of the fourth inning and waved to the cheering crowd.
---
---