Los Angeles Dodgers Re-Sign Rich Hill to Three Year Contract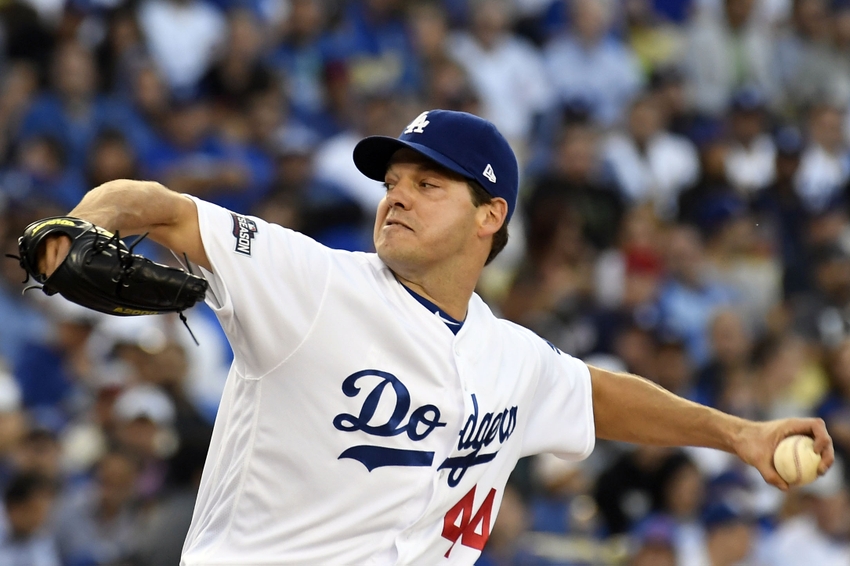 The Los Angeles Dodgers have signed Rich Hill to a three year deal worth $48 million.
The Los Angeles Dodgers had a successful season, winning their fourth straight NL West title. They reached Game 6 of the NLCS against the eventual World Series winning Cubs. They were seemingly just a small piece or two away from having a real shot at the World Series. Rich Hill, one of the additions they made at the trade deadline, was critical to their efforts in the 2016 season. While attention has been focused on Justin Turner and Kenley Jansen reaching free agency, Rich Hill was a crucial Dodgers free agent.
In a season where the Dodgers saw pitcher after pitcher head to the disabled list, even an injury-prone starter like Rich Hill was a welcomed relief. Once he figured out his blister issue in the middle part of the season, he was the Dodgers' second best starting pitcher down the stretch. In the postseason his presence helped carry Los Angeles through the NLDS and even gave them a good win in the NLCS. With Kershaw alone at the top, the Dodgers would likely not have escaped a tightly contested NLDS with the Nationals.
Hill, though 37 and possibly an injury risk, provides the Dodgers with a level of stability heading into the 2017 season. Clayton Kershaw, Hill, and Kenta Maeda provide a mostly reliable top of the rotation. Kershaw will be Kershaw. Kenta Maeda had a great season, which only fell off in the very late part of his campaign. Rich Hill threw 110.1 innings this past season with an ERA of 2.12 and 29.4% strikeout rate. Certainly they will be hoping for more innings pitched from all three at the top of the rotation, but all three showed impressive marks in run prevention and strikeouts.
More from Call to the Pen
The Dodgers will likely be forced to trade Brandon McCarthy or Scott Kazmir in order to make room on the roster for Hill. However, Julio Urias and Jose DeLeon will both be a year older and further along in development. There's a good chance that both are in the Dodgers rotation by the end of the 2017 season. Hill's presence in the top of the rotation helps make this possible by taking pressure off of the younger pitchers.
If you ascribe to the idea that players are worth $6-8 million per WAR on the free market, Hill comes as somewhat of a bargain, at least in the first year or two of his contract. Last year Hill was worth nearly 4 fWAR while only pitching just above 100 innings.
It wouldn't be too unrealistic to expect Hill to repeat that performance, which would put him at about $4 million per WAR. Hill's age provides a bit of risk for the Dodgers, but it's one well worth making if Hill can provide a full season of work similar to 2016 for Los Angeles.
The Los Angeles Dodgers are most likely far from done this offseason. Hill provides a small level of consistency in an area they greatly lacked last season. Free Agents Turner and Jansen should still remain high on the Dodgers priority list. Payroll constraints may keep them from keeping all three of their big free agents, but signing Rich Hill is one step in the right direction. If they can retain Hill, Turner, and Jansen they will be well on their way to competing once again in 2017.
This article originally appeared on