Chicago Cubs News: Lester's new catcher; Heyward already at work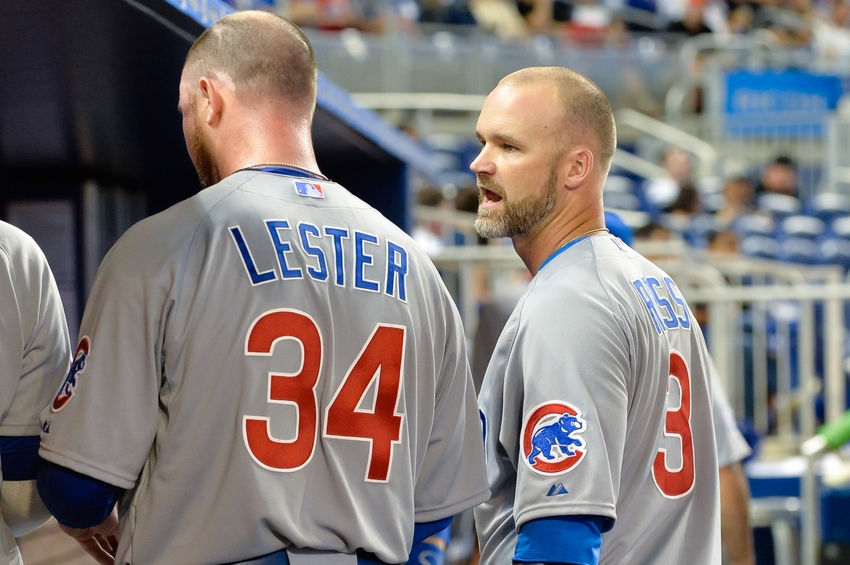 With the Chicago Cubs losing David Ross to retirement, Jon Lester will need to figure out who his catcher will be. And Jason Heyward has moved to Arizona to get an early start on Spring Training.
The Chicago Cubs' Jon Lester has had his "safety blanket" in David Ross for much of the last few years. From Boston to Chicago, Ross was there for Lester. Now with his retirement, the Cubs need to find a new solution behind the plate for him. Willson Contreras and Miguel Montero head the list, with Kyle Schwarber in the mix as well. Will the loss of Ross be harmful to Lester's game?
Jason Heyward had a miserable year at the plate, posting career-worsts in many stats. His defense kept his head above water, but with Dexter Fowler headed to St. Louis he's going to need to be a bigger part of the offense. So Heyward has moved to Arizona to work with assistant hitting coach Eric Hinske two months before the rest of the team reports.
If the Cubs thought they had a target on them last year, it's only going to get worse in 2017. The defending champs never had to concern themselves too much with the division–but that might not be the case next season. The Cardinals are reloading and hope to take back the crown. Can the Cubs hold off the aging Cards?
These and other stories you might have missed:
'Who will catch Lester in 2017?' – Cubbies Crib
'Heyward heads to Arizona to make "critical changes" to swing' – Cubbies Crib
'The race for the Central will be tight in 2017' – Cubbies Crib
'Fowler on Cards: Always in the hunt' – ESPN
'Sensible trades for the Sox Frazier' – MLB.com
#Cubs on Twitter
We'll have more Cubs news and info throughout the day for your reading pleasure. Also, follow us on Twitter @CubbiesCrib and like us on Facebook at Cubbies Crib!
This article originally appeared on