2017 MLB Hall of Fame Ballot: The Last Chance For Raines and Smith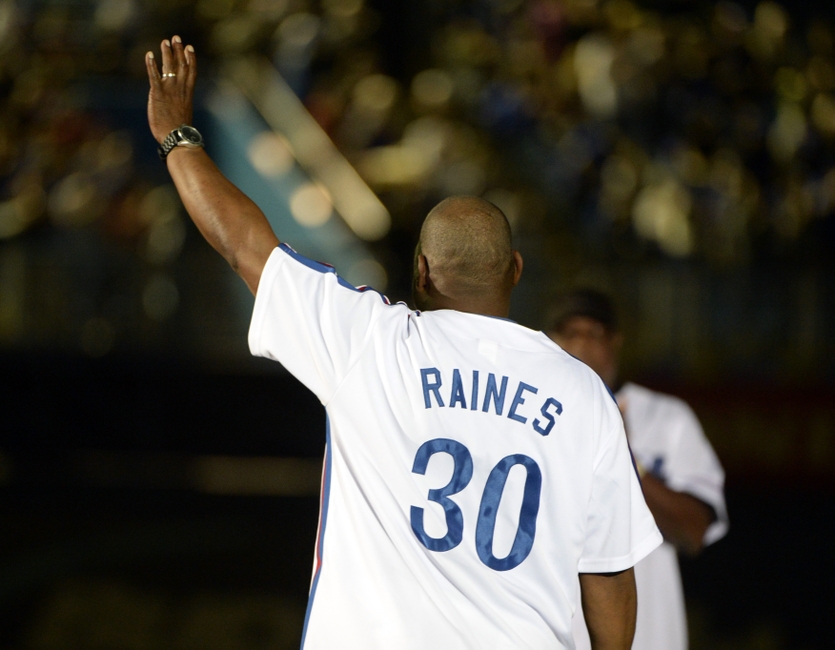 Will either of the final-ballot players—Lee Smith and Tim Raines—make the MLB Hall of Fame?
The recently released 2017 Hall of Fame ballot has 19 newly eligible players and 15 holdovers from last year. The most-likely Hall of Famer among the newly eligible is catcher Ivan Rodriguez. Rodriguez easily ranks in the top 10 among all catchers in baseball history and has an argument for the top five. He may not be voted in on his first ballot, but should be heading to Cooperstown soon enough.
Based on statistics alone, Manny Ramirez has Hall of Fame numbers, but he comes with considerable baggage after twice being suspended for performance-enhancing drug use. Barry Bonds was a vastly superior player and has topped out at 44.3% in the voting so far. If the writers won't vote in Bonds, Manny doesn't have a chance.
Another first-timer, Vladimir Guerrero, is a bit below Manny Ramirez statistically, but has a better shot at induction with the writers because he doesn't have the off-field issues. Manny and Vlad are two of seven outfielders making their appearance on the Hall of Fame ballot for the first time.
More from Call to the Pen
As usual, there are newcomers on the ballot who have no serious chance at being voted into the Hall of Fame. Guys like Freddy Sanchez, Arthur Rhodes, and Pat Burrell will get their one year on the ballot and then be summarily dismissed. There is one person who should have been on the ballot but was inexplicably left off—Javier Vazquez. Vazquez isn't Hall-worthy, but he's definitely ballot-worthy. He pitched in the big leagues for 14 years and had an ERA that was 5% better than league average. According to Fangraphs WAR, Vazquez was worth just two fewer wins than Jack Morris.
Along with the many newcomers on the ballot are 15 holdovers. Two of these players are facing their final chance at election by the BBWAA—Lee Smith and Tim Raines. The rules were changed recently to shorten the length of time a player can be on the ballot from 15 years to 10. Lee Smith was grandfathered in and is facing his 15th year on the ballot. Tim Raines wasn't so lucky. He is on his 10th and final year on the ballot. Let's take a look at their cases individually.
Lee Smith, Relief Pitcher
71 W, 478 SVS, 3.03 ERA, 1.26 WHIP, 8.7 K/9, 1022 G, 1289.3 IP
BBWAA Hall of Fame Vote
2003—42.3%
2004—36.6%
2005—38.8%
2006—45.0%
2007—39.8%
2008—43.3%
2009—44.5%
2010—47.3%
2011—45.3%
2012—50.6%
2013—47.8%
2014—29.9%
2015—30.2%
2016—34.1%
MLB Hall of Fame and Comparable Modern RPs based on Baseball-Reference WAR:
62.5—Dennis Eckersley (HOF)
56.6—Mariano Rivera
50.1—Hoyt Wilhelm (HOF)
41.8—Goose Gossage (HOF)
29.6—Lee Smith
28.4—Trevor Hoffman
28.1—Billy Wagner
27.2—Joe Nathan
26.3—Kent Tekulve
26.1—Rollie Fingers (HOF)
25.4—Dan Quisenberry
25.4—Francisco Rodriguez
24.6—Bruce Sutter (HOF)
Les Smith is the transition fossil of baseball closers. He first led the league in saves in 1983 when he pitched 103 1/3 innings in 66 appearances. He led the league in saves again in 1991 when he pitched 73 innings in 67 appearances. That noticeable difference in innings per appearance is one marker of the modern closer.
From 1983 to 1990, Smith pitched 713 1/3 innings in 520 appearances, for an average of 1.37 innings per appearance. This was not unusual for a closer during the 1980s. Most closers averaged more than an inning per appearance. From 1991 on, Smith pitched 370 2/3 innings in 372 appearances, an average of just under one inning per appearance. This is the norm for the modern day closer, an average of right around one inning per appearance. More than any other closer, Lee Smith bridged the gap from a time when closers were regularly used for more than one inning to a time when they rarely are.
Joe Posnanski wrote about Smith as the bridge between a group of closers that included Dan Quisenberry, Goose Gossage, Rollie Fingers, and Bruce Sutter in the 1980s to the Dennis Eckersley, John Franco, Trevor Hoffman, and Mariano Rivera group of the 1990s. He makes a good argument that Smith became the first modern-day closer in 1991, thanks to Cardinals' manager Joe Torre.
But does that make Lee Smith a Hall of Famer? Based on recent Hall of Fame ballots, it doesn't look like it. Smith debuted with 42.3% of the vote, which is more than halfway to the 75% threshold needed for induction. He held steady in the 35% to 45% range for nine years before topping out at 50.6% in his 10th year on the ballot. He dropped slightly in his 11th year, then tumbled all the way down to 29.9% in his 12th year on the ballot. He had 34.1% last year. Given these vote totals, it's extremely unlikely Smith will make it this year, on his final ballot.
Relief pitchers are a difficult position to assess when it comes to the Hall of Fame because the role has changed so much over time. One hundred years ago, relievers were an afterthought. Starters were expected to pitch the entire game and relievers were failed starters who were generally only brought in when the game was out of hand. Even after the save statistic was invented in 1969, it took another 20-plus years for teams to settle in on the usage pattern of the modern day closer.
With so much change in the role over time, the relievers that are currently in the Hall of Fame are an eclectic bunch. These Hall of Fame relievers are Hoyt Wilhelm, Rollie Fingers, Goose Gossage, Bruce Sutter, and Dennis Eckersley. Wilhelm started 52 games in his career. Fingers and Gossage each started 37. Eckersley was a starting pitcher for many years before becoming a closer in his 30's. He started 361 games in his career. Of the five closers currently in the Hall of Fame, only Bruce Sutter never started a game. Perhaps not coincidentally, Sutter has the lowest Baseball-Reference WAR among this group of pitchers.
As you can see from the list above, Lee Smith falls well short of the WAR totals of Eckersley, Wilhelm, and Gossage (and Mariano Rivera, who will be eligible in 2019), but above Fingers and Sutter. He's even slightly above Trevor Hoffman, who debuted with 67.3% of the vote last year. Then again, Smith is also just slightly above Billy Wagner, who received only 10.5% of the vote last year, despite being so close in value to Hoffman.
More than anything, I believe this shows that voters don't yet know what to do with relievers. If you look just at run prevention, there shouldn't have been such a big difference between Wagner and Hoffman in the voting last year. The save statistics makes it look like Hoffman is much more deserving than Wagner, but when it comes to run prevention Wagner was the better pitcher. Hoffman is likely to get into the Hall of Fame very soon, while Wagner could easily fall off the ballot long before his ten years are up.
Lee Smith gets his final chance to enter the Hall of Fame through the BBWAA this year. He's at the top of a group that includes a couple Hall of Fame relievers, but was not demonstrably better than Bill Wagner, Joe Nathan, Kent Tekulve, or Dan Quisenberry, none of whom will make the Hall. Smith can be proud of his 18 years in the big leagues, but he won't be making the Hall of Fame.
Tim Raines
.294/.385/.425, 1571 R, 170 HR, 980 RBI, 807 SB, 2502 G, 10359 PA
BBWAA Hall of Fame Vote
2008—24.3%
2009—22.6%
2010—30.4%
2011—37.5%
2012—48.7%
2013—52.2%
2014—46.1%
2015—55.0%
2016—69.8%
MLB Hall of Fame and Comparable Outfielders based on Baseball-Reference WAR:
72.8—Paul Waner (HOF)
72.6—Larry Walker
72.1—Harry Heilmann (HOF)
70.4—Carlos Beltran
69.5—Ed Delahanty (HOF)
69.2—Manny Ramirez
69.1—Tim Raines
68.8—Tony Gwynn (HOF)
68.7—Al Simmons (HOF)
68.2—Kenny Lofton
67.8—Fred Clarke (HOF)
66.9—Dwight Evans
66.1—Goose Goslin (HOF)
Tim Raines has a growing contingent of baseball writers supporting his candidacy. He's made tremendous strides in his vote total the last two years, jumping from 46.1% in 2014 to 55% in 2015 to nearly 70% last year, when he came up 23 votes short out of 440 ballots cast. His main competition this year includes first-timer Ivan Rodriguez and two players who were also close to induction last year, Jeff Bagwell (71.6%) and Trevor Hoffman (67.3%).
Raines got his first taste of big league play in September of the 1979 season, but didn't get a single at-bat. He pinch-ran six times, stealing two bases and scoring three runs. He got into 15 games in 1980 as a 20-year-old, but really established himself during the strike-shortened 1981 season when he led the National League with 71 stolen bases in just 88 games. This was the first of four straight years in which Raines led the NL in steals. He also led the league in runs scored in one of those years and in doubles another year.
The mid-80s were peak Raines. In the five seasons from 1983 to 1987, he averaged 6.5 WAR (per FanGraphs), good for fourth in baseball among position players. He was just 1.1 WAR behind Rickey Henderson during this stretch. Add in the two seasons before this five-year period and Raines was an all-star seven straight years and finished in the top seven in MVP voting three times.
Raines could hit for average, got on base at an excellent clip, stole bases with impressive efficiency, and hit for solid power. He was also one of the most exciting players in the game to watch. His performance in the 1987 All-Star Game was particularly impressive. Eric Davis started the game in left field and Raines came in as a replacement in the bottom of the sixth inning. The game went 13 innings and Raines was 3-for-3. His two-run triple in the top of the 13th broke a 0-0 tie and earned Raines the MVP award.
For the most part, Raines was a regular in the lineup from 1981 to 1994, a period of time during which Major League Baseball experienced two labor stoppages that cost Raines some playing time. He was also one of the players that the owners colluded against, and were punished for, in the mid-80s. This collusion cost him the first month of the 1987 season. Over this 14-year stretch, Raines hit .297/.387/.429 and stole 757 bases at an 85% success rate.
Raines become more of a part-time player over the last nine years of his career, with just four seasons with over 100 games played. Still, he was an effective part-time player, hitting .283/.382/.423, and averaging 316 plate appearances per season.
For me, Raines is a Hall of Fame player. He's very comparable to Tony Gwynn, who sailed in on the first ballot with 97.6% of the vote. In fact, based on both FanGraphs and Baseball-Reference WAR, Raines was slightly more valuable than Gwynn. The telling comparison between the two is in the number of times they each reached base in their careers
3,141 hits +   790 walks + 24 HBP = 3,955 times on base—Tony Gwynn
2,605 hits + 1330 walks + 42 HBP = 3,977 times on base—Tim Raines
They did it in different ways, but they both got on base a similar number of times, although Raines did have 127 more plate appearances. Still, I see no reason there should be such a difference between them that Gwynn could sail in on the first ballot while Raines has waited for nine years and counting. I'm rooting for him to get in this year.
This article originally appeared on