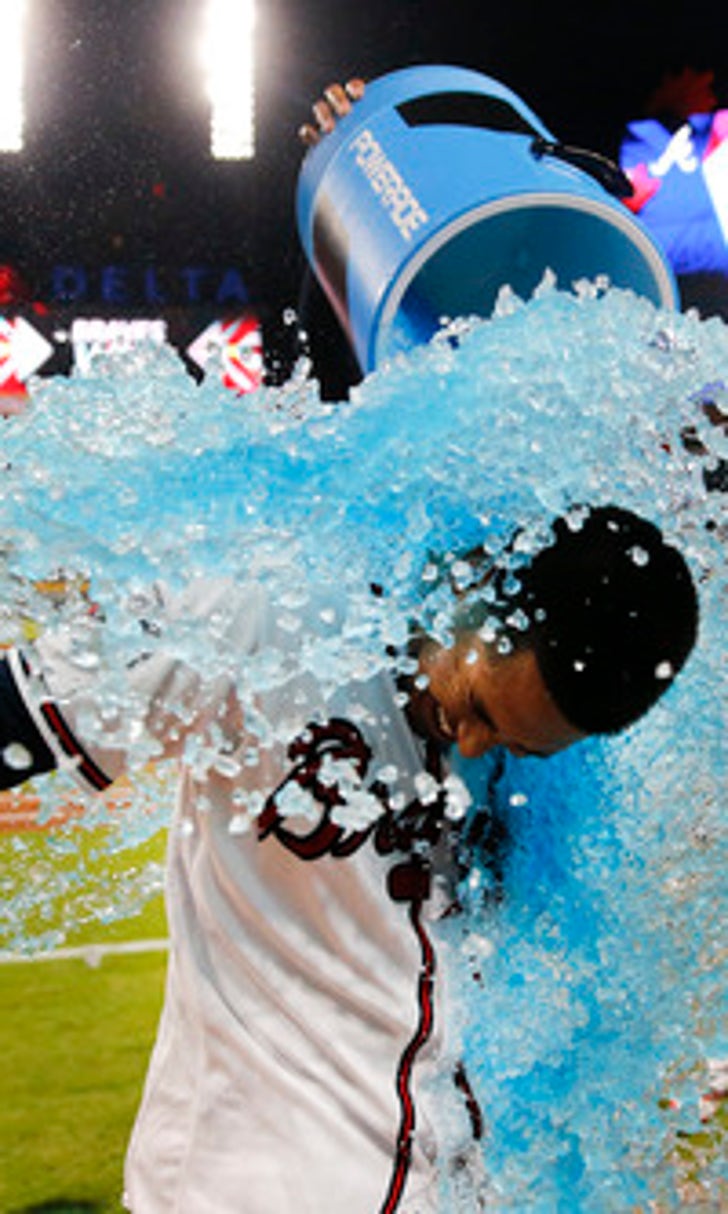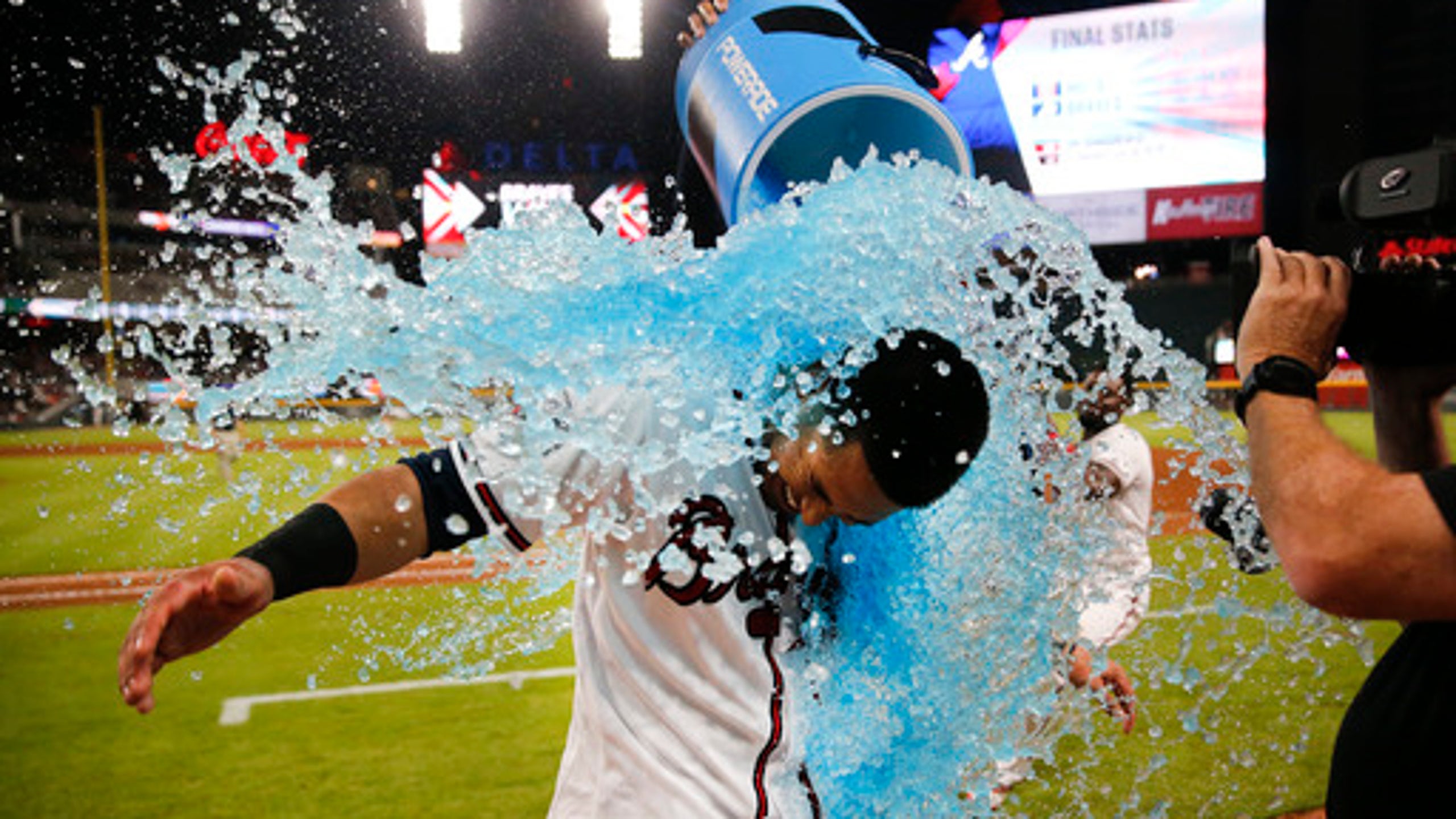 Swanson hustles for double, Ruiz lifts Braves over Mets 3-2 (Jun 09, 2017)
BY AP • June 10, 2017
ATLANTA (AP) The grounder up the middle looked like a routine single to everyone except Dansby Swanson.
The rookie was thinking two bags all the way.
Swanson reached on his hustle double, then dashed home on a single by pinch-hitter Rio Ruiz in the ninth inning to lift the Atlanta Braves over the New York Mets 3-2 Friday.
With one out in the ninth, Swanson hit a bouncer through the infield and ran hard out of the batter's box. As center fielder Curtis Granderson took a casual approach to the ball, Swanson never let up as he rounded first base and slid head-first into second.
''As we're always saying, `Just make them stop you,''' Swanson said. ''I kept going and didn't really hesitate. I felt that was the right thing to do and it worked out. Any way to get in scoring position.''
Said Granderson: ''He had already made the turn before I got to the ball. He hustled out of the box and that is a great play by him. By the time I was able to get to it, he was already on his way to second base.''
Josh Edgin then relieved Fernando Salas (0-2), and Ruiz followed with a single to left . Swanson skipped out of the way of the ball, sped home and slid in safely.
Braves players poured out of the dugout to surround Ruiz, with Swanson rushing to congratulate him.
Ruiz had a cooler filled with a sports drink poured on him during his postgame TV interview on the field, but he knew Swanson set up his game-winning hit.
''I'm not surprised with anything from him,'' said Ruiz, who is also a rookie. ''... He started that whole thing and put me in position to drive him in.''
Braves manager Brian Snitker described Swanson as ''a kid who comes out of the box thinking two. That's a baseball player.''
Swanson's two-run double in the sixth gave Atlanta a 2-1 lead.
Jim Johnson (4-1) pitched a scoreless ninth.
Granderson and Travis d'Arnaud hit homers for New York. Mets starter Matt Harvey threw five scoreless innings.
Harvey said he considered his start ''a step in the right direction for where I want to be in terms of keeping runs off the board.'' But he wanted to go longer than five innings.
''That's the thing that's frustrating to me about tonight, especially with the doubleheader coming tomorrow,'' he said. ''You need to be able to go six or seven innings.''
Harvey left with a 1-0 lead, thanks to Granderson's third-inning homer off Julio Teheran. The Mets have hit homers in 12 consecutive road games, two shy of the team record of 14 set in 1988.
The Braves took the lead with two runs off reliever Paul Sewald in the sixth. Matt Kemp led off with a double, Danny Santana drew a two-out walk and Swanson doubled.
The Mets tied it in the seventh on d'Arnaud's line-drive homer to left off Jason Motte.
TRAINER'S ROOM
Mets: 2B Neil Walker missed his second straight game with swelling in his left knee. Manager Terry Collins said he was worried the swelling had not gone down after two days.
Braves: RHP Kris Medlen, who missed most of 2016 with right shoulder problems following his second Tommy John surgery, gave up three runs on five hits and three walks in 5 2/3 innings against Charlotte in his first start for Triple-A Gwinnett. He had a 1.74 ERA in two starts for Double-A Mississippi.
LOGJAM
Granderson's hold on a starting job could be on jeopardy when Yoenis Cespedes returns from the disabled list. Collins said Cespedes will start one game in Saturday's doubleheader. Granderson, Jay Bruce and Michael Conforto were the regular starters since Cespedes went on the DL on April 28 with a strained left hamstring
UP NEXT
Mets: LHP Steven Matz will return from an elbow injury and make his season debut in the second game of the doubleheader. Robert Gsellman will start in the first game.
Braves: The team is expected to call up rookie LHP Sean Newcomb and RHP Matt Wisler. It will be the major league debut for Newcomb, who is 3-3 with a 2.97 ERA at Triple-A Gwinnett. He was acquired in the 2015 trade that sent SS Andrelton Simmons to the Angels.
---
More AP baseball: https://apnews.com/tag/MLBbaseball
---
---