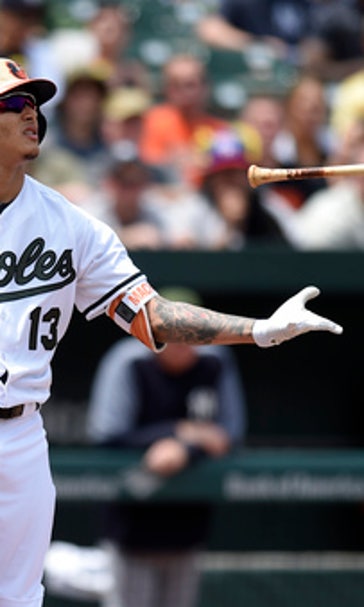 LEADING OFF: Red Sox-O's rivalry; Pujols at 599; Kluber back
June 1, 2017

A look at what's happening all around the majors today:
---
RIVALRY RENEWED
The Red Sox visit Baltimore for a four-game series that runs through Sunday. The contentious rivalry between AL East foes ramped up this season when Manny Machado's aggressive slide into Boston second baseman Dustin Pedroia in late April led to dangerous inside pitches, harsh words and a warning from MLB officials to stop the feuding. At the center of the storm was Machado, currently in a terrible slump.
PRIMED FOR POWER
Angels slugger Albert Pujols gets his next shot at home run No. 600 when the Twins arrive in Anaheim. Pujols had a single in four at-bats Wednesday night against Atlanta, remaining at 599 homers. Rookie left-hander Adalberto Mejia (1-1, 4.64 ERA) makes his sixth major league start for a struggling Minnesota pitching staff that just gave up 40 runs in a three-game sweep by Houston. The Twins, who have lost four straight, served up six homers Wednesday to the streaking Astros.
SIGHT FOR SORE EYES
Cleveland ace Corey Kluber comes off the disabled list to make his first start since May 2 when the Indians host Oakland. Kluber, who has been sidelined with a strained lower back, is 3-2 with a 5.06 ERA. His return will be a welcome addition for a rotation that entered Wednesday with the highest ERA in the American League. He replaces right-hander Danny Salazar, sent to the bullpen with a 3-5 record and 5.50 ERA. Kluber was 18-9 with a 3.14 ERA last season and went 4-1 with a 1.83 ERA in six postseason starts. He won the AL Cy Young Award in 2014 and finished third in the voting last season.
HOMER HAPPY
After winning eight of their final nine games in May, the Blue Jays welcome the AL East-leading Yankees for the opener of a four-game set. ''It would be nice to continue playing well right now,'' Toronto manager John Gibbons said. ''The timing would be perfect.'' Toronto was 8-17 in April, but bounced back to finish May at 26-27 thanks to a barrage of home runs, 49 in all. ''In the American League, especially in our division, you've got to hit home runs,'' Gibbons said. ''That's the key.'' Marco Estrada (4-2, 3.15 ERA) starts the first game against CC Sabathia (5-2, 4.42 ERA), seeking his 16th career win versus Toronto.
FISH STICKS
Miami has won four straight, its longest winning streak since last July, heading into a four-game series against visiting Arizona. Left-hander Jeff Locke makes his season debut in the opener vs. Diamondbacks ace Zack Greinke (6-3, 3.24 ERA). Locke has been on the DL with left biceps tendinitis. After a difficult stretch when they went 4-19, the Marlins are winning with offense, scoring 73 runs in the past 10 games. Their latest victory Wednesday over Philadelphia came without slugger Giancarlo Stanton, who rested while recovering from hamstring cramps. He's expected to return to the lineup against Arizona. ''We're playing better,'' Miami manager Don Mattingly said. ''Hopefully our best baseball is ahead of us.'' Justin Bour hit 11 home runs for the Marlins in May.
ON A ROLL
Cardinals veteran Adam Wainwright (5-3, 4.20 ERA) pitches against Brandon McCarthy (5-1, 3.28) and the Los Angeles Dodgers. Wainwright is 5-0 with a 3.21 ERA since his last loss on April 16.
COMING OFF A GEM
Chase Anderson (3-1) starts for the NL Central-leading Brewers in the finale of a four-game series at the New York Mets. Anderson had a no-hit bid going last Saturday until Nick Ahmed's leadoff single in the eighth at Arizona. He set career highs with 11 strikeouts and 114 pitches in seven-plus innings during a 6-1 win. Zack Wheeler (3-2) goes for the Mets.
---
More AP baseball coverage: https://apnews.com/tag/MLBbaseball
---
---