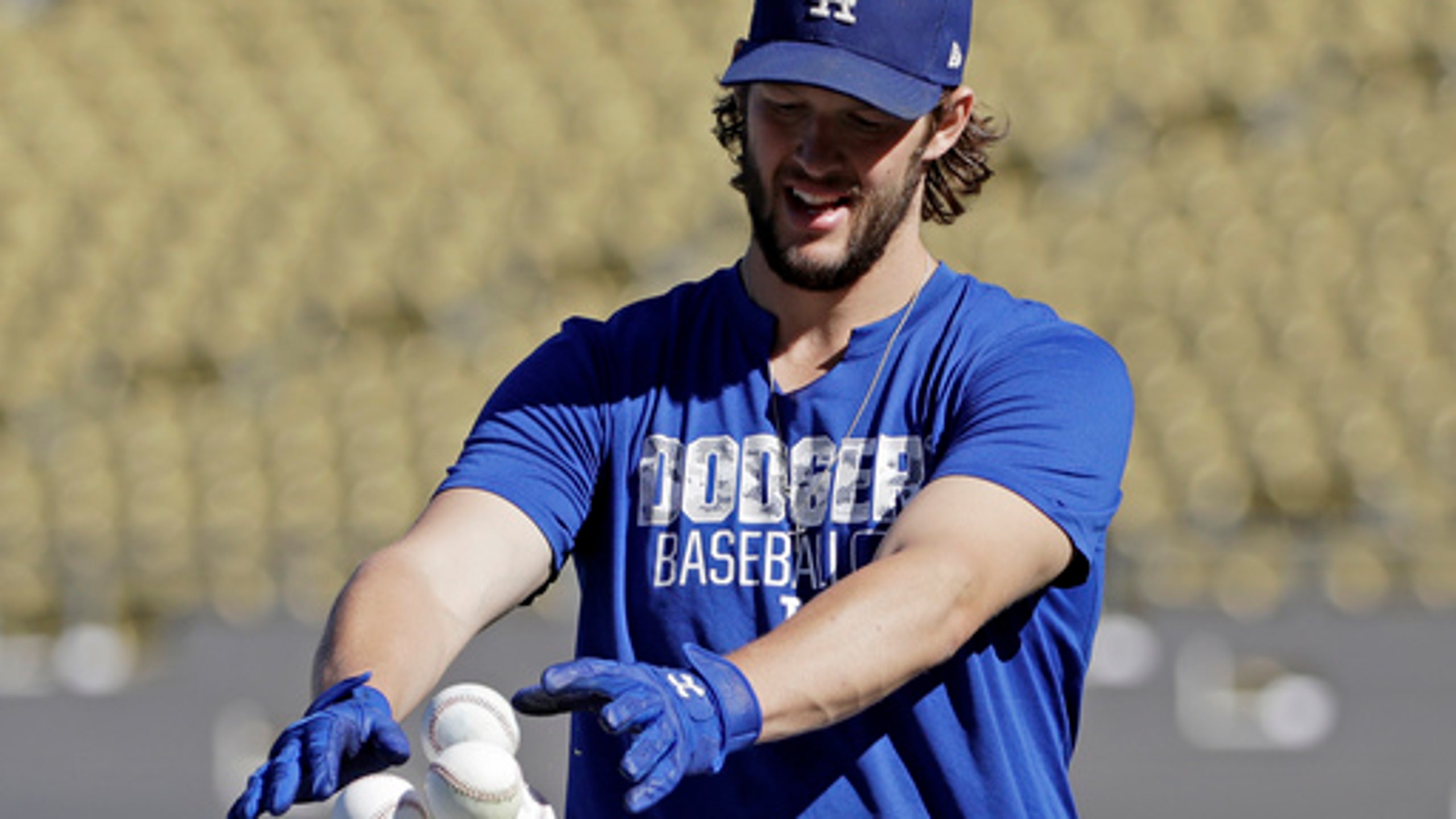 Dodgers save Kershaw for Game 6, and now they'll need him
BY foxsports • October 21, 2016
LOS ANGELES (AP) Clayton Kershaw gripped a baseball in his left hand and grimaced while he watched Game 5 of the NL Championship Series from the dugout.
The Los Angeles Dodgers' best pitcher was ready and eager, and he was sitting on three days of rest. Manager Dave Roberts could have deployed him Thursday night in Chavez Ravine and probably again in relief at Wrigley Field.
Roberts declined to play his ace, instead holding his top card for the weekend. The Dodgers decided to rely on rookie Kenta Maeda and their bullpen against the NL's best offense.
The Dodgers hung in for the first three hours, but eventually proved to be no match for Jon Lester in the Chicago Cubs' 8-4 victory. Los Angeles now trails the series 3-2.
Although Roberts has already proven unafraid to do unorthodox things with his pitchers in October, he stuck to a conventional plan to save Kershaw for Game 6.
And instead of pitching to clinch a pennant Saturday night, Kershaw will attempt to save the Dodgers' season again.
''I think you do everything you can to try and keep it just like another start at the beginning,'' Kershaw said before Game 5. ''Then obviously the magnitude and the situation of the game kind of raises everybody's adrenaline and things like that, but (I'm) trying to keep it the same right now.''
Kershaw volunteered to pitch Game 5, but Roberts had several reasons to turn him down.
Roberts figured he would need to start Maeda at some point in the next three games, and he hoped the home crowd would benefit the inconsistent Japanese right-hander. With a day off Friday, Roberts also knew he could go deep into his bullpen - which has thrown a majors-high 43 innings in the postseason - with no repercussions.
''It's not an elimination game,'' Roberts said after Game 4. ''And I think the accumulation of (Kershaw's) usage over the last ten days plays a factor in our decision.''
Instead of pitching on three days' rest in Game 5, Kershaw will be pitching on a luxurious five days' rest in Game 6. Although the three-time NL Cy Young award winner already has pitched 19 1-3 innings in the postseason, a midseason injury kept him off the mound for 2 1/2 months, leaving his arm with much less accumulated action than in a normal season - 168 1-3 innings combined this year, compared to 246 1-3 last season.
Kershaw shrugs off that notion, saying he feels pretty much the same as he did in previous Octobers. The biggest difference is that Kershaw, who acquired a reputation for postseason struggles over the past several seasons, has begun to erase that reputation this fall while he attempts to reach his first World Series.
After pitching decently in his two starts in the NL Division Series against Washington, Kershaw dominated the Cubs with seven innings of two-hit ball in Game 2, and closer Kenley Jansen finished off a 1-0 victory.
Regardless of the success of this call, Roberts has made a series of canny decisions in the postseason. His clever pitching staff management in the decisive Game 5 of the NLDS against Washington thrilled long-suffering fans who found manager Don Mattingly too reactive.
Roberts used setup man Joe Blanton in the third inning, kept Jansen in for 51 pitches and seven outs, and went to Kershaw to close out a 4-3 thriller.
Although Kershaw wasn't chosen for Game 5, Roberts clearly didn't have much faith in the alternative, pulling Maeda after just 3 2-3 innings and 76 pitches.
The Dodgers attempted to preserve Maeda's arm down the stretch of the longest season of his baseball career, giving the 28-year-old rookie no starts longer than 6 1-3 innings since July. But Maeda has been shaky throughout his first big-league postseason, yielding seven runs in seven innings over his first two starts.
He trailed 1-0 after three batters in Game 5, giving up Dexter Fowler's leadoff single and Anthony Rizzo's RBI double before many fans had even settled in their seats. But after striking out two Cubs to end it, Maeda held the Cubs without a hit until Javier Baez's leadoff double in the fourth.
Maeda then hit Jason Heyward with a pitch, but got two more outs before Roberts curiously pulled him with Lester coming up for Chicago.
The Dodgers' bullpen kept it even until the sixth, when Addison Russell hit a tiebreaking two-run homer off Blanton, one of Roberts' most reliable arms until recently.
The wheels fell off for Los Angeles in Chicago's five-run eighth inning, turning a tense game into a second straight blowout victory.
The Cubs are one win away from ending the championship drought that dwarfs all others, but Kershaw will finally get another shot to shut them down.
---
---