San Francisco Giants' Case For J.D. Martinez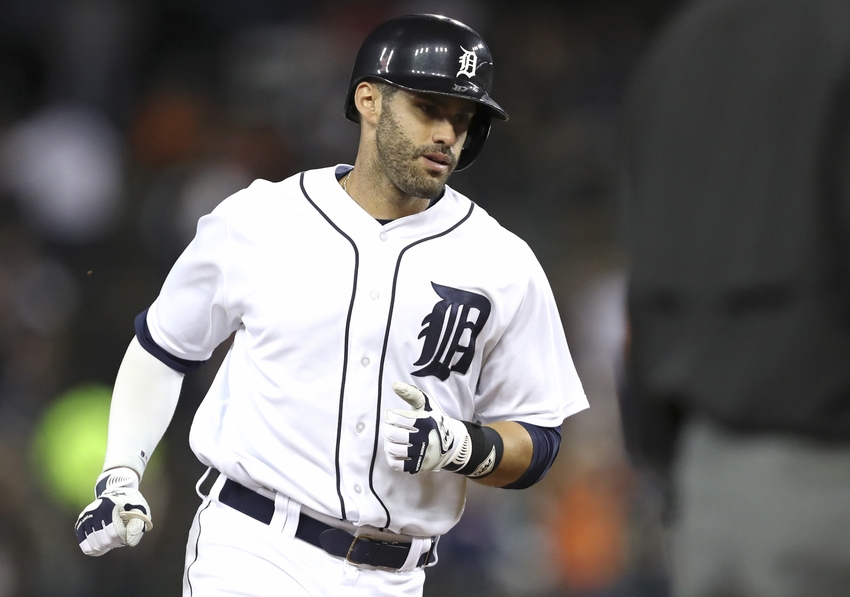 The San Francisco Giants have been linked to trade talks with the Detroit Tigers for J.D. Martinez, as Jon Morosi tweeted. Talks of a trade started during the GM meetings last week, but have not progressed since.
San Francisco is currently in the market for a left fielder since Angel Pagan is unlikely to be brought back. While San Francisco is exploring the possibility of Mac Williamson starting full time, trading for Martinez would be an immediate offensive boost.
Detroit has been cited before last season's trade deadline speaking to their appeal and interest in the Giants young pitching prospects before David Price was ultimately traded to Toronto. Martinez' price may not come cheap, but the Giants have pieces the Tigers may still covet.
In 120 games played this season, he hit .307, with 22 HRs and 68 RBIs. Over his last three seasons he's produced outstanding numbers posting a .299 average, with 83 HRs and 246 RBIs.
Want your voice heard? Join the Around the Foghorn team!
For a team built to win now, the trade takes pressure off the San Francisco Giants' brass and Williamson for the season who could serve as the fourth outfielder. However, the Giants philosophy for winning highly values defense. Martinez was one of the worst defenders in the league by metrics, so the trade does present risk.
Even riskier from the San Francisco Giants' perspective, may be that he is a free agent after the 2017 season. Giving up prospects for a one-year rental may not be in the Giants best interests, and it certainly hasn't in the past.
Indeed, the trade is intriguing, so provided will be a case made for the move, while analyzing positives and negatives of the deal.
Since Barry Bonds' departure, the San Francisco Giants have failed to fill their power void in left field. J.D. Martinez would easily fill that void with his bat, and provide a huge offensive upgrade for the Giants at least one season for a number of reasons.
Aside from his 2016 total of .307 average with 22 HRs and 68 RBIs, he posted an OBP of .373, a .535 SLG, and an OPS of .908.
J.D. Martinez' bat may not be enough to overcome his problems defensively as the San Francisco Giants evaluate his value for a trade.
All of those offensive categories would have led the Giants, except for OBP and RBIs. This would easily make him the biggest power threat in a lineup truly lacking one. As mentioned earlier, his three-year stat line of .299 average, 83 HRs and 246 RBIs would certainly be welcomed into the middle of the Giants' lineup.
Martinez' splits are almost identical when facing lefties or righties. He hit .306 against 132 lefties faced, and .307 against 385 righties faced.
His production in pressure moments is what should excite Giants' brass and fans about his possible offensive addition. With runners in scoring position, he batted .275 with three HRs and 41 RBIs, while posting a stellar .344 OBP, .431 SLG, and .775 OPS in 128 plate appearances.
Even more impressive is his .429 average with the bases loaded and two outs, and .333 average with a runner on third and two outs. Situations the Giants failed to capitalize on throughout 2016.
With so much positive upside the trade brings offensively, it's only fair to evaluate Martinez' weak points defensively. San Francisco Giants' team philosophy is built on defense, and digging into his metrics will show if he fits that philosophy.
J.D. Martinez' bat may not be enough to overcome his problems defensively as the San Francisco Giants evaluate his value for a trade. After leading right fielders with a .993 fielding percentage in 2015, he experienced a huge drop off to .971 this season.
His six errors were fourth most in the American League, and all six were fielding errors. This contributed to a disappointing -17.2 UZR, and an even more uninspiring -22 DRS, according to fangraphs.
Those numbers surely resound with Giants' brass behind closed doors, and on paper divert from their philosophy. However, as mentioned earlier, his 2015 AL leading .993 fielding percentage may help silence some echoes of his defensive struggles if the Giants believe that's the type of defender he can be again.
A real problem noticed among San Francisco Giants' fans and reporters was the weak arm strength coming from left field and center field options. Fangraphs rated the arm strength of Angel Pagan 29/100, and Denard Span received a scouting score of 35/100.
Very underwhelming results for a philosophy built around defense, when offenses know they can push their luck on the bases.
Compare that to Martinez' scouting score of 67/100, and it's a significant upgrade for an outfield that poses little threat to base runners. Yoenis Cespedes is regarded as having one of the best outfield arms in the game, and his score for comparison's sake is 88/100.
Strong outfield arms stop runners from advancing first to third on singles, may prevent runners tagging home from third, and certainly help prevent runners scoring from second base on singles.
His fielding is a huge concern and may persuade the San Francisco Giants to pursue another trade or test free agency. There are a number of serviceable options on the free agent market, but J.D. Martinez is the best trade the Giants could make. The only question now would be his price.
San Francisco Giants have a number of young pitching prospects the Tigers reportedly take interest in, via reports before last year's trade deadline. This came to surface during the Giants' failed pursuit of David Price. Now they have a chance to remind the Tigers of their feelings toward Giants' prospects.
I assume a move for Martinez won't come cheap, but I don't expect a king's ransom for his services either. Granted, he'll be a free agent after the 2017 season, essentially making him a rental. It's unrealistic to assume one of their top three prospects won't have to be offered for a deal to transpire. Major league talent doesn't come cheap for peanuts.
More from Around the Foghorn
I could see a package of Tyler Beede, Ray Black, and one of Chris Stratton or Kyle Crick getting a deal done. However, Tyler Beede displayed immense growth this season posting a stellar 2.81 ERA in 147.1 innings pitched, and the San Francisco Giants may be inclined to keep him.
Ray Black is the most interesting piece in this whole deal. He has an electric arm capable of reaching 104 mph, and is almost major league ready.
Creating the scenario in which the Giants sign an elite closer this offseason, Ray Black would become expendable and his intrigue could hold serious trade value.
I'd personally prefer the Giants to label Chris Shaw, Christian Arroyo, and Tyler Beede as untouchable, but if one were needed to make a deal happen, I'd part with Shaw only because of Brandon Belt's extension signed at first base. Of course this all changes if Martinez still had two or more years remaining on his deal.
Martinez is also tabbed to make only $11.7 million this season, which would cost less than any premium left field option, and provide flexibility to pursue up to two elite bullpen options if desired. The San Francisco Giants do have $46.4 million to spend this offseason.
Surely, San Francisco Giants' fans would be pleased with an offseason securing an elite closer and a power bat. J.D. Martinez would be just the power bat they're looking for, if the San Francisco Giants can live with his defensive weaknesses.
Stay tuned to Around the Foghorn for all you latest on the San Francisco Giants' Hotstove!
This article originally appeared on