Phillies: How Does Aaron Nola Maximize Ability And Potential?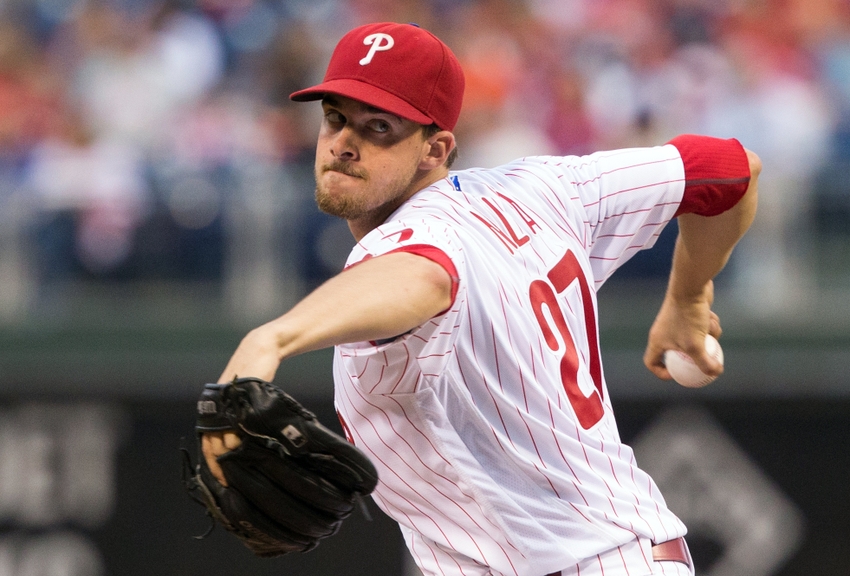 After a mid-season collapse and injury scare – The Phillies third-year pitcher should change his approach from 2016 to maximize his ability and potential.
After being drafted eighth overall in 2014, high expectations were set on Philadelphia Phillies starting pitcher Aaron Nola. His rise to the major leagues was relatively quick. After just 29 starts in the minors, Nola had arrived.
In 33 starts since ascending to Philadelphia, Nola has had mixed results. When he first joined the club in 2015, Nola finished the season with a 3.59 ERA in 13 starts. Last season, Nola finished with a 4.78 ERA in 20 starts before suffering a season-ending injury in July.
Primed For Success
Nola had been the model of consistency prior to the 2016 season. Dating back to his arrival in 2014, Nola had never finished a stint at any level with an ERA higher than 3.59.
In 2014 (Clearwater, Reading), Nola finished with a 2.93 ERA in 11 starts. In 2015, before being called up to the Phillies in July, Nola started 18 games for Reading and Lehigh Valley. He would finish that stint with a 2.39 ERA in just over 109 innings pitched.
As mentioned, his 2015 MLB campaign was stellar. Nola was everything and more to fans, and a team – with high expectations of him.
More from That Balls Outta Here
2016 Season: The Rise And Fall
Through Nola's first 12 starts of the 2016 season, he was incredible. After June 5th – the right-handed starter who just celebrated a 23rd birthday – posted a 2.65 ERA with 85 strikeouts in 78 innings of work – holding opponents to a .580 OPS. He was the Phillies ace.
Fans, and the team – were expecting dominance from Nola every start. After just 25 starts at the big-league level, he was the guy.
However, over his next five starts for the Phillies, Nola faltered.
Nola would go on to give up 27 earned runs over 18 innings, posting a whopping 13.50 ERA and 1.119 OPS against. Never lasting more than 3.2 innings in a game, this was easily the worst stretch of his career, which resulted in Nola being shut-down prior to the all-star break.
After returning on July 18th, Nola returned to form. Allowing only two hits and striking out five batters in six innings of work. Though over his next two starts Nola just didn't quite look right. Allowing nine earned runs over 14 hits in nine innings.
He wasn't right, and the team shut him down.
The Injury
Nola suffered damage to his right elbow in the ulnar collateral ligament. He strained the flexor tendon in his right forearm. The eventual diagnosis was "low-grade" sprains and strains of ligaments and tendons in his elbow. He was initially placed on the 15-day DL, but was later transferred to the 60-day DL, and as mentioned, wouldn't pitch again in the season.
What's To Blame?
Simply put – Nola is a far better pitcher when he's focusing less on striking guys out, and more on getting guys out.
His 2016 K/9 was a career high 9.8. While a flattering number, this is not the type of pitcher Nola is. His track record proves so.
2014 with Clearwater: 8.6 K/9 – 3.16 ERA
2014-15 with Reading: 6.6 K/9 – 2.06 ERA
2015 with Lehigh Valley: 9.1 K/9 – 3.58 ERA
2015 with Phillies: 7.9 K/9 – 3.59 ERA
While it's nice to know Nola can strike guys out, it's simply not his game and diminishes his overall effectiveness. With Lehigh Valley in 2015 and the Phillies this past year – his K/9 exceeded 9, which as a result led to a 1.44 and 1.31 WHIP in both respective stints, the highest marks of his career.
Back To Reality
Aaron Nola can still be really good. All hope is not lost on the young starters arm. He didn't require surgery on his elbow, he's been on the right track for recovery, and he's still shown signs of greatness.
His FIP with the Phils was 4.04 from his 2015 stint. That went down to 3.08 this past season. While it's encouraging that Nola wasn't all to blame for his slide, this still suggests' the kid competes like heck. He wants to win each and every battle with whomever is at the place.
He put a weight on his shoulders that eventually just wore him down. When he's self-reliant, his strikeouts rack up, sure – but it ultimately hinders what he can be to the team.
Who Is Aaron Nola?
Aaron Nola is a really good pitcher. But he's not Vince Velasquez. Meaning he's not going to punch 9 or 10 guys out on a nightly basis – and that's okay.
He's never going to blow the top off a radar gun, he'll sit 88-92MPH with some wicked movement. His curveball is a sweeping disaster for anyone at the plate. While his change-up is still a work in progress, it has shown flashes to be a great third pitch for Nola.
With the movement Nola has on his pitches, plus the competitor that he is, it's easy to see why he became self-reliant on the mound. Though, it's going to be up to Nola to understand the reality of the situation.
He needs to pitch to contact. His overall value to the team increases, his numbers get better, and it's safe to assume it decreases the wear-and-tear on Nola's arm. This in part means trusting your teammates a little more, and relying on yourself, less. His FIP might not be the best in the world, and his K/9 might not be sexy. But if he's winning games, and giving the team a chance to win, than who cares?
The Phillies need a dependable starting pitcher, which Nola certainly has the potential to be if he stays healthy, but more importantly if he stays within himself in the process.
This article originally appeared on