Noah Syndergaard wants fans to stop doing the wave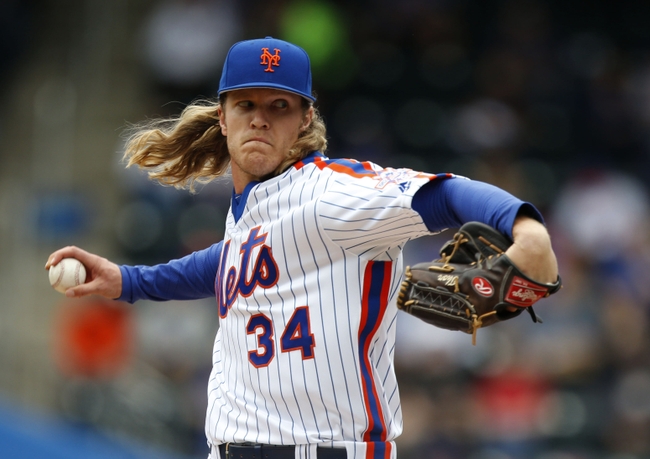 New York Mets pitcher Noah Syndergaard wants to ban the wave. Let's join him in this important movement.
There's no better way to alert the rest of the stadium that you have no interest in the product on the field than attempting to start the wave. Noah Syndergaard wants to save unwitting fans from that embarrassing fate. The New York Mets ace is ready to take a firm stand against poor fan behavior at the park and is helping by laying out his own personal etiquette rules.
It's a bold move.
Very happy we won….but I want the name and address of the person who started the "Wave" tonight. #banthewave#resisttheurge

— Noah Syndergaard (@Noahsyndergaard) August 31, 2016
Count Thor firmly in the camp that finds the wave to be an irritating part of the game. To him, it's not a pointless way to break up the monotony of a major-league baseball game. The Mets are in the middle of a pennant race, so it's probably not an awful idea to actually watch the game.
Having never stood on a mound in front of 40,000 people, it's hard to imagine exactly how distracting the wave can be. I would imagine it's difficult to zero in on the catcher's mitt while fans are rhythmically rising and sitting back down in their seats. There's also the cacophony of shrieks and whistles that accompany this abomination.
Luckily, Syndergaard and SNY, the Mets' regional sports network, teamed up to produce a public-service announcement addressing all sorts of common ballpark etiquette.
Some key takeaways from the three-minute production include:
not interfering with the home team's players when they approach the stands to catch a foul ball. It is, however, acceptable to get all up in the grill of opposing players.
avoid catching a foul ball with your drink to avoid becoming part of a bad YouTube video.
DO NOT, FOR ANY REASON, DO THE WAVE.
do not steal t-shirts and giveaways from the elderly or children. Steal t-shirts from the bozo who brings his glove to the game.
bring a sign that clearly indicates that the woman next to you is not your significant other to avoid Kiss Cam embarrassment.
never, never, ever boo Noah Syndergaard.
There are a few other rules that should be followed. First among them is standing at the top of the row until an at-bat is completed. Also, do not, under any circumstances allow yourself to become "foul-ball" guy. Don't do it. Aside from those two key rules, Noah Syndergaard's first #banthewave PSA covered all of the key bases.
This article originally appeared on