Detroit Tigers: Three Hypothetical Victor Martinez Trades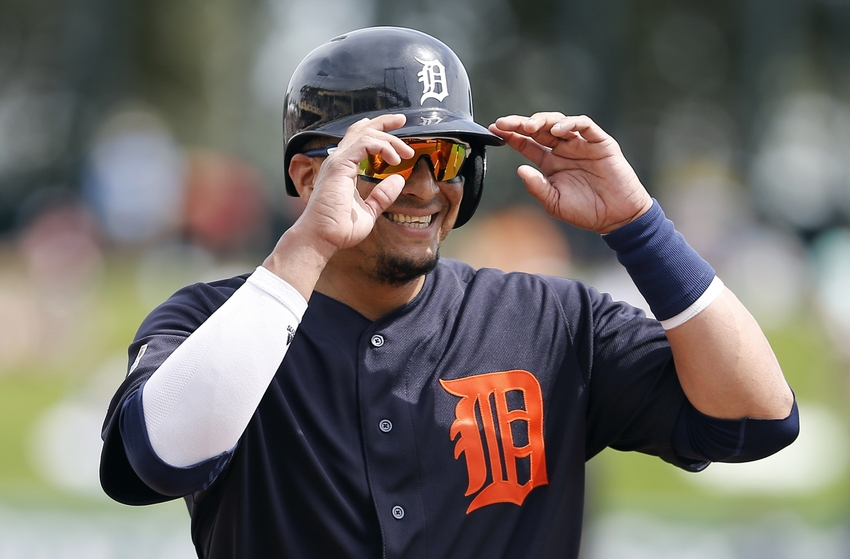 Detroit Tigers general manager Al Avila is looking to make the team younger and more financially sustainable. One way he could help achieve both goals would be to trade Victor Martinez.
Detroit Tigers fans could see a fairly different team take the field on Opening Day next season. A complete fire sale seems unlikely, but a few veteran pieces could conceivably be moved.
One of those said veteran pieces is Victor Martinez.
The designated hitter enjoyed a bounce-back season at the plate following last year a horrendous 2015 campaign.
Martinez batted .289 with a .351 on-base percentage while collecting 86 RBI, 65 runs scored, 27 home runs and 22 doubles. The batter also turned in a 120 wRC+, a .351 wOBA and a 0.9 WAR.
While many of those numbers were definite positives, Martinez remains a candidate to be traded for a handful of reasons.
The most prominent two are his age and contract. Per Spotrac, the 37-year-old will earn $18 million in 2017 and 2018 before hitting free agency.
For a Detroit Tigers franchise looking to shed payroll and become a sustainable contender, those two factors aren't the most appealing where the long-term is considered.
There's also the fact that Martinez wasn't the best base runner in 2016. The designated hitter turned in a -11.4 BsR and a -9.2 UBR. By comparison, Jarrod Saltalamacchia posted a 1.0 BsR, while Casey McGehee's UBR was 0.1.
Add in a lack of defensive value, and it may benefit the Tigers to move Martinez.
Here are three potential trades that would benefit the Detroit Tigers in the short term and long term.
Detroit Tigers Acquire: Danny Barnes and Outfield Prospects Joshua Palacios and D.J. Davis
Toronto Blue Jays Acquire: Victor Martinez and Mark Lowe
Factors like Victor Martinez' age, contract, lack of speed or defensive upside will certainly impact the kind of return the Detroit Tigers can receive.
However, this deal has a chance to work out for the team.
Moving Martinez allows Detroit to rotate some of the team's players who graded out below average in terms of defensive metrics to designated hitter on a more regular basis.
While losing the designated hitter's bat may sting somewhat, the Tigers should benefit from the rotation strategy, as it will immediately improve the team's defense.
The Hypothetical Trade
In addition to sending Martinez to Toronto to potentially help replace Jose Bautista and Edwin Encarnacion, Detroit would also send Lowe north of the border.
The veteran reliever pitched for the Jays as recently as 2015, and owned a 3.79 ERA in 23 appearances for the American League East club.
A return to Toronto could benefit all parties, as the Jays are also facing the possibility of finding replacements for Brett Cecil and Joaquin Benoit.
Detroit's Side of the Deal
In return for Martinez and Lowe, the Tigers receive a relief pitcher that the team can immediately plug into the bullpen.
Barnes, a 26-year-old reliever who made his Major League debut in 2016, doesn't overpower with is low-90s fastball. However, he's developed a knack for missing bats and recording outs.
The pitcher logged an 11.1 swinging strike percentage in the Majors last season, while punching out 11.3 batters per nine frames in the minors.
All told, he logged a miniscule 0.73 ERA in 61.1 minor league innings in 2016. During those 61.1 innings he walked six while striking out 77 batters.
Palacios and Davis
While not ranked among Toronto's elite prospects, both Palacios and Davis bring plenty of upside and promise.
Palacios, who reached Single-A this season, is only 21. He's coming off a robust campaign in his first taste of professional ball. In 50 games, the outfielder hit .330 with a .397 on-base percentage.
The former fourth-round pick didn't hit the ball out of the park, but the Auburn product did collect 13 doubles and three triples to go along with 18 RBI.
What is perhaps most encouraging is the player's strikeout and walk totals. Palacios logged 18 walks while only striking out 26 times.
It's early, but the prospect's on-base skills give him plenty of upside moving forward.
In addition to Palacios, the Tigers would add prospect D.J. Davis to the team's minor league ranks. The 17th-overall pick in the 2012 draft, Davis has struggled at the plate so far in his career.
In 451 career minor league games, the outfielder hit .239 with a .312 on-base percentage. Those numbers may not catch the eye, but Davis' speed will. The outfielder possess game-changing speed, not to mention some pop.
If he can put it all together, Davis has limitless potential. Even if the hitting doesn't improve, the prospect can still make an impact at the Major League level as a pinch runner similar to how Kansas City utilizes Terrance Gore.
Detroit Tigers Acquire: Huston Street, Jefry Marte and shortstop prospect Nonie Williams
Los Angeles Angels of Anaheim Acquire: Victor Martinez
The Los Angeles Angels of Anaheim probably should rebuild.
Anaheim's farm system isn't exactly the gold standard of the league in terms of prospect pipelines. What's more, the team has aging veterans like Albert Pujols, Ricky Nolasco and Street eating up significant chunks of payroll on a yearly basis.
However, the Halos aren't going the rebuilding phase. With players like Mike Trout and Andrelton Simmons to build around, the team is acting like a would-be contender this offseason.
The team dealt Victor Alcantara, possibly the organization's best pitching prospect in terms of upside, to Detroit for a year of Cameron Maybin. Anaheim also signed Jesse Chavez to a one-year deal to help fill out the rotation.
Adding Martinez would serve as an offensive upgrade to C.J. Cron, while giving the Halos an offensive nucleus containing Trout, Maybin, Pujols, Martinez, Kole Calhoun and Yunel Escobar.
The group may not win a title, but it will surely help the club rebound from a disastrous 2016 campaign which ended with Anaheim owning a 74-88 record.
Martinez may not be a significant upgrade over Cron based on last year's production, but he's an upgrade all the same.
Anaheim has made similar deals in the past. The team sent Erick Aybar, then just one season removed from an All-Star campaign, to Atlanta along with two top pitching prospects for Simmons.
Detroit's Side of the Deal
In return for Martinez, Detroit would receive three pieces.
Street
The most significant, both in terms of career numbers and name value, is Huston Street. The two-time All Star and former Rookie of the Year is coming off the worst season of his career.
In just 22.1 innings, the 33-year-old was tagged for 31 hits, 16 runs, 12 walks and five home runs. That translates to a 6.45 ERA, a 6.41 FIP and a 1.925 WHIP.
However, a change of scenery could help the closer find his form again. In the 11 seasons prior, Street pitched to a 2.85 ERA and a 3.23 FIP while striking out 8.9 batters per nine frames over 653.2 innings.
That same span included 315 saves. If the veteran can pitch effectively once again, Detroit could come away with a late-inning reliever.
It probably doesn't hurt that he owns a 2.70 career ERA at Comerica Park either.
What's perhaps most appealing about acquiring Street is that he'll save Detroit some serious money.
According to Spotrac, Martinez is slated to make $36 million over the next two seasons
Meanwhile, Street's contract (per Baseball Prospectus) calls for a $9 million base salary next season with a $10 million option for 2018. Assuming Detroit pays, the buyout, the Tigers would save $26 million while adding a potential closer.
However, it wouldn't just be Street who Detroit would acquire.
Marte and Williams
Tigers fans know plenty about Marte, the corner infielder who saw action in 33 games for Detroit during the 2015 season.
After moving to the Angels via trade last offseason, Marte quietly turned in a solid campaign in his new surroundings.
The infielder, who has now added corner outfielder to his resume, recorded 44 RBI, 15 home runs and 14 doubles in 88 games. He also registered a .229 ISO that was second only to Trout on Anaheim's roster.
Controllable through 2021, Marte is an interesting bench piece for the long term thanks to his pop and versatility.
Rounding out the deal is Williams, a shortstop prospect taken in the third round of the 2016 draft. The 18-year-old has significant offensive upside, with what MLB.com calls "well above-average bat speed and foot speed and plus raw power."
Detroit Tigers Acquire: Nori Aoki, Marwin Gonzalez and James Hoyt
Houston Astros Acquire: Victor Martinez
With Jason Castro hitting the free agent market, it clears the way for Evan Gattis to catch on a more regular basis for the Astros. This frees up the designated hitter position for Victor Martinez.
One of the team's surplus infielders, like Gonzalez, Tyler White or A.J. Reed could easily fill the position, but Houston needs a veteran bat.
In return for the designated hitter, Detroit would acquire three Major League pieces that can immediately contribute at the Major League level.
Aoki
Aoki joined the Astros on waivers after having previously spent 2016 with Seattle. In 118 games, the outfielder logged a 1.2 WAR while registering a 106 wRC+ and a .325 wOBA.
The 34-year-old isn't a long-term fix, but should one or both J.D. Martinez or Justin Upton depart, he can serve as a bridge to the future in the outfield corners.
Aoki was productive for the Mariners last season, with a .283 batting average, a .349 on-base percentage and 63 runs scored.
That productivity can help bridge the gap from Martinez and Upton to prospects like Christin Stewart, Mike Gerber, and Jose Azocar, who are a few seasons away.
Gonzalez
Additionally, Detroit would acquire a versatile defender in Gonzalez. The 27-year-old has appeared in games at all four infield positions and in left field.
His .298 career on-base percentage obviously leaves much to be desired, but the former Cubs farmhand did contribute 51 RBI, 26 doubles, 13 home runs, 12 stolen bases and three triples in 141 games last season.
As a bench cog used to keep Detroit's starting infield fresh, Gonzalez can provide plenty of value.
Hoyt
So far this offseason, this website has featured a number of articles on the Tigers and Astros potentially matching up as trade partners. Each time, Hoyt's name comes up. After looking at his numbers, it's easy to see why.
The 30-year-old rookie registered a 15.2 swinging strike percentage for Houston last season. What's more, he's struck out 15.2 batters per nine innings in 55 frames of work for Triple-A Fresno in 2016.
He may not be as young as Bruce Rondon or Joe Jimenez, but Hoyt is controllable and can miss bats at a high rate. The reliever's strikeout tendencies make him a potential late-inning arm for the Detroit Tigers.
More from Motor City Bengals
This article originally appeared on