Could Atlanta Braves Be Willing to Trade Albies?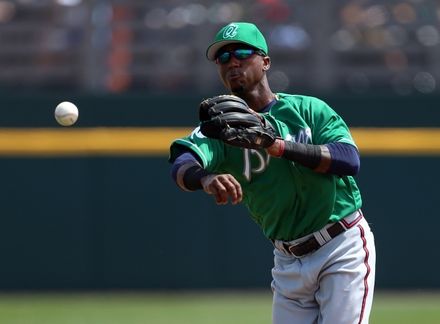 An under the radar deal made back at the trading deadline could end up being the catalyst that allows the Braves a shot at Chris Sale.
There's a chance that we'll know the answer later today, but since this rumor continues to persist – and grow, even – there are reasons to believe that the Atlanta Braves are indeed pulling out all the stops in the pursuit of Chris Sale.
But what to offer?  That's obviously the key question, though I believe there are some clues to be had from the little snippets that we are hearing.
What We Know…
The following is certain:
The Braves have to make 40-man roster adjustments by tonight in preparation for the Rule 5 draft.  Lucas Sims and Max Fried are likely to be protected, but we believe that they'd like to protect at least a couple of others as well.
2 players could probably be protected without a big issue.  But anything beyond that, and there's a strong risk of losing players – without compensation.
The Braves are focusing on Chris Sale.  We know this from both David O'Brien and Mark Bowman.  Here's O'Brien's take:
O'Brien also wrote this yesterday:
The Braves have also inquired about the Rays' Chris Archer and Athletics' Sonny Gray, but Sale is their focus, a person familiar with the situation said.
He also tweeted that Dansby Swanson is not on the table.  It is quite likely that Kevin Maitan would not be either, despite some nationally known prospect watchers that believe the White Sox should rightly demand both… and as Jeff found out yesterday, Sox fans are believing those press clippings.
What Can We Infer From This?
If the teams are still talking, then the Braves have to be engaging with something else of high value for the White Sox… and

it seems neither side is disengaging

.
The Braves are not alone here… there are rumblings that the Nationals are involved with the White Sox.  Others likely are as well:  we could guess the Yankees and Dodgers.  The Red Sox maybe less so.
If the Braves are indeed not willing to part with Swanson or Maitan, then they must be trying to overwhelm Chicago with "volume".  That would make some sense, given the state of their farm… and the state of the Braves', for that matter.
Complicating matters could be

the White Sox' own 40-man roster situation

:  38 names as of this morning.  If the Braves are attempting to offload some of their roster to Chicago, that might not work very well… though Chicago would not be likely to have the immediate danger of losing minor leagues in a Rule 5 draft should some of their go unprotected.
We've also heard very little from Chicago about this entire topic:
X Factor
When this trade was made for Lucas Harrell and Dario Alvarez, we had no idea it could come to this.
The emergence of Travis Demeritte, both as a slugger and as a defender around second base, might be the game-changer here.
The Braves more-or-less consensus top prospect is now Ozzie Albies (depending on whether Swanson is still on your personal list).  He is also a #12 overall prospect… on a list that Jim Callis has a hand in developing.
This Fall, Demeritte has hit .261 in the Arizona Fall League with 4 homers, 4 triples, 4 doubles, and an .855 OPS… and he plays the same second base position that Albies is set to take with the Braves.
But the praise Demeritte has been getting – particularly as a defender – could persuade the Braves to put Albies in the package for Chris Sale… which might very well be enough to swing a deal along with others.
So between the current play of Jace Peterson and the future promise of Demeritte, John Coppolella could decide that the projected value of Sale outweighs the incremental future value of Albies over either of those other second basemen.  That calculation might not be far off, either.
Significantly, Albies also does not yet require 40-man roster protection, so that would help both sides when considering the logistics.  The same is true for #46 overall prospect Sean Newcomb.
Projecting a Package
Thus the Braves could be in the position to offer something like Albies, Newcomb, Matt Wisler, and Lucas Sims as the headliners for Sale (and not necessarily the only ones, either)… and then perhaps go even further and put in Garcia and Ruiz for Todd Frazier if they wanted to get crazy.
So that's 2 Top 100 prospects, a major leaguer, and another pitcher who has been in that Top 100 in the past (Braves' official rankings 2, 3, 14, and 15, plus Wisler).  All of them at least close to being major leagues… and likely some more.  Would that be enough?
If we are in that 'crazy' realm, the White Sox don't even have to take Adonis Garcia:  they have a couple of other third base options in Brett Lawrie and Matt Davidson… with Albies and Ruiz being the eventual heir apparents and their respective positions.
Such a package could be done without completely messing up the 40-man roster issues for either club, though this would leave the ChiSox with 39 or 40 and the Braves with 34… and plenty of space to grow.
Reminders
All of this SPECULATION revolves around Chris Sale as that seems to be the focus of most energy.
There are still other pitching targets possible:  notably Quitana of the White Sox, Archer or Odorizzi from the Rays, or Gray from Oakland.
Thus it is still quite reasonably likely that something could get done today.  But if not, then the Braves still have to be satisfied with the position they are in. 

They don't have to make a deal.. but it seems clear that they would like to

.
The deadline for Rule 5 draft roster protection is 8 pm EST tonight.  Buckle up.
This article originally appeared on