Chicago Cubs: How can the Cubs be even better in 2017?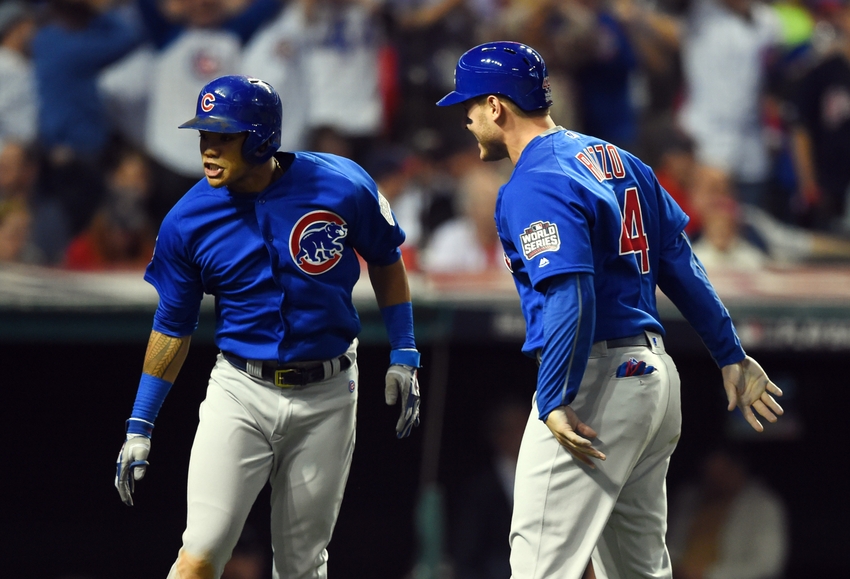 Now that the Chicago Cubs are World Series champions, how can they improve the roster and be even better in 2017? The options are exciting…
The Chicago Cubs are World Series Champions. My grandfather would be proud to read those words, and I'm sure many of your lost loved ones would feel the same.
World. Series. Champs.
After one of the most epic comebacks in the history of baseball, the Chicago Cubs faced the reality of the offseason of Major League Baseball. As is typical to say this time of year, there really is no 'offseason'.
The Cubs are not immune to the craziness of players leaving, trade rumors swirling, and the free agent frenzy, but everything is going to be a lot easier to deal with knowing they've just won a championship.
I want to take a look at this roster as it currently stands, where the Cubs can improve, and how this team can truly be better in 2017 than it was this season. It's tough enough in baseball to win 100 games, but this young Cubs team can become the new model for consistency and greatness by keeping their core group together and finding some new, key pieces that will propel this team back into the Fall Classic.
The Bullpen
Key Free Agents: Aroldis Chapman, Travis Wood, Joe Smith, Trevor Cahill
As far as players who don't play every day goes, this is a pretty significant list for the Cubs. Aroldis Chapman is arguably the best free agent on the market this offseason. He was a very significant part of the Cubs' championship run.
Chapman's ability to lock down close games is something the Cubs added as a slight luxury before it became a necessity. But his power arm became Joe Maddon's most coveted bullpen weapon down the stretch.
The Cubs would have to be in a bidding war for Chapman's services with teams like the Yankees, who have allegedly already expressed interest. Any team willing to spend money this offseason is probably going to express some interest in arguably the game's top closer. So the Cubs might have to look elsewhere for help and that might not be a problem.
With some teams focusing on obtaining Chapman, the Cubs may look to Kenley Jansen of the Los Angeles Dodgers or Mark Melancon of the Washington Nationals to be their new closer.
There is some thought that both players could wind up being 'bargains' on the market compared to Mr. 105 himself. And the thought of saving even a few million after the Cubs' free agent deal with Jason Heyward last offseason is pretty appealing.
Not that Heyward was a complete disaster or anything. We'll talk about him a bit later.
It's important to keep perspective here with the bullpen and specifically with a player like Chapman that the Cubs had a pretty good back end of the bullpen before Chapman came along. It just happened that Hector Rondon and Pedro Strop both suffered injuries that derailed part of their seasons.
When Rondon returned, he clearly wasn't the same guy the Cubs had come to rely on in the regular season.
Flexibility
As I wrote earlier in the season, the presence of Rondon and Strop give this bullpen flexibility, especially late in games. Having those two and a big-money closer like Chapman, Jansen, or Melancon would allow the Cubs to continue to close games down late, keep their big arms fresh, and prime up for another deep postseason run.
It would be somewhat surprising to me if the Cubs didn't at least try to bring back Travis Wood, who was a very valuable player for this team. He was one of 10 Cubs players to hit a home run this postseason (remember that?). Also, played one of the craziest roles in an extra innings game this season moving from the outfield to the pitcher's mound and really just doing a little bit of everything.
In addition to being a pretty darn good lefty specialist, Wood has the ability to pitch long innings for the Cubs when they need it and could be a spot starter in a pinch. He's only 29 years of age and is the type of athlete Joe Maddon covets. He could be a priority player for this team to bring back.
The Cubs were relatively healthy, all things considered, for their playoff run, but the loss of Trevor Cahill was a bigger deal than anyone really led on.
Cahill pitched more innings than any non-starter in the Cubs' bullpen and posted a very respectable 2.74 ERA. He had a spot start in August for the Cubs that also went pretty well and could figure into the Cubs' plans of players to re-sign at the right cost.
Justin Grimm, Hector Rondon, and Pedro Strop are Arbitration Eligible
The Starting Rotation
Free Agents: Jason Hammel
Projected Rotation
Jon Lester
Jake Arrieta
Kyle Hendricks
John Lackey
Mike Montgomery
To put into words just how good the Cubs' starting rotation was this past season would not do it justice. They were absolutely phenomenal, paving the way for a 103-win season with 79 of those victories credited to the Cubs' starting rotation.
That's incredible.
There was really no weak link aside from a couple of rough patches for each pitcher. But if one had to be pointed out it would have probably been Jason Hammel. A man whom the Cubs opted to let go of so he could cash in on a really weak starting pitcher market.
The reason the Cubs were comfortable doing that? I haven't personally asked Joe Maddon, but I would be willing to bet the Cubs are very comfortable with the option of Mike Montgomery as the fifth starter. Potentially what they have in Rob Zastryzny as another intriguing option.
Like the Cubs' star-studded lineup, the starting rotation is an area of enviable strength for 2017, but there are definitely questions for the future. They start with Jake Arrieta. That's a contractual bridge the Cubs will cross when they come to it, hopefully locking him up long-term sooner rather than later.
Key Free Agents: Dexter Fowler (CF), Chris Coghlan (UTIL), David Ross (C)
Aside from Aroldis Chapman, Dexter Fowler is the Cubs' most important free agent departure.
"You Go, We Go," wasn't just a cute saying Cubs fans had created to show their love for Fowler. This season was truly better for the Cubs when Fowler was leading off, starting in center field. Most games without him were a huge adjustment.
No Cubs player had a higher on-base percentage than Fowler, and his home run to lead off game seven of the World Series truly speaks for itself. Fowler declined his option for 2017 and will test the free agent waters. Rightfully so. The past two seasons he's spent in Chicago have been marvelous for him and for the Cubs, and he's set to get a huge multi-year deal from some team.
Moving On?
But will Fowler come crashing the Cubs' offseason party again like he did last year? Will he return to the team that he won a championship with, or will the Cubs grit their teeth, smile, and tell Fowler 'Good luck'?
It's a scary thought, but we may have seen Fowler's final game with the Cubs. If so, it was an incredible two years.
The Cubs have a young stud prospect in Albert Almora Jr. who is an excellent defender and is developing at the plate. They also have flexibility with Jason Heyward, who won a Gold Glove in right field.
The loss of Fowler would be pretty big, but the Cubs have more than enough firepower to sustain and overcome. Also, the option of bringing Fowler back is not out of the question, but the Cubs would have to get lucky and get him back on their own terms.
Like I said — it's not out of the question.
With Heyward likely spending the majority of his time working with Cubs hitting coaches in the batting cage all offseason, Maddon is going to have to get creative with the lineup if/when Fowler departs.
It might seem like a very far off option right now, but the idea of having Heyward bat leadoff is something we could be seriously discussing prior to April. Now, that discussion might be short and sweet, but Heyward in the year prior to coming to Chicago hit .293 in 547 plate appearances, then hit .357 in five postseason games.
He runs well, he can steal, and there was even a time when he drew 91 walks in a season.
With a more patient approach at the plate and a revived swing, Heyward can start living up to the massive contract he signed last offseason. I don't know if he'll be the leadoff man, but he started off the 2016 season in the two-hole behind Fowler, so the Cubs obviously thought enough of his ability to get on base to put him there then.
The situations of Fowler and Heyward will be among the most intriguing to watch for the Cubs all offseason, as will the status of their top flight position players elsewhere.
Two or Three Catchers?
Willson Contreras and Miguel Montero will be the Cubs' catching duo next season, and you've got to think that Kyle Schwarber will make his way behind the plate at some point again as well. The beauty of a player like Contreras is, he can give you great defense from both catcher and left field, but his arm and growing confidence calling games behind the plate are very valuable assets to the Cubs' talented pitching staff.
First base is locked down by the man, Anthony Rizzo, the heart and soul of the Cubs, the Gold Glove winner, and the man whose smile has won all of our hearts. The rest of the infield will be made up of Kris Bryant, Addison Russell, and Javier Baez, but we know Bryant and Baez offer positional flexibility to the team as well.
Ben Zobrist, the World Series MVP, could start opening day in left field, which means the Cubs have some big decisions to make.
Where does Kyle Schwarber play? This might be a hot take and you might disagree with me, but I think Schwarber could be the best pure hitter on this Cubs roster. There's simply no way you leave him out of the everyday lineup, so Joe Maddon is going to have fun being creative.
Options
With Schwarber, Zobrist, and Heyward your current top three options for the outfield (because you're not benching Javier Baez…), moving Heyward to center field has to be an option the Cubs seriously consider.
We haven't even started talking about players like Jorge Soler, Jeimer Candelario, Tommy La Stella, and Matt Szczur yet…
Thousands of words later, this would be my ideal 'everyday' Cubs lineup if Heyward can prove worthy of the spot:
1. Jason Heyward, CF
2. Kyle Schwarber, LF
3. Kris Bryant, 3B
4. Anthony Rizzo, 1B
5. Ben Zobrist, RF
6. Addison Russell, SS
7. Willson Contreras, C
8. Javier Baez, 2B
9. Pitcher
That team is going to score runs, but Jason Heyward has to find a way on base. That could be the key for the Cubs in their attempt to repeat, but to me, that is an elite lineup both offensively and defensively. For the most part. There would be a question wherever Schwarber goes defensively, but you have to live with his defense to get his bat. And he's really not all that bad in the field or behind the plate.
The fact of the matter and what I've spent all this time writing is that the Cubs can be even better in 2017 than they were in 2016, and it all has to do with having three things:
1. An ace in the back of the bullpen from day one (Jansen, Melancon, or even Chapman)
2. A healthy Kyle Schwarber, and
3. The 2015 version of Jason Heyward.
There are always unpredictable factors in baseball, but on paper, you couldn't ask for much better than what the Cubs currently have, and what they can do on the free agent and trade market. This team is scary good.
This article originally appeared on