Atlanta Braves News: The Morning Chop, Top 10 Prospects, Julio Teheran Gets Married, Ender Inciarte With Superstar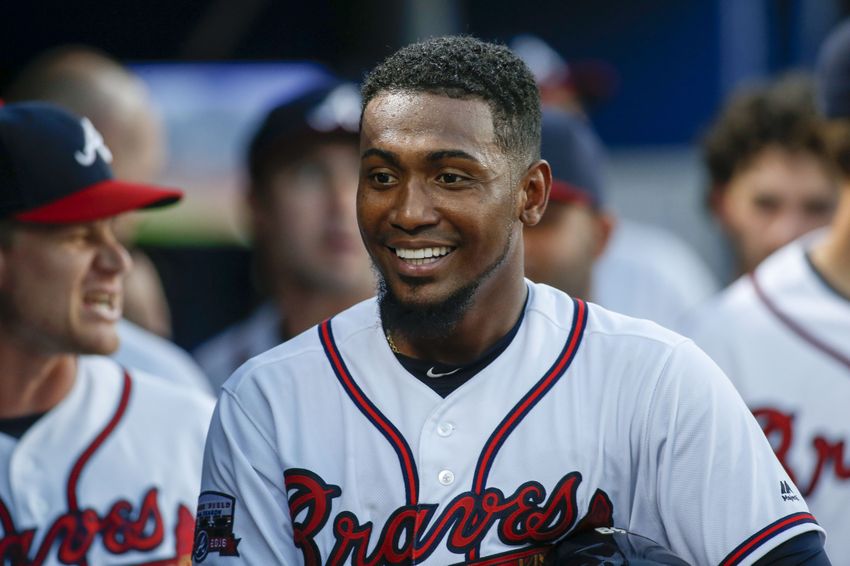 2017 ATLANTA BRAVES TOP 10 PROSPECTS
Tomahawk Take Editor's Note: Baseball America has released their Atlanta Braves top 10 prospects for the 2017 season.  The Braves are led by Dansby Swanson and Ozzie Albies, but after that it's six out of eight are pitchers.  The other two in the top 10 that aren't pitchers are Ronald Acuna and Kevin Maitan.  We're stock piled in pitchers and that's not a bad thing.  
It's surprising to me that Maitan is getting so much love before having at least one at-bat…maybe he's just that good.  I didn't rank him that high in my top 20 when we did ours on Tomahawk Take just because I haven't seen him and he's so young.  I really hope he's as good as everyone is talking about.  
Also, it's cool to see Acuna and Soroka getting much love from BA.  One last thing, I'm glad Newcomb dropped to eight for 2017.  I think too much pressure may have been on him last year and he didn't have that much success.  Hope this drives him a little.
While trades account for one-third of the Braves' Top 30 Prospects, the impressive depth in the organization has been accumulated by using the formula incorporated by GM Bobby Cox and scouting director Paul Snyder in the 1980s and maintained under GM John Schuerholz in the 1990s and 2000s.

Scouting director Brian Bridges has focused heavily on high school pitchers early in both of his draft classes, leading off with lefthander Kolby Allard in 2015 and righthander Ian Anderson in 2016, and rolled the dice on a couple of others thanks to a plethora of picks.

Perhaps the boldest moves made by the new regime came in 2016 when the Braves doled out five of the six largest signing bonuses in franchise history while investing more than $22 million between the draft and the international market. After inking Dominican outfielder Cristian Pache and Dominican shortstop Derian Cruz in 2015, the Braves acquired several international bonus slots for 2016 and far exceeded their assigned budget to sign Venezuelan shortstop Kevin Maitan, the top international prospect of the decade, as well as five other international players ranked among the top 41.
Brian Snitker not taking opportunity lightly as Braves' full-time manager
Tomahawk Take Editor's Note: The Braves fired Fredi Gonzalez in May of 2016 and brought up the manager from Gwinnett, Brian Snitker.  Under Snitker's leadership, the Braves went 59-65 and 37-35 after the All-Star break.  The Braves and Snitker won 20 of their last 30 games in 2016.  If that success can transfer into the 2017 season, we're definitely competing next year.  
This offseason, the Braves bolstered their starting rotation with Bartolo Colon, R.A. Dickey and Jaime Garcia.  Now we have veteran leadership to go along with Julio Teheran and Mike Foltynewicz.  Compared to last year, that rotation looks amazing!  
During the Winter Meetings, Snitker referred to the lineup next year and he said he's ready to put Dansby Swanson in the number two spot.  So think about that top of the lineup in your head….not bad, eh?  Once Ozzie is ready to take over the leadoff spot (could be 2018 before getting the leadoff spot job), Swanson will be ready to move to the three hole.
The interim tag gone and the job his, Brian Snitker admits there's a new reality that comes with being the Braves manager. Anonymity, for a guy who says he relaxes by checking out the likes of Costco and Kroger, is a thing of the past.

"I get home from Kroger and my daughter is showing me pictures on Instagram (of me) at the meat counter," Snitker said during MLB's Winter Meetings.

A certain celebrity status at the grocery shouldn't come as a complete surprise, though, for the 61-year-old. After all, he led Atlanta to a 59-65 record in his first time managing in the majors after taking over for Fredi Gonzalez in May, which included winning 20 of the last 30 games and posting a 37-35 record after the All-Star break.
Instagram
Tomahawk Take Editor's Note: Braves starting pitcher, Julio Teheran, got married on Wednesday to his beautiful wife.  He posted a few photos yesterday on his Instagram page.  Couple questions here…did he get his teeth bleached?  What's up with the hair?  Is he wearing makeup??  Haha…
Ender Inciarte attended a Real Madrid soccer game and got to meet some of the stars of the team…one of those, Cristiano Ronaldo.  I'm not sure if he's met him before, but I'm sure that's a pretty sweet bucket list item.  
A photo posted by Julio Teheran (@julioteheran) on Dec 8, 2016 at 11:06am PST
This article originally appeared on