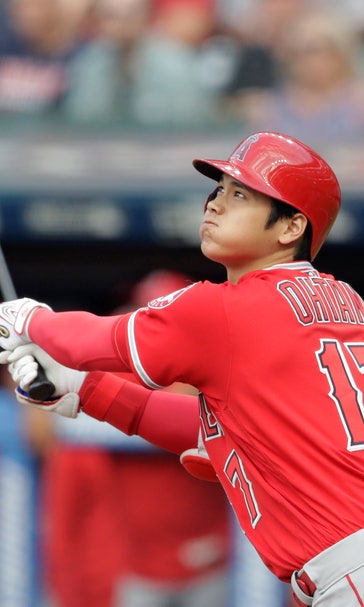 Ohtani hits 2 homers, goes 4 for 5, Angels top Indians 7-4
August 4, 2018
CLEVELAND (AP) — Shohei Ohtani, who sometimes wows opponents with his pitching, put on a display with his bat.
Ohtani hit two home runs in a game for the first time in the major leagues, had a career-high four hits and the Los Angeles Angels defeated the Cleveland Indians 7-4 on Friday night.
Ohtani, who also hit his first career homer on the road, singled in the eighth, stole second and scored the go-ahead run on David Fletcher's double. The Japanese two-way star was understandably pleased with his performance.
"Not just home run-wise, but hitting-wise in general," Ohtani said through a translator. "I was hitting a lot better at home, so it feels good to get that one out of the way too, obviously."
Ohtani, starting for the first time since Tuesday, took a 5-for-37 slump into the game. He hit a two-run homer in the first and a solo home run in the third off Mike Clevinger.
Clevinger thought both pitches were poorly executed, but gave credit to the left-handed hitter. The first home run carried into the left field bleachers, clearing the 19-foot wall. Ohtani launched a 3-2 pitch an estimated 443 feet to right for his second homer.
"He's got tremendous power," Clevinger said. "The first one was inside and he still put it out the other way. That's pretty impressive on his part. The second one, he obviously got all of it."
"That's what Shohei can do. That's his talent," Angels manager Mike Scioscia said. "He was running the bases, obviously driving the ball, and that's a great pickup game for us."
The Angels won at Progressive Field for the first time since June 17, 2014, breaking a 10-game skid. Los Angeles also snapped a four-game losing streak overall.
Ohtani has 11 home runs in his rookie season. He's homered four times and is batting .643 (9 for 14) against the Indians in four games. Ohtani was sidelined from June 7-July 2 with a sprained ligament in his right elbow.
"Whether if I'm in a slump or I'm hitting well, I'm constantly making adjustments with my swing," he said.
Angels star Mike Trout missed his second straight game because of a bruised right wrist but hopes to return Saturday.
Justin Anderson (3-2) pitched the seventh and the Angels' bullpen held the Indians to one run over the final four innings.
Andrew Miller, making his first appearance since May 26, struck out one and walked a batter in a scoreless seventh. The left-hander was activated from the disabled list after missing two months with right knee inflammation.
Miller's return was overshadowed by continued problems for Cleveland's bullpen, which allowed four runs in the eighth to break a 3-all tie.
Ohtani started the rally with a one-out single off Oliver Perez (0-1). He stole second and Albert Pujols was intentionally walked with a 3-0 count.
Andrelton Simmons hit into a force play, but Fletcher's flyball landed near the right field line and bounced into the stands for a ground-rule double.
Jose Brienco's infield hit off Adam Cimber scored a run and Eric Young Jr. added a two-run double.
Michael Brantley's RBI double and Jose Ramirez's run-scoring single tied the game in the first. Leonys Martin, playing his first home game since being acquired from Detroit at the trade deadline, homered and had two RBIs.
Angels starter Jaime Barria allowed three runs in five innings. Clevinger, who hasn't won since July 1, gave up three runs in in six innings.
Yan Gomes doubled with one out in the second and scored on Martin's single. Gomes left the game in the fourth with right knee discomfort. Manager Terry Francona said Gomes was undergoing tests by the medical staff following the game.
TROUT PLAN
Trout, who was injured sliding into third base Wednesday, thinks his wrist is improving.
"It feels a lot better than yesterday with all the treatment and stuff, so that's a positive," he said before Friday's game.
Trout would prefer not to DH if he does play.
"I want to play center," he said. "If I come in tomorrow and it feels good, that's where I'm going to play."
LISTEN UP
The Indians led Minnesota by 10 games in the AL Central going into the game. Francona held a meeting with his players to reinforce the idea the team has bigger goals.
"I just wanted to tell them that this group, our goal is not to be good, it's to be special," he said. "That's really basically what it is. We have the ability to be special. We just have to go do it."
TRAINER'S ROOM
Indians: OF Tyler Naquin underwent right hip surgery Thursday and is expected to resume baseball activities in 6 to 10 weeks.
UP NEXT
RHP Corey Kluber (13-6, 2.79 ERA) will start Saturday after allowing one run in 7 1/3 innings against Detroit in his last start. RHP Felix Pena (1-2, 5.23) retired one batter — the shortest outing of his career — and allowed seven earned runs against Seattle on Sunday.
---
---