Mailbag: Why the Big 12 might not expand after all
BY foxsports • November 15, 2016
At this point I've written every possible angle I can think of when it comes to Big 12 realignment (though I may have to redo Monday's Big 12 Expansion Bracket now that we've got two more contenders.)
What if, after all this, it turns out the conference doesn't add anybody?
Stewart: I live in Houston and have a few contacts who are very close with UH athletics. They believe Big 12 expansion talk is in fact a cover-up designed to take media attention off the Baylor scandal. They are convinced as soon as the season gets here and either Texas beats Notre Dame, or TCU beats Arkansas, or Oklahoma beats Ohio State, they'll announce they've found it best to stick with 10.
-- Mark in Houston
I don't know about the conspiracy theory (though anything's possible in realignment), but there does remain a very real possibility – about 40 percent, if not higher – that the conference will eventually make that very announcement.
There are several reasons why.
First of all, nearly a month after the initial announcement about entertaining expansion candidates, I've still yet to hear any real enthusiasm or tangible reasoning from within the conference as to why they would do this. The Big 12 presidents, in their July 19 meeting, clearly heard something from their consultants to convince them they could no longer sit put, but with distance they may start realizing the negatives outweigh the positives.
Speaking of which, it's no secret the league's television partners want nothing to do with expansion. They're obligated to pay whomever the conference adds, but they'd rather not. I could see a scenario where this whole thing ends with the Big 12 squeezing a little more out of ESPN and FOX in exchange for staying at 10 teams.
And finally, whether they realized it or not, this public bakeoff the presidents touched off among the various contenders is not healthy for anyone. Schools lobbying politicians and engaging in social media campaigns – all the while still competing in their current conferences – is creating tremendous pressure on all involved. If, in fact, this ends with the Big 12 presidents picking, say, BYU and Cincinnati, there will be incredible anger and bitterness from Houston, Memphis and the like. People may lose their jobs over it.
Of course, there will be unified anger and bitterness if it turns out this whole thing was a charade and the league isn't expanding at all. But of course hurt feelings are inevitable when it comes to conference realignment.
Stewart, I saw you predicted Georgia to finish 7-5 this year. I'm just curious as to which games you think the Bulldogs will lose. With the exception of Ole Miss, there's a decent chance Georgia will be favored against every team they play. Are we all just hanging onto the Richt era, where we had one or two totally inexplicable losses every year?
-- Brian Stewart, Buford, Ga.
First of all, I want to make something clear about my conference predictions. Of course, I go through teams' schedules like everybody else. But I get the impression most fans do this under the premise of "we're better than these nine teams, and worse than these three, so, 9-3," which ignores the inevitably of upsets in college football. Case in point, two of the four playoff participants last year, Michigan State (against Nebraska) and Oklahoma (against Texas), suffered their only regular-season defeats to teams that wound up finishing 6-7 and 5-7, respectively.
With that in mind, I'll take you through my thought process with Georgia.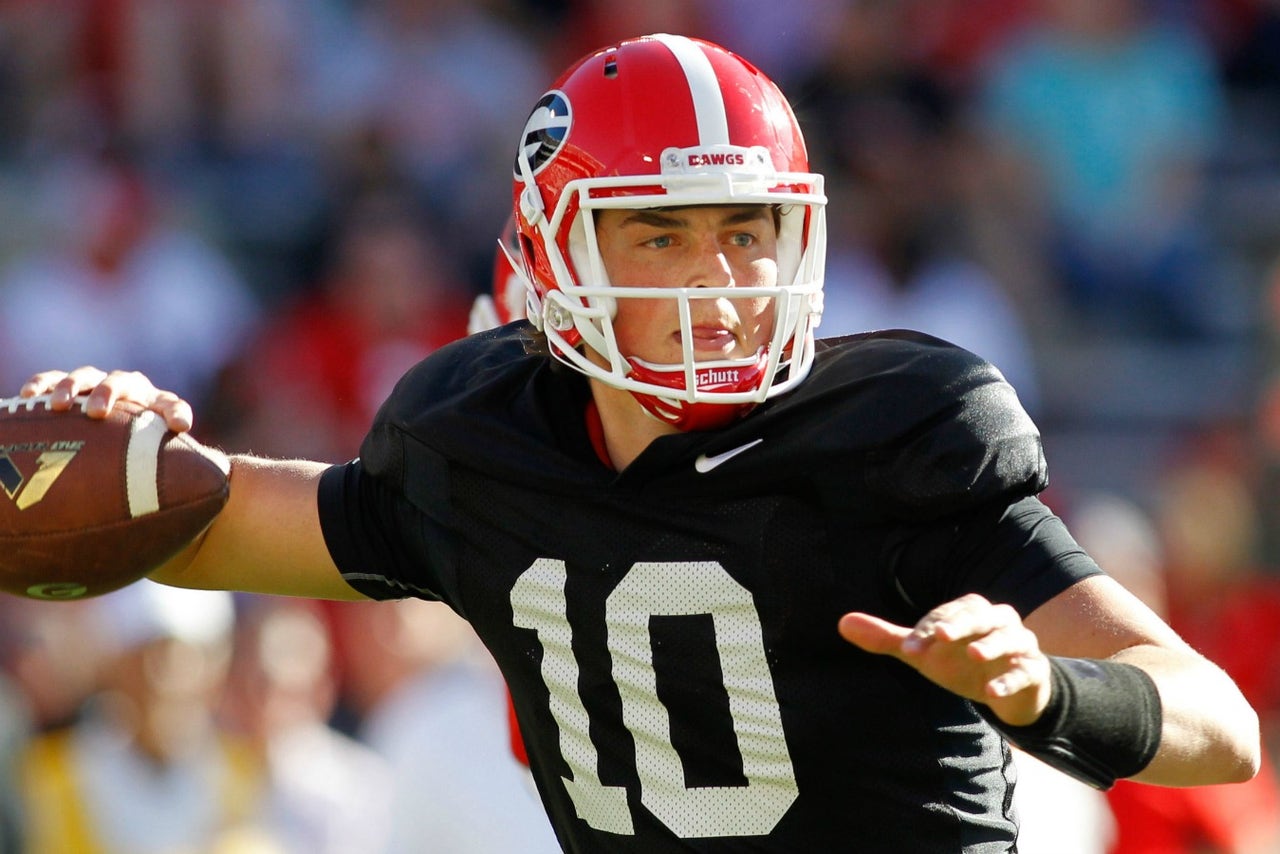 Jacob Eason (Brett Davis-USA TODAY Sports)
While still very talented, the Dawgs are going to be relying on a true freshman quarterback, Jacob Eason. That alone leaves you susceptible to upsets. According to research by CBS Sports' Jon Solomon, over the past 20 years, the 15 true freshman quarterbacks to start a majority of their team's games finished with an average record of 7-6/4-4.
Meanwhile, you can never truly predict how a team will respond off the bat to a new head coach. Some, like Florida last year, immediately improve. Others struggle with the culture change. I'm putting Kirby Smart's team in the latter category given just how drastic a makeover the program is going through after 15 years under Mark Richt. The apparent mutual butting of heads that led to leading returning tackler Tim Kimbrough's recent departure over his spot on the depth chart provided a window into that.
So, here's how I pegged Georgia's season to play out: Lose the season opener to a very good North Carolina team; lose first two road games against Missouri (which I have finishing 5-7) and Ole Miss; rebound to hand Tennessee a crushing loss at home, then beat South Carolina and Vanderbilt; lose the Cocktail Party to Florida, win at Kentucky, fall at home to Auburn, beat Louisiana-Lafayette and Georgia Tech. In other words, up and down, as might be expected given the circumstances.
Worth noting, though: I tend to overthink these things and be wildly wrong.
Hello, Stewart. As seen by the first preseason poll and various articles, three teams that people are high on for this season seem to be Tennessee, Washington, and Michigan. Which hurdle along the way is most obtainable: Tennessee beating Florida for the first time since 2004, Washington beating Oregon for the first time since 2003 or Michigan beating Ohio State AND Michigan State for the first time since '03?
-- Jared Stechschulte, Columbus, Ohio
I feel like you intentionally crafted this question in a way that I would not possibly be able to say Michigan.
It's Tennessee beating Florida, something the Vols really should have done last year but managed to blow an 13-point fourth quarter lead thanks to some truly astounding late-game management by Butch Jones. The teams meet in Knoxville this season, and simply put, Tennessee has the better team. That doesn't mean the Gators can't win again, but on paper this is the best opportunity the Vols have had over the entire drought.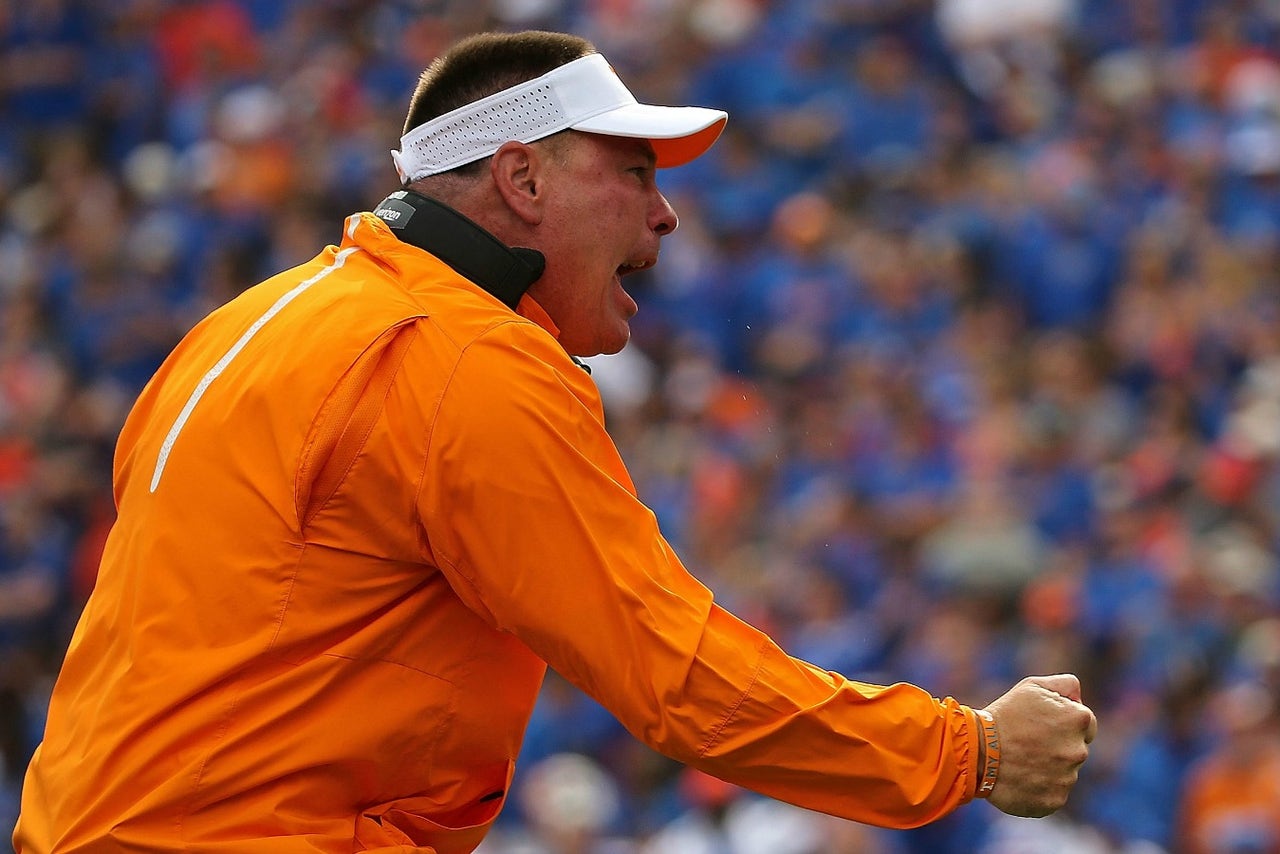 Butch Jones (Mike Ehrmann/Getty Images)
As for Washington, as overhyped as the Huskies have become, I do think they'll finish ahead of Oregon in the Pac-12 North. For the first time in the entire drought, the Huskies should have the better quarterback (Jake Browning) and of course a much better defense. But it would hardly surprise me if the Ducks won the teams' head-to-head meeting Oct. 8 at Autzen Stadium. Oregon hasn't just won 12 straight, it's continually embarrassed Washington by scores like 53-16 and 52-21.
The best thing both Tennessee and Washington could do this year is win those games handily. If they're close in the fourth quarter, that history stuff starts creeping up in guys' heads. Psyche is often more powerful than a 320-pound lineman.
Hi Stewart: For years you told Nebraska fans that we shouldn't be satisfied with Bo Pelini and just 9 wins (and 4 blowout losses) every year. I agreed. But you've also questioned whether Nebraska is still the type of school that could win national championships anymore. Expectations have been the argument in Lincoln since 1997. So settle the debate once and for all: What should Nebraska fans reasonably expect out of their football program? 
-- Chris Fort, Chicago
Bruce and I talked about this very subject on the podcast last week – specifically how much harder it is for schools like Nebraska to overcome their geographic limitations. To be a national championship contender, Nebraska has to be able to sign high-level recruits from Texas, California and the Southeast. And certainly Mike Riley has a lot to sell – mainly, a big stadium, proud legacy, loyal fan base and badass uniforms.
But a lot of schools can sell those same things, often much closer to recruits' homes. So the question is, what differentiates Nebraska? What can it do to separate its brand from other bluebloods it recruits against like Ohio State, Michigan and Oklahoma? What's its edge? So far I've yet to see that component emerge.
In the meantime, it's reasonable for Huskers fans to expect their program to be a Top 25 fixture, certainly a perennial contender in its very winnable Big Ten division and occasionally win the conference title. And if they do that, they're automatically on a short list for the playoff. There's absolutely no reason why Nebraska can't be exactly what Michigan State and Wisconsin have been for years – blue-collar teams that win 10 games a year by out-evaluating and out-toughing the more glamorous programs around them.
Mike Riley (Ezra Shaw/Getty Images)
But, as the Badgers found in those three straight Rose Bowls from 2010-12 and the Spartans in last year's Cotton Bowl, eventually they run into an opponent whose talent level creates too big a deficit to overcome. That's where modern-day Nebraska is different than '90s Nebraska, which could line up toe-to-toe with a Florida State, Florida or Miami. The Huskers are unlikely to ever recruit at the level of Alabama or LSU anytime soon.
If Usain Bolt wanted to play college football (obviously NCAA rules would prohibit this, but stick with me here), which school do you think would win the recruiting battle for this six-star player? I'm going with Miami despite Harbaugh running a satellite camp in Kingston.
-- Dan Wetzel, Rio De Janeiro, Brazil
That's funny, I know another Dan Wetzel who's in Rio covering the Olympics. You guys should meet up.
I'm thinking Oregon. For one thing, I assume he'd be into playing fast. But also, Eugene is the track capital of the U.S. in case he wants to dabble in his other sporting hobby.
The question is, what position would he play? The obvious answer is receiver, and as such, good luck defending him on the out route. But Oregon could desperately use some help in the secondary, and I believe if the coaches put on his tape they'd notice some pretty impressive closing speed.
Stewart: Can we take a moment to appreciate the job Kevin Wilson has done at Indiana? Obviously, the Hoosiers aren't contending for championships but a strong chance for back-to-back bowls would be huge! (It hasn't happened since 1990-91). The Hoosiers have produced one of the better offenses in the Big Ten, plus he has had six players drafted in recent years -- unheard of for IU football. When he inevitably leaves for a more established program, can IU continue the recent "success" and become a consistent bowl eligible team?
-- Tyler, Indianapolis
I find this email fascinating. Usually I'm defending a coach from delusional fans who think he should be better. In this case, Tyler is talking up Wilson like he's the second coming of Urban Meyer, while I've been mostly underwhelmed by his five-year tenure, even with that big Pinstripe Bowl run last season. I was frankly stunned when the school gave him a six-year extension last January. And this is coming from a writer who thought IU hit a home run when it originally hired him from Oklahoma, where he had a tremendous run as offensive coordinator.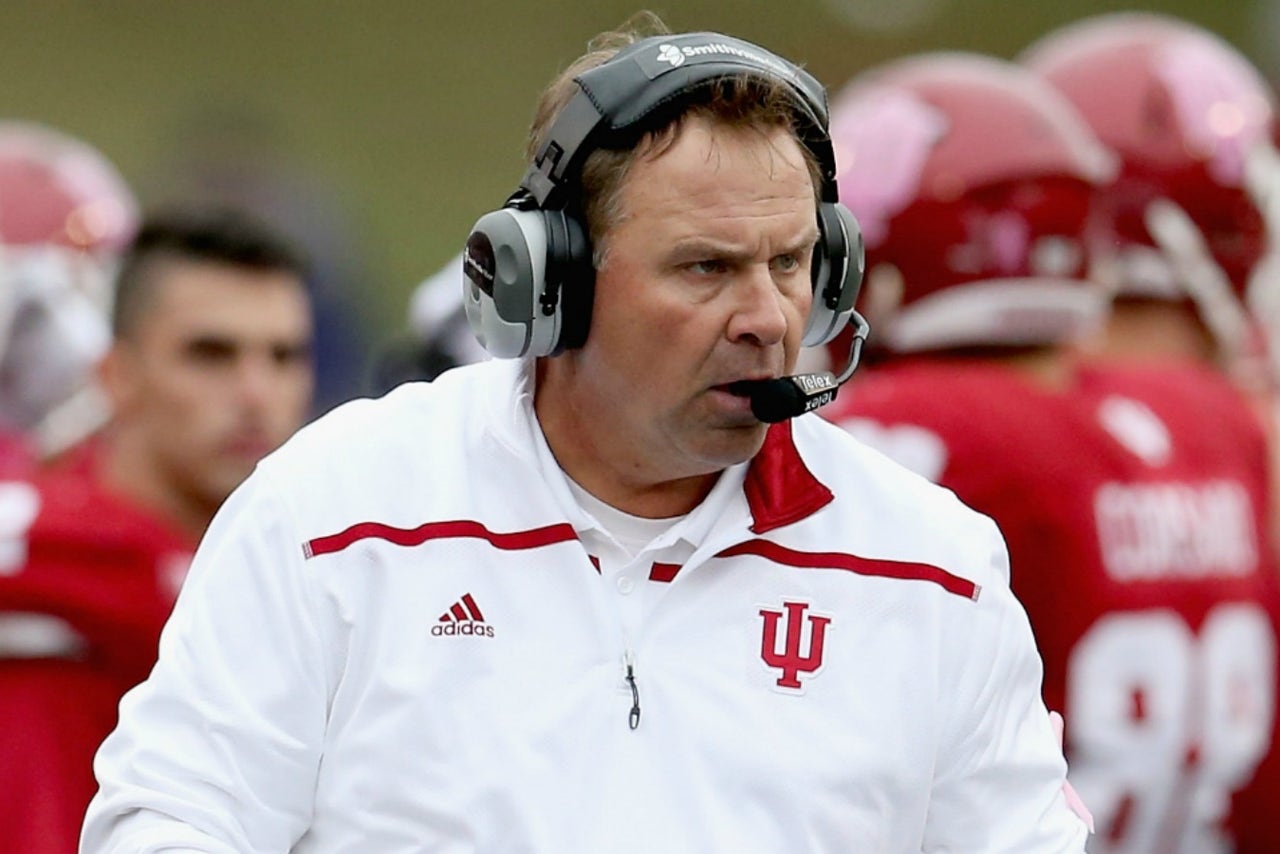 Kevin Wilson (Andy Lyons/Getty Images)
I certainly get that Hoosiers football has been a train wreck for most of the last quarter-century and concede that any bowl bid is a cause for celebration. But I would argue that Wilson, who holds an 8-32 Big Ten record -- has squandered opportunities given those aforementioned NFL players he's brought in. In 2014, he went 4-8 with a 2,000-yard rusher, Tevin Coleman, in his backfield. His offenses have been great, but his defenses have ranked dead last in the conference in four of his five seasons (including last year).
All of this is a long way of saying, I really don't think you have to worry about someone coming along and poaching him. Maybe that changes if the Hoosiers take the next step and win eight or nine games this season, but given they're replacing QB Nate Sudfeld and RB Jordan Howard, I'm picking them to regress to 5-7.
How's that for being a party pooper?
Mr. Mandel: I was looking forward to Ohio State's big non-conference game against Oklahoma, but then I looked at some schedules from the not-too distant past. In 1995, the Buckeyes played No. 22 Boston College at the Meadowlands, No. 18 Washington and No. 15 Notre Dame at home, and at Pitt. Most of the non-conference schedules of that time were like that. What the (insert expletive here) happened? How did we go from a slate full of good-to-great non-conference matchups to a single one every year?
-- Dave Plunkett
First of all, that '95 Ohio State team – with quarterback Bobby Hoying and future first-rounders Eddie George, Orlando Pace, Terry Glenn, Shawn Springs and Rickey Dudley – was one of the best teams I've ever seen … until its last game. The Buckeyes didn't just play all those ranked teams, they won their first 11 by an average margin of 24 points. But then it ran into Timmy Biakabutuka in the Big House, lost, and voila, a certain other Big Ten institution that had gone 8-0 in conference play went to the Rose Bowl instead.
I don't think that schedule was necessarily typical of that time. Ohio State had an extra game for one thing (in the Kickoff Classic), but most teams still played at least one cupcake. They did not, however, play three like many so do today. Schedules started getting noticeably worse about 10 years ago, due to a few factors.
For one thing, in 1995, Ohio State would have gone to the same bowl game whether it won all four or none of those four early games. But when the BCS came along, suddenly the best teams were playing to get into an even better bowl than their conference's. Similarly, it was still a relatively small number of teams that went to bowl games then, as opposed to anyone that can get to six wins, which in turn incentivizes padding schedules.
But most of all, when the NCAA allowed a 12th game permanently beginning in 2006, very few schools used that as an opportunity to schedule another home-and-home. Almost all the big names used it as an opportunity to assure themselves a seventh (or even eighth) home game and thus added another guarantee game. Which is how we wound up with the familiar formula of scheduling one glamour opponent, two MAC/Mountain West/Sun Belt foes and an FCS team.
The good news is it's slowly going back in the other direction thanks to the selection committee, conference networks, nine-game schedules and the like.
Hey Stewart. I listened to your podcast after you released your Top 20 coaches rankings and it got me thinking about all the great coaches that have retired in the last decade. After Frank Beamer's retirement last year, the longest-tenured coaches left are Bob Stoops and Kirk Ferentz , both hired in 1999. TCU hired Gary Patterson in 2000. What current coach is in the best position to endure the ups and downs of college football and enjoy a Beamer-like 30-year run at one school? Or has the 30-year coach gone extinct right before our eyes?
-- Adam, Greensboro, NC
I believe the 30-year coach has gone nearly extinct. With higher salaries and intense year-round media attention comes ever-increasing pressure, and it's going to be increasingly difficult for a coach to go 10 years, much less 30, before wearing out one's welcome. Not to mention coaches are inherently restless and in search of their next challenge.
There's only one current FBS head coach who I could see possibly pulling it off: Northwestern's Pat Fitzgerald. It helps that he started so young and is already on his 11th season at the age of 41. He'd be 60 at the start of his 30th season, younger than Nick Saban, Les Miles and Mike Riley are today. He's spent all but three years of his life in Chicago and/or at Northwestern.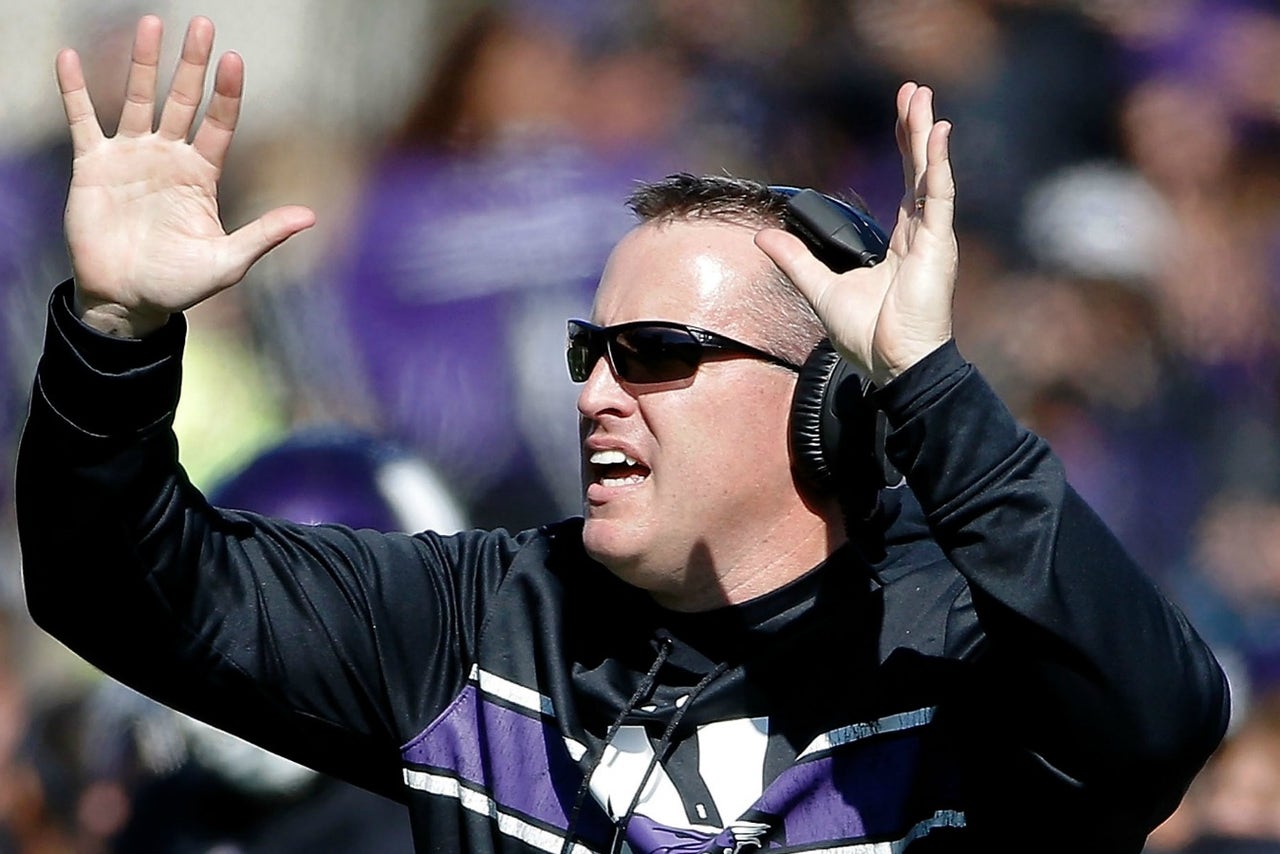 Pat Fitzgerald (Jon Durr/Getty Images)
And the expectation level at the school is relatively low. He's gone 36-44 in the Big Ten and could not have a colder seat after notching two of only three 10-win seasons in school history over the past four years. There are worse ways to spend the next 20 years.
Stanford's David Shaw fits much the same mold, except in his case I fully believe he'll jump to the NFL eventually, even if it's not until a decade from now.
With Devon Allen competing in Rio, who would be the greatest Olympian that played college football?
-- Vomo, West Des Moines, IA
Allen made a strong case the other night, but c'mon – Jim Thorpe.
---
---