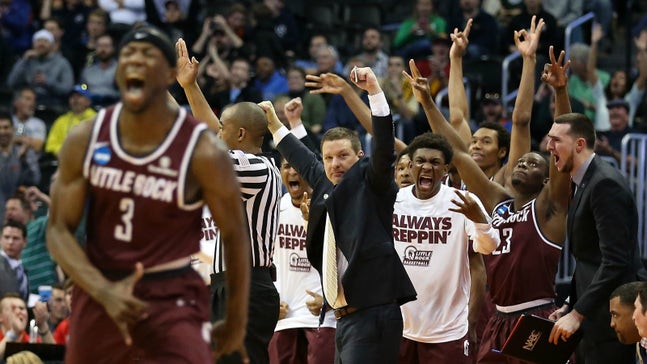 Sixteen games, 13 hours (and one minute) of hoop heaven
Published
Mar. 18, 2016 10:19 a.m. EDT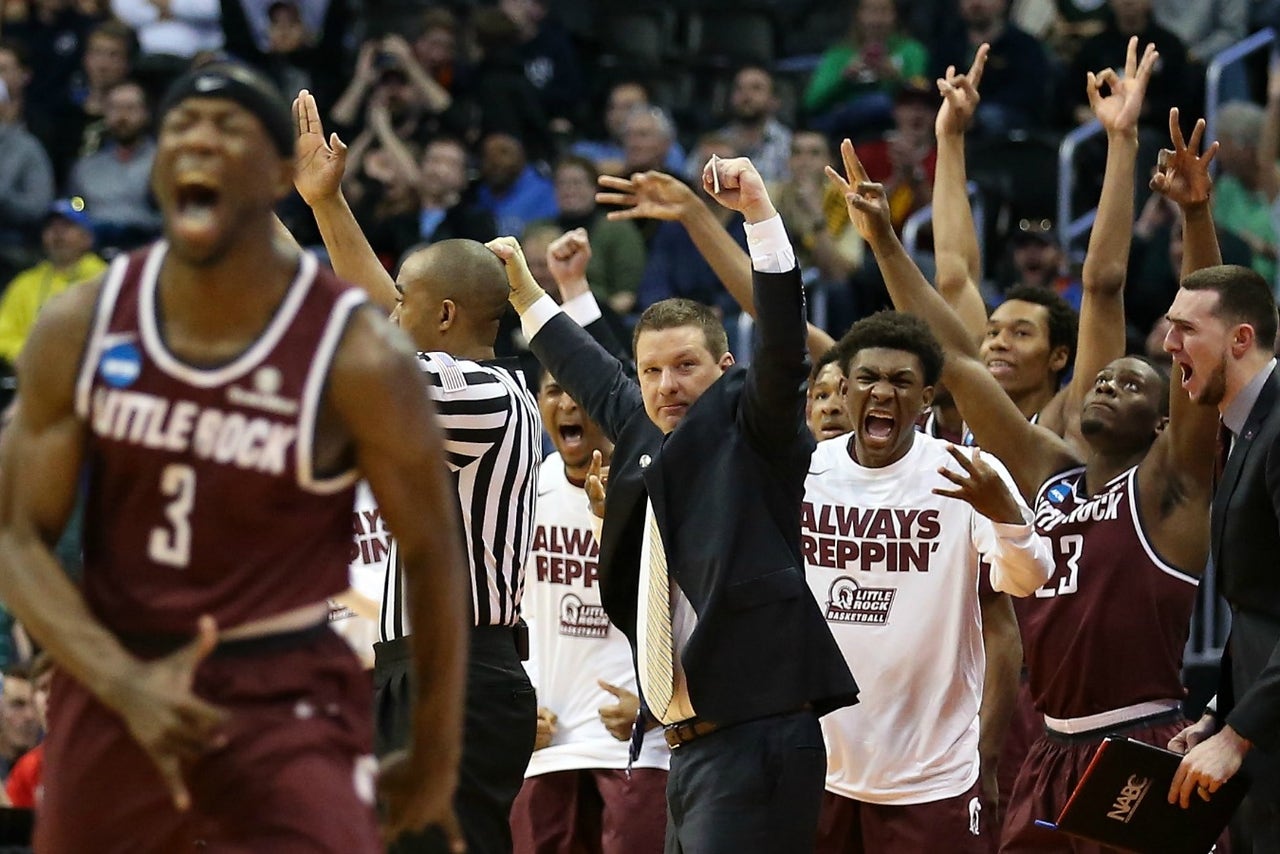 Each of the past two seasons, I've spent the opening weekend of the NCAA tournament covering games live on-site, in Orlando in 2014 and in Jacksonville last year. That may sound like living the dream -- and yes, it absolutely is, especially if you like having fun for a living -- but truth be told, I've always enjoyed the madness most from the comfort of my couch.
There's a reason so many people are working from home or calling in sick this Thursday and Friday, after all --" because, let's be honest, the NCAA website's "Boss Button" isn't fooling anybody --" and short of watching from a Vegas sports book with a fistful of betting slips, there's no better way to do it than in your boxers with a six-pack on ice and the remote in hand.
So when FOX asked me to stay at home and document an entire day spent doing the thing I was already going to do anyway, I jumped at the opportunity, even if I couldn't in good faith drink six beers while I did it. (Maybe one, we'll see.) But here's the rub: I don't have cable. I cut the cord a few weeks ago and haven't looked back. Yet.
What I do have, however, is a 46-inch TV with an over-the-air antenna, a Roku and a Sling TV account. I've also got a laptop, tablet and phone with access to the March Madness app. I've got my parents' cable login info handy if I need it (thanks, mom!) and I'm ready to roll. So please, follow along and relive the most exciting day of the year as I experienced it.
God-willing, I won't fall asleep before it ends. (All times are Eastern).
12:00: Pregame show is on and the tournament is (almost) here. Really looking forward to watching Charles Barkley talk about a bunch of players and teams he'd likely never seen before this week.
12:17: No. 4 seed Duke and No. 13 seed UNC-Wilmington have tipped off, with the opening tip trickling out of bounds. Only one game for the next 25 minutes. The horror!
12:22: UNC-Wilmington finally hits a 3 for its first basket. So much for the shutout.
12:25: First commercial. Feel like I'm going to see a lot of Spike, Chuck and Samuel L. over the next few hours (and weeks).
12:33: Oh good, here's that weird commercial where Dad Chris Paul wants to have "the talk" with Son Kevin Love. Just a few more minutes until I've got another game to watch.
12:38: Another commercial break as Wilmington calls timeout after a small Duke run. Hopefully this Geico ad where the James Bond-type takes a call from his mom while warding off bad guys is the last one I see for a while.
12:40: Considering moving from the office to the living room, where the Roku is, so I can more easily flip between channels with multiple games on. My 3-year-old will be home from preschool in 2½ hours, which will inevitably send me back to the office, anyway, so I might as well lounge while I can.
12:42: No. 8 seed Texas Tech and No. 9 Butler are underway, but an interview scheduled for Wednesday is finally calling today. "Hey, can we talk later? I'm watching basketball," isn't a good look, so I'm to keep Duke on in the background while I step away.
1:03: Finally off the phone. Hate when work gets in the way of work. Back to the games. Fortunately there are still only two of them on and Duke is making its interesting. No disrespect to Game 2, but I'm sticking with this one until the half.
1:06: Seriously? A timeout with six seconds left in the first half? Don't you guys know I've got another game to watch?
1:07: Brandon Ingram hits a 3 to end the half for Duke and closes the gap to 43-40. I suppose that's why you call the timeout. Don't mind me.
1:10: Flipping over to Butler vs. Texas Tech. [Insert joke here about it taking me three minutes to find TruTV.]
1:18: I've got to admit, I'm pulling for Butler here, if for no other reason than I once wrote a profile of its mascot. I own two bulldogs, myself, and though there are five Bulldogs in the tournament field, my soft spot is with them.
1:23: Wait, Tubby Smith is the coach at Texas Tech? Should I have known that? What's that you say --€" he's been there three years? Oh. Just kidding, then.
1:27: Butler and Texas Tech just went to the half with Butler up 30-28, Duke and UNC-Wilmington haven't yet returned from the half, and the Colorado-UConn 8-9 matchup hasn't yet tipped off. What am I supposed to watch for the next two minutes?
1:31: Duke and Wilmington are back. I've got them on the iPad and Colorado-UConn (which just tipped off) on the TV, but that may soon change, especially if the Blue Devils don't figure out what they're doing.
1:41: Just got around to checking the brackets in the pool I run with my friends. My fiancee, who doesn't watch college hoops and did not consult when making her picks, has three of the same four Final Four teams as I did, so now I have to actively root against Kentucky. (It's not personal, guys.) All told, we've got six brackets with Kansas as champs, three with North Carolina, two with Michigan State and one with Virginia (over Texas, no less). That last one is either going to go miserably for my buddy's wife, or she's going to make the rest of us look silly.
1:44: I'm going to come out and say it: I dig the court designs the NCAA rolled out for this year's tournament. As someone who watches a lot of HGTV, I'm qualified to say that I think it looks great.
1:49: No live game action at the moment, but I've got a Papa John's ad on one screen and an Applebee's promo on the other. Amazingly, neither one is making me hungry, so I'm flipping back over to Butler for now. Connecticut and Colorado have combined for 18 points in nearly nine minutes, so I don't think I'll be missing much.
1:54: iPad battery is draining faster than my charger is currently charging it. This could become problematic as the day wears on, especially considering that in six minutes we'll have four games on simultaneously.
2:02: Iona and Iowa State are officially underway, giving us two 4-13 matchups to keep an eye on. Iona is a sexy upset pick, but I'll give Duke a chance to pull away for good before I commit to watching that one --€" although it's still more appealing than the UConn-Colorado slapfight has been so far.
2:14: Ah, heck, if I'm going to do this, I'm going to do it whole hog. Spent the last several minutes setting up four different devices and creating a game-importance hierarchy. Best game (currently Duke-Wilmington) goes on the big screen, No. 2 (Butler-Texas Tech) on the laptop, No. 3 (Iowa State-Iona) on the iPad and No. 4 (sorry Colorado-UConn) on the phone. It's official, I'm obsessed.
2:22: Colorado leads UConn 36-27 at the half and I get my phone back for the next 15 mintues.
2:27: Despite starting 25 minutes earlier, the Duke game is only about two minutes ahead of the Butler game in terms of time left on the clock. A total of 45 fouls (so far) between the Blue Devils and UNC-W will do that.
2:35: First game is in the books, as Duke escapes UNC-Wilmington, 93-85. The Blue Devils will get the winner of Baylor-Yale -- a game with some serious 12-5 upset potential --€" which is up next on CBS.
2:38: Butler bounces Texas Tech 71-61. The Bulldogs will likely play Virginia next unless Hampton pulls a Hampton on the 'Hoos in Game 2 from Raleigh. Iowa State and Iona are at the under-4:00 timeout in the first half, so I may soon be left with only UConn-Colorado to keep me busy.
2:52: Iona and Iowa State are at the half on TBS, and CBS and TruTV are still in between games. It's just me and Colorado-UConn for the moment. Still not moving that game from the phone to a larger screen, and won't until the game is over.
3:04: Got the dreaded "phone battery is under 20 percent" warning. Now I have to find a working charger, a much more difficult task than it should be considering that I've acquired about a dozen of them over the years.
3:10: Yale and Baylor tipping off now, and like the Duke-UNCW game the tip ends up out of bounds. Yale has been waiting a long, long time to be back in the dance, so the Eli have no excuse to not be ready to play. Baylor is wearing jerseys you can see from space.
3:12: Virginia and Hampton are underway as well. Can the Pirates channel the '98 women's team from Harvard and become the first 16-seed to beat a 1 in the men's tournament? Nah, probably not.
3:15: My 3-year-old is back in the house. Should have made her fill out a bracket. Only a matter of time before I'm kicked out of my own living room.
3:19: UConn is leading Colorado by seven. Last time I looked the Huskies were down by nine. When you're watching four games at once, one of them is going to draw the short straw.
3:24: Iona and Iowa State are already a quarter of the way through the second half, and I hadn't noticed. These are the risks you take when you shut down the iPad to let it charge at halftime. Fortunately, the Cyclones seem to have the game well in hand.
3:33: Every game but UConn-Colorado is on commercial. Time for potty break No. 1.
3:37: Hey now, UConn and Colorado is getting interesting. Huskies up 66-63 with 59.6 seconds to go. Colorado is on a 10-0 run, apparently. This is now a game worth watching. Phone volume is on for the first time all afternoon. (Still not putting it on the TV. A promise is a promise.)
3:40: Just caught an Iona player missing an uncontested dunk out of the corner of my eye. Gaels are down 16 with just under eight minutes to play. This one is flirting with Sharpie territory.
3:46: Ever spend a whole tournament game rooting for the wrong team? Thought I picked UConn in my bracket and spent the last two hours pulling for them (while also hardly watching the game at all). It's only after the Huskies prevail 74-67 that I realize I picked Colorado. Now my dreams of a perfect bracket are officially over, three games into the tournament. Maybe next year.
3:52: Apparently my main pup Blue III was not allowed in the arena for Butler's game earlier. That's a bigger injustice than the technical foul Baylor's Taurean Prince just got for hanging on the rim after a dunk.
3:55: Virginia coach Tony Bennett is being checked out by trainers after apparently collapsing on the court. Didn't see it live and replays didn't show much. At first I thought he may have pulled a Ron Hunter. He was taken back to the locker room shortly before the half ended.
4:00: Virginia leads Hampton 40-21 at the half, and Yale is up 39-34 on Baylor at the break in Providence. The break allowed me to see A.J. English of Iona pick up a technical foul for jawing with Iowa State coach Steve Prohm in the only game that's got live action rolling at the moment. Gaels had pulled to within seven with two minutes to go at the time of the T. Not a smart move, dude.
4:10: Iowa State avoids the upset against Iona, 94-81 --€" and holy cow are there a lot of Cyclones fans in the stands. (Who knew?) Purdue vs. Arkansas-Little Rock is the next game up in Denver. If it's as good as the Yale-Baylor 12-5 matchup has been so far, it may get promoted to laptop status. Virginia-Hampton doesn't seem long for that screen.
4:18: Just as Baylor-Yale and Virginia-Hampton return from the half, top-seed Kansas and 16-seed Austin Peay are tipping off in Des Moines. If the Governors keep it within three dozen against the Jayhawks they should consider themselves lucky. In any case, I'm looking forward to a nice long stretch of three-game action.
4:31: Haven't had any issues with reception using the over-the-air antenna since I got the thing, but it's been awfully wonky throughout the second half of Yale-Baylor. It's like the basketball gods and the cable gods are colluding against me.
4:34: Teammates Rico Gathers and Taurean Prince shoved each other during a timeout in a three-point game. Hate to wonder what'll happen if Yale opens the lead up any more.
4:44: Purdue and Arkansas-Little Rock are underway. When I filled out my bracket I told myself I was going to do it once and not tinker with it, and then this morning I went in and changed my pick on this game to Purdue, and also stuck the Boilermakers in the Sweet 16 for good measure. Don't let me down, fellas.
4:49: Just learned --€" after experiencing issues with the March Madness app --€" that apparently I'm not allowed to use the Sling TV app on more than one device at a time. This could become problematic. But if I'm about one thing, it's overcoming challenges.
4:56: Switching it up a little, with the two 16-1 games on the tablet and phone and the two 12-5 games on the TV and laptop. Past tournaments suggest making those two games the priority is probably a good idea, and with Yale up 12 with 7:28 to go, who am I to argue with history?
5:00: Haven't eaten lunch yet. At this point, is it still lunch if I make a sandwich, or do I have to call it dinner? If I call it lunch, do I have to wait until after the third set of games to eat dinner? I am full of important questions.
5:08: Virginia and Hampton just went final. 81-45 Cavaliers. Good job, good effort, Pirates. It'll be Virginia vs. Butler on Saturday.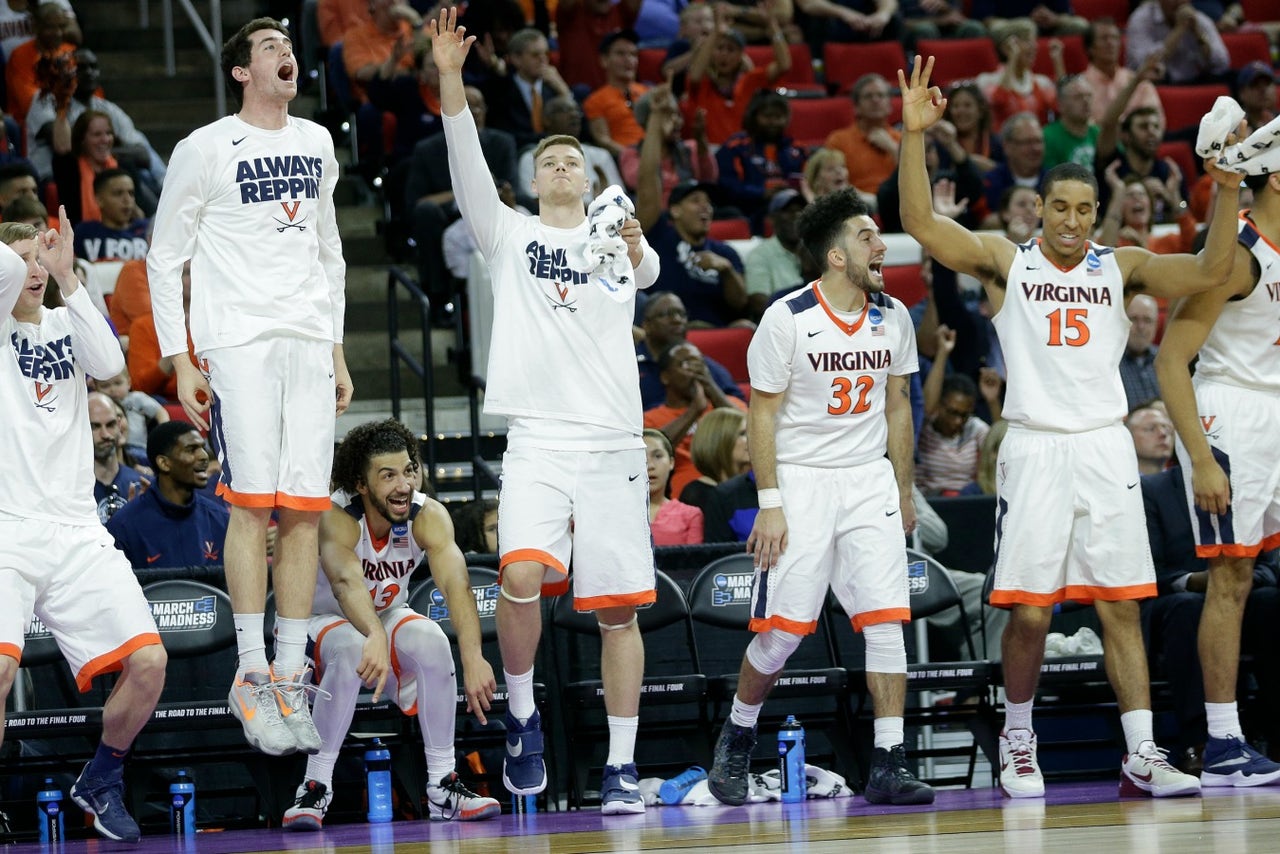 Virginia rolled.
5:13: We're also at the break in Kansas-Austin Peay, with the Jayhawks cruising, 48-28. Gonna really need to ratchet up those "Let's go Peay" chants in the second half. And on that note, time for bathroom run No. 2, while Yale-Baylor is in a commercial break.
5:32: After an afternoon of mostly unremarkable games, Yale and Baylor gave us a thriller -- and the first big upset of the tournament. I audibly gasped when Yale's Nick Victor airballed a free throw that would have put the Elis up by three, then I said something that wasn't even words when Baylor's Lester Medford lost the ball on a potential game-winning drive to the basket. Yale holds on for a 79-75 win, setting up a second-round rematch of a November meeting with Duke. (Duke won that one by 19 but led by only two at the half.)
5:39: Little Rock and Purdue are at the half and Kansas is not in any immediate danger early in the second half against Austin Peay. The third round of games won't start for another hour or so and my better half says she wants pizza, so this seems like as good a time as any to completely disregard my diet and order that lunch/dinner. Ready --€" break!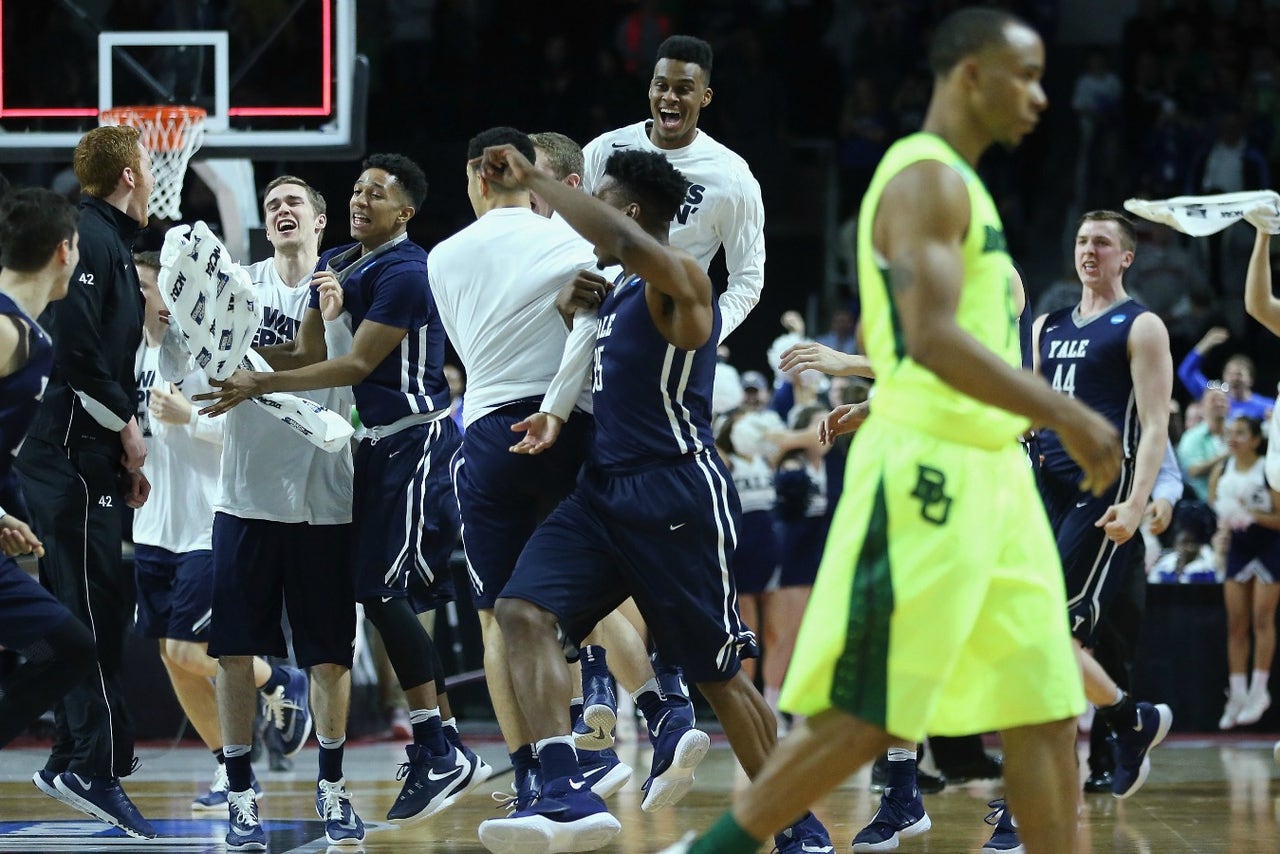 6:11: OK, I'm back. *checks scores* And I'm leaving again.
6:31: All right, we're strapped back in for the second half of the day. Vitals are still good, energy is still high. Little Rock is doing that thing where they hang around just barely close enough to keep it interesting (they're currently down 11), but where you know it'll probably never get closer than eight or nine. Oh, and Kansas hung 105 on Austin Peay, so that's how that went.
6:39: South region No. 3 seed Miami tips off against No. 11 Buffalo in a few. Don't anticipate a Buffalo win, but you can't help but want to root for Bulls coach Nate Oats given the personal challenges he and his family have overcome throughout the season.
6:44: Hey what's this now? Little Rock within three with just over a minute left? Just like I was saying...
6:54: As Little Rock-Purdue heads to overtime after a ridiculous Josh Hagins 3, Buffalo and Miami are just getting started in Providence. Before this Little Rock rally, Yale's upset was certainly the highlight of the first half of the first day of the tournament. Should have figured the other 12-5 game would be a classic too. The other six games, however, were kind of a bore. Eight more games like this and I'm not going to make it to the end of the night.
7:03: Beginning to wish I'd stuck with that Little Rock pick.
7:11: I know I should be excited about how great this Little Rock-Purdue game has become, but all I can think about is how the Gonzaga-Seton Hall nightcap is going to start even later than it would have already. Way past my bedtime.
7:22: As No. 5 Indiana and No. 12 Chattanooga tip, I realize it took me seven and a half hours to figure out that the feed on my iPad is behind the live TV feed by a minute or so. But if you think I'm going back and adjusting all these time stamps, you're nuts.
7:26: Really interested to see if Florida Gulf Coast can keep things any more competitive with North Carolina than the other two 1-seeds who played today. Also, fun fact: There's still one guy left from the 2013 "Dunk City" team on FGCU's current roster.
7:29: Yeah, definitely should have stuck with Little Rock. Just lost my first Sweet 16 team. Serves me right. Gonna wash this one down with another slice of pizza and maybe that beer.
7:44: It's getting dark enough outside that I finally have to turn on the lights in my house, lest I fall asleep to the sweet crooning of Bill Raftery and Jim Nantz. Will it increase my productivity or make me funnier during the late shift? Stick around to find out.
7:51: Buffalo's hanging with Miami at the break, Florida Gulf Coast isn't getting slaughtered by North Carolina and Indiana-Chattanooga has the makings of a great game midway through the first half. There may be hope for tonight yet.
8:08: Beginning to lose patience with the March Madness app. It keeps telling me my live video pass has expired and has forced me to re-log in probably a half dozen times. GET IT TOGETHER GUYS, THIS IS SERIOUS BUSINESS.
8:14: Don't look now, but Florida Gulf Coast trails North Carolina by only one at halftime. The last No. 1 seed to get this kind of first-half scare was Virginia against Coastal Carolina a couple years ago. Virginia ended up winning that game by 11, but still.
8:18: Also, Indiana is up 46-37 at the half. Hot take: If IU continues to shoot 61 percent from the floor, the Hoosiers will win.
8:26: The start of the Utah-Fresno State 3-14 matchup snuck up on me, but I can guarantee you that the end of the final game in Denver (now scheduled to start at 10:45 ET) will not.
8:40: Trying to figure out the best basketball-watching configuration when there are four live games on at once. Right now, this setup is working well, and the toddler-sized furry pink foam chair as the base is a nice touch.
8:51: Indiana up big, North Carolina starting to find its stride against FGCU, Utah already up by double digits against Fresno. Thank goodness Buffalo is keeping things interesting. They're also making me wish I'd ordered wings with that pizza. If I'm going to have a cheat day, I should do it all the way.
9:07: Miami fends off Buffalo 79-72. Bulls tried to make it interesting a couple times, but you never quite got the feeling they were a real threat to win. Still, probably the most entertaining of the third round of games today, barring this Utah game becoming interesting. I want to see some of the fire that led to the breakup of the Utah-BYU series.
9:18: If there's a bright side to tonight's latest game not starting until almost 11 ET, it's that at least it's being played a couple time zones over. A couple years ago, at the tournament games in Orlando, I covered a game between Louisville and Manhattan that didn't start until well after 10 local time thanks to a St. Louis-NC State game that took an eternity to finish. The game didn't end until 1 a.m., and after that I had to do interviews, write and then do radio. It's nights like that --€" when you're already on your fourth game of the day, you've been at the arena since 10 a.m. and you're still writing when it's basically tomorrow already --€" when the gig stops being fun. Will take boxers on the couch over that any day.
9:24: I can hear my fiancee watching Scandal in the bedroom. She's very invested in her bracket.
9:29: Also, UNC finally got past Florida Gulf Coast, 83-67, and Indiana is moving on after an 99-74 win over Chattanooga. Not all 12-seeds are created equal, apparently. Looking ahead, I went with Stony Brook as my absurd upset pick of the weekend, but I'd really like to see Kentucky against the Hoosiers. For now, though, I'll have to be content with Fresno State-Utah as my lone source of entertainment.
9:35: A thing you didn't know you needed in your life: Chuck, Spike and Samuel L. singing "Escape (The Pina Colada Song)". Now get it off my TV.
9:40: No. 11 seed Wichita State and No. 6 Arizona are now playing. Winner gets Miami, and while Arizona is arguably the most underseeded team in the field, Wichita State is one of those teams you almost don't dare count out. Feels like Fred VanVleet has been there for ages.
9:49: First Little Rock rallies against Purdue and now Fresno State has taken the lead over Utah. There's something in the water out there in Denver, and I'm not talking about the THC.
9:52: Oh, look, someone's got jokes.
10:02: With Kentucky-Stony Brook and the 8-9 matchup between USC and Providence now underway, we're back at four simultaneous games for the first time in a little while. Enjoy it while it lasts, I guess.
10:23: Fresno State sent Utah to the line a couple more times than was necessary in the final seconds of their 80-69 loss. This night was scheduled to be long enough without the Bulldogs'r help, but there they are, pitching in anyway. Also, way to go not representing for the other bulldogs tonight. #Butler #Yale
10:46: All three games are at the half and the nightcap doesn't start for a few more minutes. This is dangerous. It's almost my bedtime. No, really.
11:00: Eleven hours into the day and the last game of the night is in motion. Power through this. You can do it.
11:08: Wichita State up by 18, and that's shooting 2-of-17 from 3. This one would be a runaway if the Shockers could hit a jumper.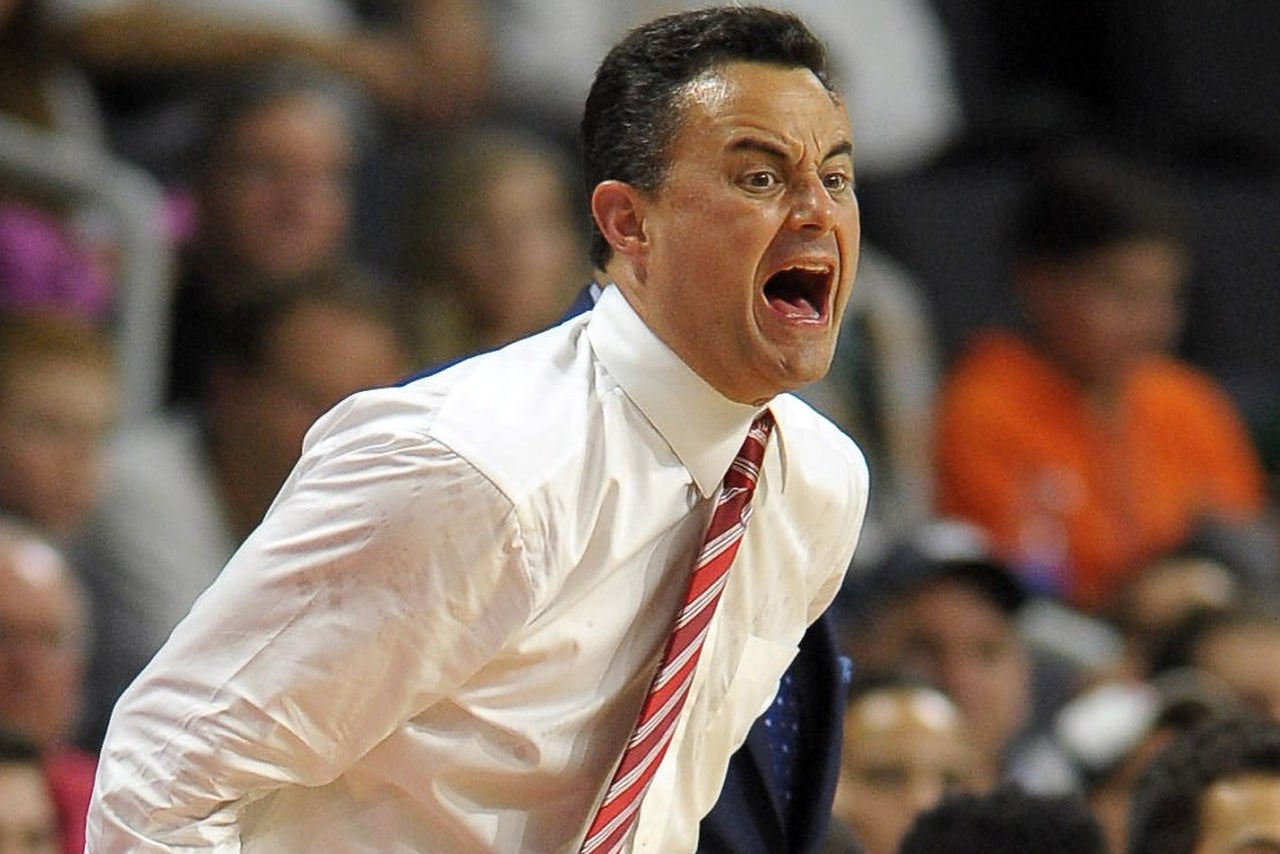 Sean Miller and Arizona were shocked.
11:21: Kentucky-Stony Brook and Wichita State-Arizona have both become unwatchable. The NCAA tournament needs a mercy rule or a running clock or something. Their selection committee also should have given Wichita State more credit.
11:29: If nothing else, you can't accuse Stony Brook of throwing in the towel. Carson Puriefoy just dove into the Kentucky pep band chasing a loose ball in a 28-point game. That's dedication.
11:39: On the flip side, Providence-USC has been a great game, basically since the opening tip. Easily the best one of the evening sessions. Why am I watching that on my phone while Kentucky is still on the TV? Turns out, I don't know.
11:47: Not a lot went right for No. 6 seed Seton Hall in the first half against Gonzaga, but those jerseys are fire.
11:58: Arizona was able to put a little lipstick on this pig, but the Wildcats were absolutely worked, and Miami should not take Wichita State lighty on Saturday or they'll end up in the same position.
12:02: Oh hi, it's a new day. And Providence just won a heart-stopper. USC had every chance to win and couldn't hit free throws when it counted. Hated to see that one end. (Kentucky also won 85-57, but I hadn't set eyes on that game in what feels like ages.)
12:06: And then there was one. Gonzaga-Seton Hall. Which is at halftime. At midnight. After a full half-day of basketball..
12:15: The most interesting thing about watching NCAA tournament basketball exclusively for 12 hours is that it's very easy to not have any idea what else is going on in the world. What did Trump do today? Don't know, don't care. There was a huge tuna recall? Hmm, how about that. I couldn't even tell you what else happened in the sports world outside of the 16 games I've had streaming across four devices all day, and I've barely even peeked at Twitter. But while in some ways it's refreshing to feel so insulated from whatever's going on in the rest of the world, I'm glad it only happens a couple days a year.
12:27: Wow, Providence hadn't won in the tournament since 1997 --€" or, since the Duke game started.
12:49: Stephen Colbert just walked out to the screech of bagpipes from the NYPD Emerald Society. You ever really notice Colbert's pointy right ear? Oh. Right. Basketball. Gonzaga up 14 on Seton Hall, 3:26 to go.
1:01: Zags win. It's over. Finally. Thank goodness. I'm tired. That sucked. It was great. Let's do it again tomorrow.
You can follow Sam Gardner on Twitter or email him at samgardnerfox@gmail.com.
---
---