One & Done: Yale heads to NCAA tournament for first time since 1961-62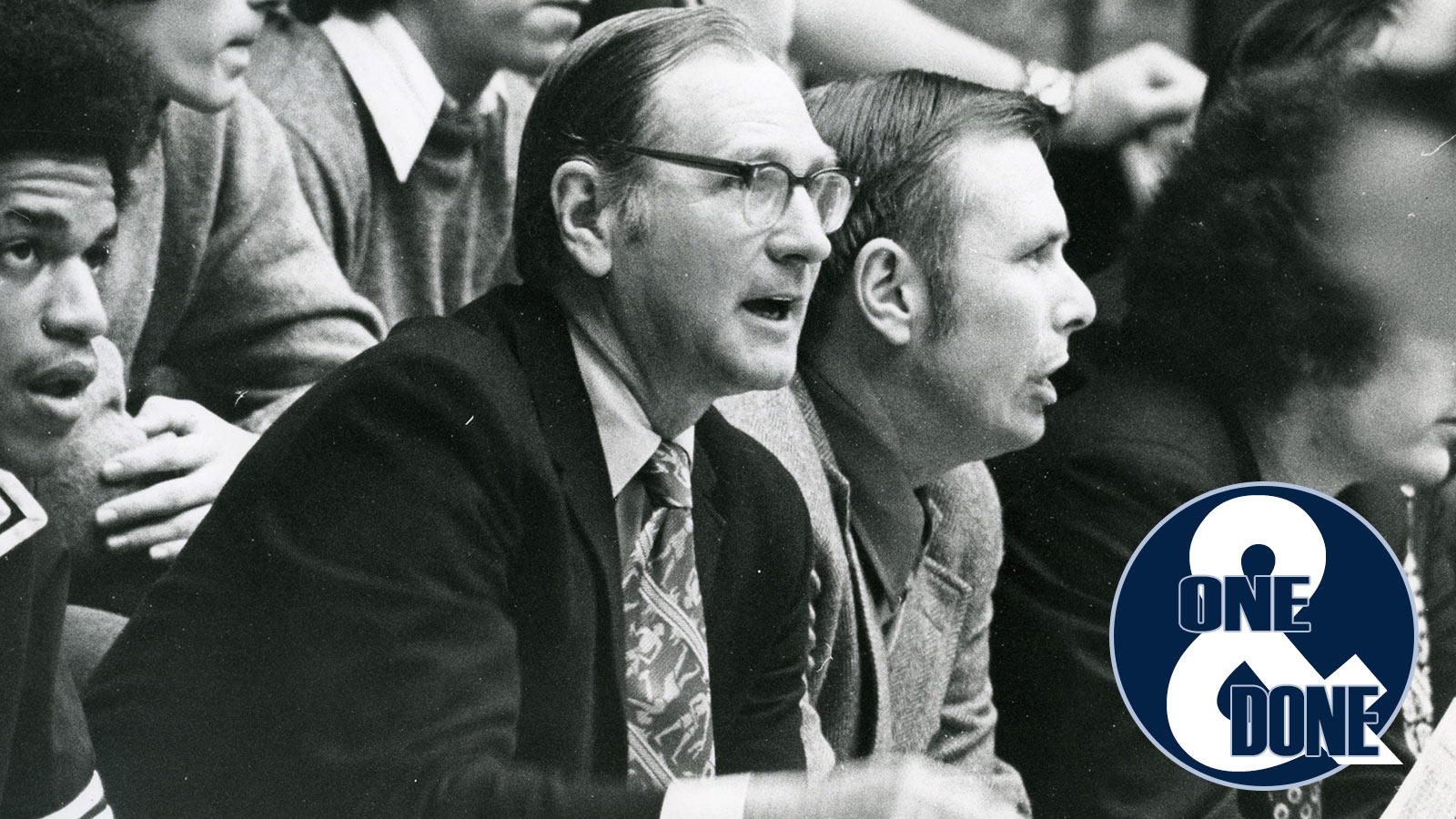 In the world of sports, athletes often dedicate their entire lives to reaching the pinnacle of their profession. But for many, life at the top can be short-lived. Sometimes all a player gets to experience at the highest level is one minute on the court, one trip to the plate, one shot on goal or one checkered flag, but more often than not, that fleeting moment in the spotlight is a story all its own. This is One and Done, a FOX Sports series profiling athletes, their paths to success and the stories behind some of sports' most ephemeral brushes with glory.
Yale clinched its first NCAA tournament appearance in 54 years with a 71-55 win over Columbia on Saturday, and from his winter home in Naples, Fla., 93-year-old Joe Vancisin couldn't help but breathe a sigh of relief.
A College Basketball Hall of Fame inductee, Vancisin was the head coach of the Elis in 1962, the last time Yale played in the NCAAs. He attended every Final Four from 1948 to 2008 as either a participant or a spectator — to say nothing of the Final Four he played in at Dartmouth in 1944 — and for decades he couldn't help but wonder whether he'd live to see Yale compete in the Dance again.
Now, after five decades and more than his share of disappointment, Vancisin finally has his answer.
"I'm happy for Yale and for James," Vancisin told FOX Sports Monday, referring to James Jones, Yale's head coach since 1999. "I can relate with James very much, having gone through the periods that he has probably had to go through. My experience at Yale was outstanding. I was happy to be in on two Ivy League championships and work with some great kids, and I'm happy to see what they're doing now."
Unlike this year's team, which came one basket short of reaching the NCAA tournament last season and finished runner-up in the Ivy League in 2014, Yale's 1961-62 squad didn't enter the season with high expectations and was far from a sure bet to vie for a postseason berth. The 1960-61 team had gone 12-12 and 8-6 in conference play after a 6-17 season in 1959-60, and in a league dominated at the time by Princeton, most everyone else seemed to be playing for second.
"We were picked to maybe compete for last place that year," said Rick Kaminsky, Yale's leading scorer in 1962. "We had five or six sophomores who played together as freshmen — in those days, freshmen didn't play (varsity) — but no one expected us to compete for it. … But we won almost all our games as freshmen — I think we lost one game — so we believed in ourselves."
It didn't take long for Yale to prove that it could punch above its weight, either.
After a season-opening loss to Connecticut, the Elis beat Fordham at home then traveled to Worcester, Mass., for a game against Holy Cross, a 22-5 NIT semifinalist the year before.
"Holy Cross in those days had a rated team," Kaminsky recalled. "They were a Top-20 team, and they had this guy Jack Foley who was supposed to be the greatest thing since Corn Flakes, and we beat them. That sort of turned us around. We knew we could really do it at that point."
They were a Top-20 team, and they had this guy Jack Foley who was supposed to be the greatest thing since Corn Flakes, and we beat them.
Rick Kaminsky
And while Yale took its lumps against some major conference competition — it lost by 13 to Boston College, was routed by Kentucky in Lexington and lost to Vanderbilt — a championship at a post-Christmas tournament at Evansville proved once again that the Elis weren't going to be a doormat in Ivy League play.
"Evansville was the No. 1 ranked team in Division II (in 1959 and 1960) so they were a very, very good basketball team, and they were expecting to blow us out," said guard Denny Lynch, who scored 25 points in the team's 92-83 win over Evansville and averaged 11.8 points per game for the season. "But we beat them pretty soundly and then we played Tennessee in the final and we beat them reasonably well, too, so we had established ourselves as a team that was capable of beating other good teams."
Those wins mattered little, though, when it came to reaching the NCAA tournament, which at the time featured 25 teams.
The lone determinant there was league play, where Yale had finished first twice dating to the conference's early days as the Eastern Intercollegiate Basketball League. But after back-to-back wins over Brown to start the slate, Yale stunned the league with a 22-point win over Princeton, then beat Penn — another prospective favorite — the following night.
In its next league game, a rematch against Penn, Yale was run out of the Palestra 71-49, but the team responded with an overtime win at Princeton 24 hours later, escaping the league favorite on a 40-foot buzzer beater by sophomore Dick Derby.
"That wasn't luck," Yale's 6-foot-6 center Dave Schumacher said of Derby, who later died in a car crash before the start of the 1962-63 season. "He came into practice the next day and made the same shot from almost halfcourt again."
From there, Yale escaped the rest of its Ivy League schedule unscathed, with the only close contests a one-point win at Cornell and an overtime win at Columbia on back-to-back nights. At 13-1 in league play, the Elis earned the conference's NCAA bid, holding off Penn (11-3) and Princeton (10-4) for its first league title since 1957.
Their reward was a trip to the Palestra, site of their lone Ivy League loss, for a game against ACC champion Wake Forest. Few gave Yale a chance to hang with the Demon Deacons, led at the time by future NBA All-Star Len Chappell and future broadcaster Billy Packer, but the players were eager for the opportunity to try.
"If you want to compete, there's no greater venue," Kaminsky said. "It was so exciting. That's what you practice for and that's what you play for. You play like you're playing against the best, and it was spectacular. It's hard for me to convey how exciting it was. I can still remember pregame warmups, Coach giving us our last word and walking out for the opening tip-off thinking, 'This is it, man. This is as good as it gets. This is your opportunity.'
"Wake Forest, they also thought Yale was going to be nothing," Kaminsky added. "They were overconfident and weren't prepared, so it was a perfect set-up."
It didn't take long for Yale to prove it belonged in the game, and at the half, the Elis trailed by four points.
"At one point Bones McKinney, who was the coach at Wake Forest, was on the bench, and he was so frustrated during the first half that he actually went up into the stands to sit up there because he couldn't believe what was happening," Lynch said. "He came back, mercifully, and we played them right down to the end."
I was crushed. I didn't sleep for a week, and I still think about that game. "I was crushed," Kaminsky said. "I didn't sleep for a week, and I still think about that game. "I was crushed," Kaminsky said. "I didn't sleep for a week, and I still think about that game.
Rick Kaminsky
Unfortunately, the upset wasn't meant to be. With the game tied in the waning seconds, Chappell fouled Schumacher, sending the big man to the foul line for a one-and-one. An admittedly poor free-throw shooter, Schumacher missed the try, and Kaminsky's put-back attempt bounced off the rim as time expired, sending the game to overtime.
Once there, Yale took an early lead, but soon after, Kaminsky fouled out, taking his team-high 23 points to the bench. Wake Forest went on to win 92-82, and the Yale players took the loss harder than perhaps they expected.
"I was crushed," Kaminsky said. "I didn't sleep for a week, and I still think about that game.
"They ended up being one of the Final Four teams, and for us at Yale to have beaten the biggest of the big — it took all of us a long time to get over that. There was no element of feeling like we had done a good job. We were just disappointed."
Little did they or anyone else know it would be another five decades before the program would get a shot at redemption.
The following season, Yale finished in a tie with Princeton atop the Ivy League standings but lost a playoff game that would have sent the team to its second consecutive NCAA Tournament. Then in the senior year for most of the stars on the '62 team, the Elis finished a game behind Princeton.
The following year, Yale finished fourth in the league as Princeton made a Final Four run in Bill Bradley's senior season, and there have been few close calls since.
Yale finished second in the conference in 1967, but placed third or lower every subsequent season until 1990 and 1991, when the program turned in two consecutive second-place finishes. In 2002, Jones' third season, Yale finished in a three-way tie for first, but lost to Penn after eliminating Princeton in what amounted to a semifinal game. (That team later lost in the second round of the NIT.)
"Yale's had some great teams," Kaminsky said. "Back in the '80s they had Steve Leondis and Butch Graves on the same team and couldn't win. They had Chris Dudley there and couldn't win. So it's been very frustrating, and it's hard to believe."
Last year was perhaps the most crushing near-miss of all. With one game left in league play, Yale controlled its destiny but lost to Dartmouth on a last-second basket to force a tiebreaker with Harvard, who went on to win the league's NCAA bid in a one-game playoff at — where else? — the Palestra.
"I think what you saw during that time period was the world of basketball and college sports changing," Schumacher said of Yale's five-decade drought. "The big schools keep getting bigger and bigger and the Ivy League was still the Ivy League. So it's kind of hard to say, 'Look, you can pay $50,000 tuition and go to Yale, or you can get a free boat to go to Stanford or Duke and still get a pretty good education.'
"There are some who did the latter," Schumacher added, "and I think that makes it harder and harder for an Ivy League school to compete at a national level."
Still, there's no telling what Yale might be capable of later this month — especially considering the success other Ivy League programs have had in the tournament over the years.
In 1989, 16-seed Princeton took top-ranked Georgetown to the wire in an opening-round game, and the Tigers have won in the tournament as recently as 1998. In addition, Penn last won as an 11-seed in 1994, Cornell reached the Sweet 16 as a 12-seed in 2010 and Harvard won a first-round game as a 14-seed in 2013, then did it again as a 12-seed in 2014.
It's unknown who Yale will face or where the game will be held, but they'll almost certainly be underdogs, especially without senior captain Jack Montague, who was expelled from the school earlier this year. Still, Yale has proven itself dangerous throughout the season — it nearly pulled off an upset at SMU in November and trailed Duke by two at the half when the team visited Durham three days later — and after 54 years without a tournament appearance, the Elis might be due for a win.
"They just need to go out and just play it like another game," Kaminsky said. "If they don't even think about who they're playing — imagine you're playing Harvard, someone like that — and they hustle, I think they'll do very well."
"The competition has changed so radically," added Vancisin, who coached at Yale until 1975, when he became the executive director of the National Association of Basketball Coaches. "I just wish them well, because it's going to be difficult."
PREVIOUS ONE & DONES:
May 12: Dean Morton
May 19: Ross Browner
May 26: Dave Salvian
June 2: Mine That Bird
June 9: Kerwin Bell
June 16: MIchael Campbell
June 23: Tyson Wheeler
June 30: Roe Skidmore
July 7: Steven Hill
July 14: LaMarr Hoyt
July 21: Bernard Quarles
July 28: Matt Tupman
August 4: Kevin Melillo
August 11: Roy Gleason
August 18: Cory Aldridge
August 25: Tom Brown
September 1: Tony Cloninger
September 8: Mike Pantazis
September 15: Wilbur Wood
September 22: Doug Clarey
September 29: Danny Young
October 6: Chad Wiseman
October 13: David Matranga
October 20: Brad Fast
October 27: Zenyatta
November 3: Ohio Northern
November 10: Dave Scholz
November 17: Matt Walsh
November 24: Clint Longley
December 1: Steve O'Neal
December 8: 1985 Miami Dolphins
December 15: 1998 New York Giants
December 22: Ed Podolak
December 29: Scott Skiles
January 5: Bram Kohlhausen
January 12: 1968 New York Jets
January 19: Ricky Proehl
January 26: Mike Boryla
February 2: John Kasay
February 9: Julius Erving
February 16: Shaquille O'Neal
February 23: Mario Andretti
March 1: Nykesha Sales
You can follow Sam Gardner on Twitter or email him at samgardnerfox@gmail.com.