Spartak Stadium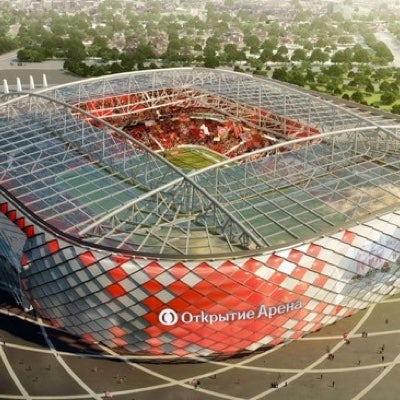 Built:
New Stadium
Capacity:
43,298
Home Team:
FC Spartak Moscow
Spartak Moscow, the "people's team", is one of Russia's most popular football clubs, but ever since it was founded in 1922, it has had to make do without its own stadium.
In spring 2010, on the site of Moscow's former airfield in the district of Tushino, Spartak started building its own, 45,000-seat stadium. The venue hosted its first match on 5 September 2014.
Spartak Stadium's façade takes the form of chain mail consisting of hundreds of little diamonds representing the Spartak logo. The façade can be changed depending on which team is playing. For Spartak matches, the arena is bathed in red-and-white; when the national team is in town, it switches to the colours of the Russian flag.
Spartak Stadium also houses the Spartak Moscow museum, the official fan club and the club shop. A new underground station has opened nearby.
---
ABOUT MOSCOW
Founded: 1147
Population: 12.3 million
Altitude: 167 m

Founded in the 12th century, Moscow is the capital of the Russian Federation and one of the most renowned and fascinating cities in the world. It is a dynamic metropolis showcasing some of the world's best shopping, nightlife, restaurants and culture. Moscow welcomes over four million tourists each year.
Home to over 130 nationalities and 11 million residents, Moscow is served by three international airports and the world's second busiest underground system.
The city is renowned for its beautiful architecture and iconic cultural landmarks such as the Bolshoi Theatre, the Kremlin, the Pushkin Fine Arts Museum and the Tretyakov Gallery, to name but a few.
Moscow is also home to three UNESCO World Heritage sites, including the Kremlin and Red Square. The colourful St Basil's Cathedral on Red Square is the symbol of both Moscow and Russia.