Top Five Most Valuable Denver Nuggets September Edition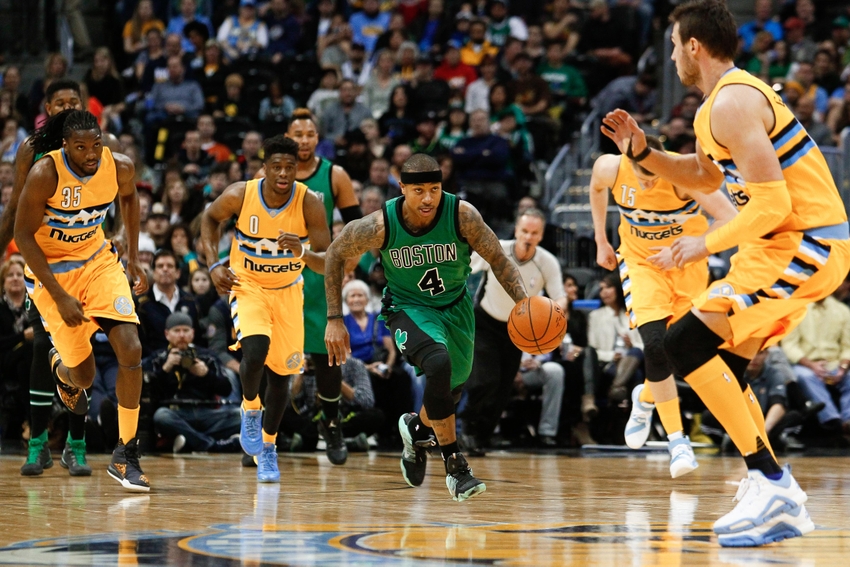 The Denver Nuggets have created a youthful powerhouse, and we took the time to rank the most valuable Nuggets going into he new season.
The Nuggets were young in 2015-2016 season and they appear to be younger going into this season. They do have some veteran guys but they don't yet have the superstar to tie it all all together.
Many believe that win totals with this line up will improve just because of the experience that a second season with Coach Malone will bring but what is not certain is will it translate to making the playoffs. The west will be a dog fight with  13 of the 16 teams having a legitimate shot at taking one of the eight coveted playoff spots. It will be fun to watch.
While developing this column I have went back and forth on the top five most valuable Nuggets but one thing that did not change was who I believe is number one on that list. Let us just get right to it and take a look at the list from top to bottom "September Edition-This list should be done with a pencil and eraser".
We could talk scoring but a point guard is typically judged by his assist to turnover ratio.
The point guard position is key to most NBA teams. It is the position that gets the offense into the right sets and is responsible for keeping turnovers to a minimum. Often times this is the team leader on and off the court. Very few teams will be successful without a good one and the Denver Nuggets do believe they have a good one in Mudiay.
Emmanuel Mudiay was taken with the seventh pick in the 2015 draft and started 66 of 68 games he played in his first season. He averaged 30 minutes a game and contributed 12.8 points a game. We could talk scoring but a point guard is typically judged by his assist to turnover ratio. Mudiay's was 1.71 for 79th in the NBA. Not bad for a rookie PG. In comparison Steph Curry's was 2.01 while Chris Paul was second in league with 3.8.
Expect Mudiay to move towards 2.25 in the assist to turnover stat in 2016-2017. If his assists go up and turnovers come down this guy is going to be special to watch for the next several years.
Another thing to like about his game, after Gallinari went down with the ankle injury in late February Mudiay stepped his game up considerably something that many around the league recognized.
With all the trade talk surrounding the Denver Nuggets this off season anytime the name Mudiay was mentioned my only thought was NO!
Rebounds, assists, and points per game were well above his career averages during the 2015-2016 season.
Danilo Gallinari was having his best NBA season last year when he went down with a season ending injury to his ankle. Rebounds, assists, minutes played and points per game were well above his career averages during the 2015-2016 season. Missing 29 games had to be devastating for Gallo, who has struggled to stay healthy.
His ability to get to the free-throw line is one of his best parts of his game. Gallo ended up 4th in the league in free throws attempted last season at 8.2 attempts per game. Going to the line and then making 87% of those attempts is outstanding.
It will be interesting to see how the Nuggets utilize Wilson Chandler during the upcoming season. A rotation of Gallo and Chandler at the small forward may develop into something special. Staying healthy over an entire 82 game season is needed from these two. The addition of Chandler will cut into some of Gallo's minutes but this may produce some immediate and needed results for the Nuggets.
Gallo is right now the closest thing to an NBA all-star on the roster and with the recent reports about his wanting to stay in a Denver uniform should make him a crowd favorite. If the young core can develop this season around Gallinari things could get exciting at the Pepsi Center.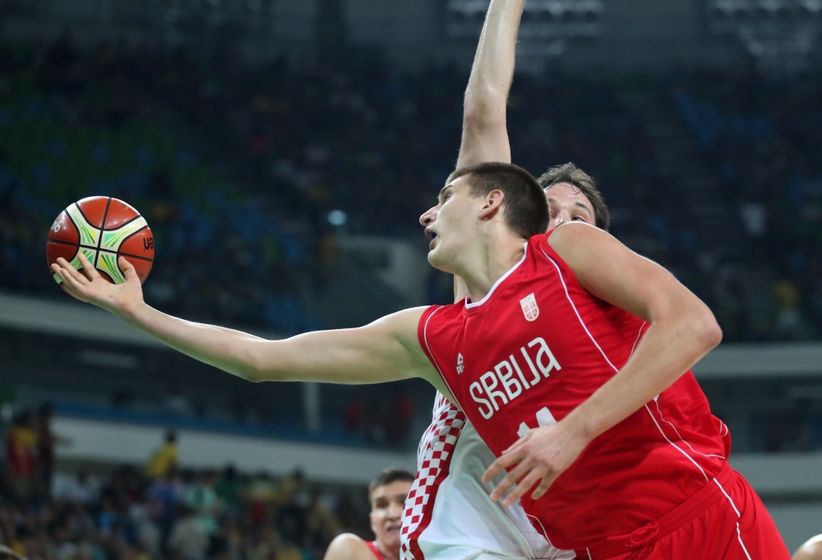 The Olympics and the Denver Nuggets may not seem to go together but in 2016 Nikola Jokic changed all of that.
The 2016 Olympic Basketball competition showed a couple of things:
One,USA Basketball is clearly an elite group. Still amazing they can practice about a week, play a exhibition games, and then claim a gold medal.
The second thing we learned form the Olympics is that Nikola Jokic is going to be a player to be taken seriously. A silver medal is something that this Denver Nuggets will always cherish.
Anyone who watched Serbia play in Rio had to notice how Jokic stood out on the world stage. The NBA already knew about his ability as Jokic came in third for rookie of the year last season. This kid has a lot of upside as he can pass, rebound, and score. Additionally, you will not see a hack-a-Jokic defense employed as he made 81% of his free throws last season.
I could write more about Jokic but I just want to see where he goes from here. Only up!
Gary Harris is not playing for his stat line. He is playing for the love of the game.
Gary Harris could easily be the forgotten as a most valuable Nugget and that is probably ok with him. There is a term in basketball that talks about players being "glue guys". A glue guy is a player that doesn't go out to fill up a stat sheet but rather goes out and does all the little things right and in doing so he ends up with a nice stat line night in and night out. A glue guy doing all of these little things right then elevates his teammates. This is Gary Harris.
I have mentioned it before but second year NBA guys don't typically go play NBA Summer League games in Las Vegas unless they are battling just to make a roster. Gary Harris is a Nugget's starter but had fun playing with the rookies in Vegas. He just loves the game!
The jump he made in his second season was phenomenal and even more upward movement in his game can be expected. His stat line showed that he was tenth in steals in the NBA last season and played in 32 minutes a game in 76 games. He also showed an ability to knock down shots from behind the three-point line on a team struggling to hit these shots. Improvement from Harris from beyond the arc will make this "glue guy" a household name.
If Jamal Murray can hit some open threes and make for a viable scoring option this will only improve the second unit.
Jamal Murray may very well be a top five most valuable Nugget. This depends on how he molds with the second unit. You could see Murray averaging 25 minutes a game. He could also get lost in the shuffle and only see the floor less than 10 minutes. It also remains to be seen what exactly his role will be. His role development will depend on how second unit minutes will be split between Murray, Will Barton, and Jameer Nelson.
The development of the second unit will be a key factor going into the upcoming season. Barton had a good season leading the second unit last year. His fourth quarter scoring stats stand out in league dominated by superstars. However, there were times Barton held onto the ball to long and looked to score to often. If Jamal Murray can hit some open threes. This will make him a viable scoring option and improve the second unit.
It may be several seasons before Nuggets fans can chant "MVP, MVP, MVP" during a dominating performance over another NBA elite team but it is good to know there are at least five Most Valuable Nuggets on this roster.
Jusuf Nurkic is right on the cusp of making this list. You could make the case for a couple others for a top five status. Only time will tell.
With training camp opening in another 20 days or so excitement for the 2016-2017 season will be high. Only contention in the playoff dog fight that is likely to occur in the Western Conference will sustain this excitement into April!
This article originally appeared on