Portland's Trade Market: One Idea That Nobody's Talking About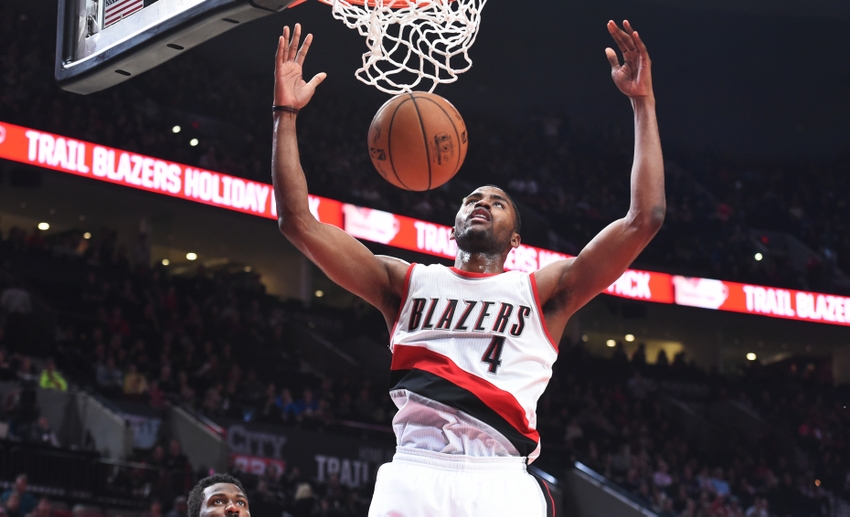 The Media is Watching Portland Closely as Trade Buzz Gets Louder and Louder
On Wednesday, ESPN's Zach Lowe had Marc Stein on his podcast. The two spoke about the Blazers near the 47 minute mark and immediately delved into trade talk. In short, the two think that there is no way Portland doesn't make a trade, and could do so as early as December. Lowe spoke about this in a feature on ESPN as well.
Portland's trade situation is a tricky one. It's obvious that we can't have one of the highest payrolls in the league, and the worst defense. We haven't been known as a defensive powerhouse in recent years, but this year has reached a new low. We allow so many points and cannot defend the perimeter to save our lives. This problem looks dire when you factor that the team leader Damian Lillard can't lead by example.
So our defense is bad and we need to improve it. On the other side, we're still top ten  on offense so why fix what isn't broken. The Blazers have a month to see if this log jam of centers and wings is good enough to keep. And if we're still at the very bottom in defense, time's up and Portland has to trade.
Portland Built Up Assets This Summer, How Long Can We Wait to See if it Works?
I want to be optimistic about this team and say that we're trending upward. Evan Turner's play recently looks like he's getting used to playing here. Maybe Festus Ezeli will have a speedy recovery and provide that rim protection we need. But we all have to ask ourselves, even if both of those scenarios play out, does it get Portland closer to title contention?
Portland has been stuck at the fringe top ten team for the last few years. They haven't gotten many good draft picks, and we all know their success with luring big name free agents. If Portland wants any shot at competing for a title, they need to go for broke. Lillard is about to enter the prime of his career, and the NBA Super Teams show no signs of slowing down.
The Blazers have a log jam at wing and in the post. Turner and Allen Crabbe seem to be the obvious trade baits, but neither has played up to their contract. Teams would probably be more interested in Al-Farouq Aminu or Maurice Harkless (both having career years). The post position looks ripe for a trade, as Portland hasn't even solidified its rotation. The ideal scenario would be for Portland to give up two to three guys in order to get a reliable rim protector.
Demarcus Cousins, Greg Monroe and Brook Lopez look to be the buzz names of early trade talks. However, would the addition of any of them really help our struggling defense or just add to the offense? What Portland needs is a team struggling on offense that has a defensive stud in their pocket.
Why Couldn't the Orlando Magic be the Blazers' Trade Partner that Nobody is Talking About?
As of this article, Orlando ranks dead last in offense and currently houses three centers that could make an immediate impact on Portland: Nikola Vucevic, Bismack Biyombo and Serge Ibaka.
Vucevic would fit nice on offense, but it's questionable to think he would vastly improve our defense. Don't get me wrong, I'd love to add Vucevic to the roster and have that legit offensive threat down low. However, the other two options look more appealing the longer our defense struggles.
Ibaka is the perfect fit, but I don't know if the Blazers could afford him. Famous for his defense, the veteran would probably improve our offense as well. It's early, but like Portland, they're last in a major category and there isn't any sign of improvement. The problem with Ibaka is that he's probably untouchable, meaning we'd most likely have to offer C. J. McCollum if we want a chance at him. And I'm not ready to give up one of the best playmakers in the game.
Finally, we come to the player that Portland should take a look at: Biyombo. We wrote about pursuing him this past summer, but Portland went for bigger names and let him sign in Orlando. How perfect would Biyombo be in Portland right now. He showed promise in the playoffs last year and his energetic defense could improve Portland immediately. I know he was the trendy "Oh c'mon" free agent of the summer, but we are currently the worst defense in the NBA! I could see a Crabbe and Meyers Leonard type of package for him, that way Orlando gets the offense it needs with some lethal shooters. 
It's a dark horse idea, but it makes sense once you see that both teams need to make a change. There is still potential here in Portland to get better, especially once Aminu returns from injury. But this is long-term thinking here, and this trade would make both teams better in the short and long run. Let's spend our money on what we need, which is interior defense and energy.
December 15th is when NBA Free Agents become tradable. If I'm Portland, go after Biyombo and let everyone else fight over the bigger names.
More from Rip City Project
This article originally appeared on