New York Knicks: Carmelo Anthony Responds To Phil Jackson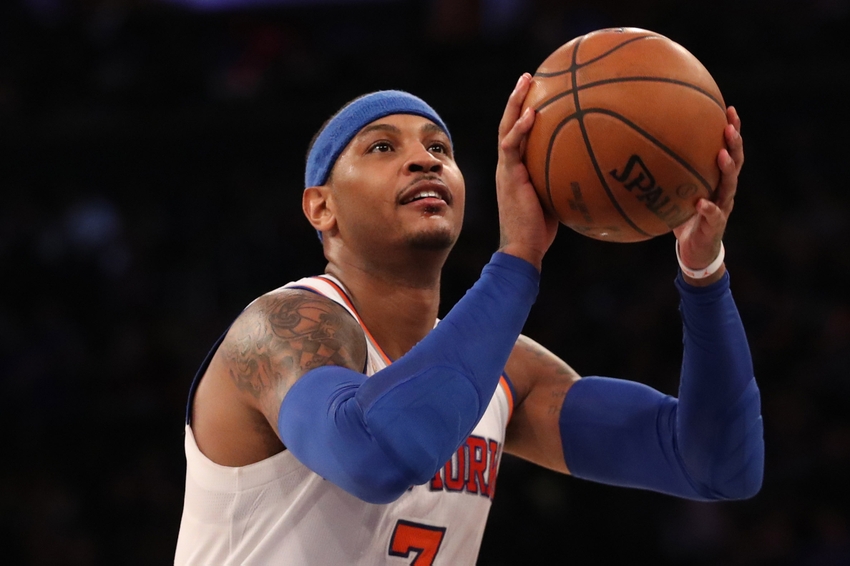 New York Knicks star Carmelo Anthony publicly responded to team president Phil Jackson and questioned why The Zen Master made his recent comments.
---
The New York Knicks have an entirely unnecessary rift between the players and the front office. The behind-the-scenes tension that's existed between Carmelo Anthony and Phil Jackson is now out in the open.
After Jackson weighed in on the areas in which Anthony must improve during a recent CBS Sports broadcast, a media frenzy began.
Multiple major media outlets quoted Jackson as calling Anthony a ball hog when he never uttered those words. Anthony responded to The Zen Master's comments by posting a number of subliminal messages on Twitter and Instagram.
According to Stefan Bondy of The New York Daily News, Anthony is puzzled by why Jackson is spreading such negativity.
"I didn't talk to him so I don't know where he was coming from with those comments," Anthony said. "If he wants to talk about it, cool. If he don't, cool. In my eyes it's over."

"I feel like we're playing good basketball, and just to have a temporary black cloud over our heads," he said. "I don't know when the comments were made or the gist of them, I just know something was said."
Jackson's criticism appeared to be constructive, but the manner in which he's gone about providing seems to have struck a nerve.
Statistically speaking, Jackson is right; Anthony is significantly better when he doesn't hold the ball, yet he's consistently doing it. Anthony seems to be of the mentality that Jackson insulted him by making these critiques on national television instead of going directly to him.
In that sense, both parties are right in one sense or another.
No matter which side you take, these issues need to be cleared up.
Anthony wants a relationship with Jackson that includes open lines of communication. Jackson wants Anthony to improve upon what he perceives to be self-imposed limitations.
The best thing that the Knicks could possibly do is get both men in the same room and open those lines of communication.
Until Jackson and Anthony speak directly to one another about this issue, one can't help but feel as though it will continue to grow into something even more unnecessarily damaging than it already has.
This article originally appeared on