NBA Rumors: Wolves Not Ready To Trade Ricky Rubio…Yet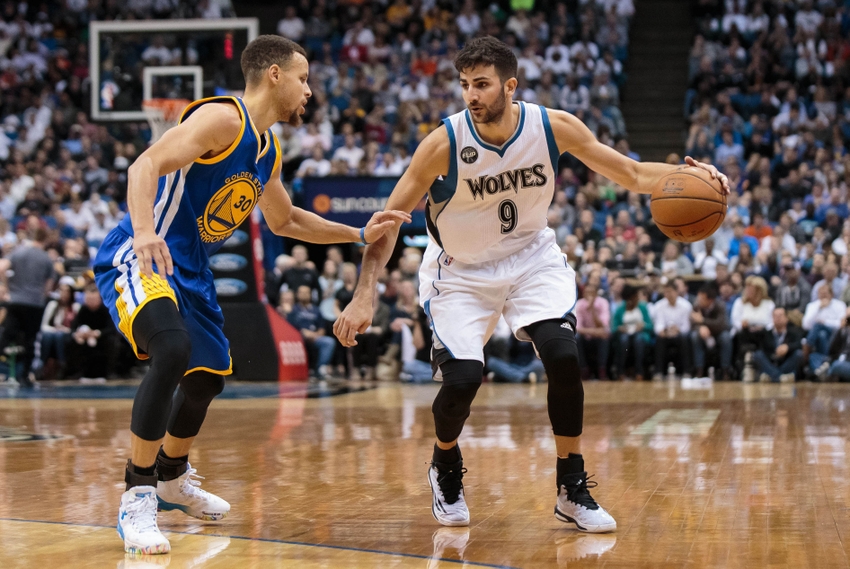 NBA Rumors: The Minnesota Timberwolves may not be ready to trade Ricky Rubio, but that could change rather quickly this season
There's one thing we know about the Minnesota Timberwolves right now – that they're not willing/ready to trade Ricky Rubio.
Not yet, at least.
And by the sound of what's transpiring in Minnesota, that sentiment could change rather quickly. According to Yahoo's Adrian Wojnarowksi, Wolves head coach Tom Thibodeau has been holding off on trading Rubio for the moment, mostly because he doesn't believe Kris Dunn, the Wolves' 2016 first-round pick, isn't ready to take over the offense.
More from Sir Charles In Charge
Though, Thibs believes that Dunn will be the team's full-time starter roughly 20 games into the season. If that's indeed how he feels, you have to believe that trading Rubio could very well take place this season.
[via Yahoo]

Minnesota president and coach Tom Thibodeau is reluctant to move Rubio – outside of bringing back a no-brainer package, of course – until Dunn's progress illustrates this season that he's ready to fully take over the team.

Thibodeau doesn't anticipate Dunn becoming the starter until approximately 20 games into the regular season, league sources said.
As expected, Woj notes that the Sacramento Kings have been the one team that has shown the most interest in potentially acquiring Rubio from the Wolves. Problem is, I'm not exactly sure what the Kings have to give up that would appeal to the Wolves.
Sacramento has been rumored to be shopping Ben McLemore and Rudy Gay. Though, I'm not sure either of those two players does anything for the Wolves.
The expectation, you think, is that the Wolves will probably begin to seriously discuss the possibility of moving Rubio around December. Not only will it give Dunn time to mature and master the offense, but that's also around the time when players who signed contracts this summer can be moved.
For a team that will be looking for the best deal possible, that has to at the very least play a decent role in internal discussions.
This article originally appeared on