Memphis Grizzlies: Vince Carter Continues To Be Amazing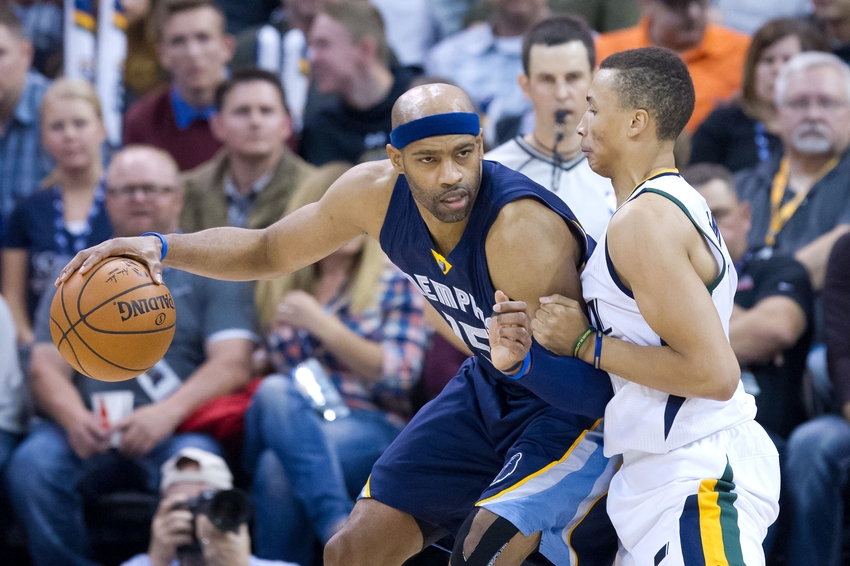 Coming into Memphis Grizzlies training camp, it seemed like Vince Carter was just about washed up. As it turns out, you don't sleep on Vinsanity.
Before there was Vince Carter, Memphis Grizzlies' veteran, there was Vinsanity, Half-Man/Half-Amazing. Every basketball fan in Canada in the late 1990s and early 2000s loved Vince Carter.
The North Carolina product made the Toronto Raptors relevant and an exciting watch on a nightly basis.
Carter was one of the most famed Slam Dunk Contest champions thanks to a spectacular performance in the 2000 edition.
He was renowned for dunking over (literally, cleared over the top of) 7'2″ French center Frederic Weis in the 2000 Olympics.
See below if you are skeptical or somehow just don't remember.
Vince Carter was one of the biggest stars in the NBA for the first decade of his career. Between 1998 and 2009, he averaged 23.5 points per game and was one of the most exciting players every single night for both the Toronto Raptors and the New Jersey Nets.
After 2009, Carter found a way to mold his play into the role his teams needed. For the Orlando Magic, Phoenix Suns and Dallas Mavericks, he transformed into an effective second or third scoring option and was a complimentary piece on both rosters.
From 2009-14, he averaged 13.3 points, playing 27 minutes per game while starting just 180 of the 371 games he appeared in.
Carter adapted better than most stars who fade into a supporting role (or should fade into a supporting role and don't) as age sets in. He has avoided significant injuries during his 18-year career, only playing fewer than 66 games in non-strike or lockout seasons twice.
While he adapted well and changed as the conditions required, it looked for all intents and purposes like he was just about done before this season began.
He signed a three-year deal worth $12 million with the Memphis Grizzlies before the 2014-15 season began and things went about as well as you would expect for a 37- and 38-year-old NBA veteran.
Over the course of his first two seasons with the Memphis Grizzlies, he appeared in 126 games, starting just four of them. He scored 6.2 points in 16 minutes per appearance and he shot at a poor rate of 35.8 percent from the floor.
Coming into training camp before this season started, it seemed like maybe it was just time. After all, how much could a 39-year-old Vince Carter possibly have in the tank? Surely by now he is completely washed up.
You could be forgiven for thinking that. It turns out this legend isn't going away so easily.
Carter has gotten off to an impressive start this season. Maybe even impressive enough to cause long-time fans to have flashbacks to a time when he was among the most electrifying basketball players on the planet.
Carter is scoring 10.4 points per game this season, which isn't an impressive total at a glance. However, he has scored 17 or more points four times already, and he's scored 20 points in two of the Memphis Grizzlies' last three games.
Suddenly, Vince Carter has become perhaps the most efficient version of himself.
If the season ended today, Carter would have a career-high shooting percentage of 47.4 percent and a matching career-high true shooting percentage of 60.5 percent. He has a positive net rating of plus-1.6 when he's on the floor, and he has played an average of 30 minutes per game in his last four appearances.
Over that stretch, he's averaging 17 points and four rebounds per game while shooting a sparking 55.6 percent from the floor.
Carter is posting both a positive offensive and defensive box plus minus, with 2.2 and 0.9 respectively. In his 18th season, he's posting an above-league-average PER of 15.5.
In addition, while he will be forever known for his explosive dunks, just two of his field goals this year have been dunks. Rather, 4.5 of his 7.8 attempts per game have been from behind the three-point line, from where he's hitting 35.6 percent.
Carter has scored his 104 points in just 94 possessions, which works out to 1.106 points per possession and ranks him in the 89th percentile for overall offense.
He has also become a plus defender as indicated by that positive DBPM. When playing man defense, Carter has allowed just 47 points in 71 possessions. That puts him firmly in elite company in the 92nd percentile for total defense.
To break that down further, he's giving up just 22 points in 27 possessions when his man takes a spot up jumper, and he has yielded a mere 10 points in 29 possessions when guarding an isolation or the ball handler in the pick-and-roll.
In the twilight of Vince Carter's career, he has become the quintessential three-and-D guy, a crafty veteran who has seen and done it all and has much more left in the tank than anybody could have imagined even a month ago.
While many NBA players who get to leave the game at a time of their own choosing may overstay their welcome, it appears Vinsanity himself is not as close to being done as we once thought.
This article originally appeared on