Brandon Jennings: Thriving Back In The Spotlight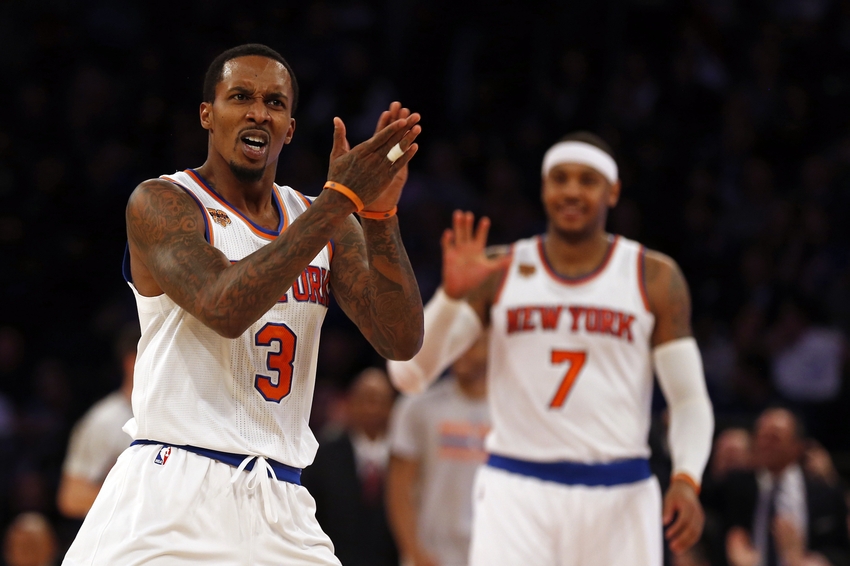 In his first season with the New York Knicks, Brandon Jennings has proven himself as a teammate and above-average sixth man.
The New York Knicks' acquisition of Brandon Jennings was more of an experiment than big-time free agent triumph.
Coming into this season, the New York Knicks completely overhauled their roster. After bringing in Derrick Rose and Joakim Noah, New York looked like it could make the playoffs for the first time since 2013-14.
The Knicks' signing of former lottery pick Jennings didn't make waves, nor should it have. After all, Jennings was basically an injury-plagued cast-off whose best years were behind him.
Jennings, who was once the Milwaukee Bucks leading scorer in back-to-back seasons, was out of the spotlight in 2015-16. In a year which was split between the Pistons and Magic, Jennings averaged career lows in points and minutes.
Despite never making an All-Star team in his career, Jennings was always considered a star. In his four seasons with Milwaukee, he averaged 17 points per game and led the Bucks to two playoff appearances.
Prior to he 2013-14 season, Jennings signed a contract with the Pistons worth more than $25 million. 
Injuries played a huge role in Jennings eventual decline. Sidelined for the entire second half of the 2014-15 season and part of 2015-16 with a ruptured Achilles tendon. When he came back in December 2015, he has become relegated to a bench role with the Pistons.
After only 23 games he was off to Orlando as part of the deal that brought Tobias Harris to Detroit.
Being reunited with former Bucks coach Scott Skiles in Orlando wasn't enough to get his career back on track. The Magic finished 11th in the East and Jennings shot only 36.6 percent in 25 games.
Brandon Jennings Thrives In The 'Big Apple'
Knicks president Phil Jackson took a flyer on Jennings, signing him to a one-year contract worth $5 million.
Great money sure, but not compared to some of the other contracts signed this offseason.
In fact, the largest contract in NBA history went to Mike Conley, whose numbers are actually worse than Jennings'. Conley's career points (13.7) and assists per game (5.7) fall short when compared to Jennings (15.9 and 5.9 respectively).
It's safe to say that the market was cool on Jennings in the offseason.
What he has done for New York in 2016-17 could prove as one of the biggest bargains of the much-maligned free agent class.
Playing in each of the Knicks' 20 games so far this season, Jennings has been a constant spark and steady hand off the bench. Playing behind Rose, Jennings has logged over 21 minutes per game.
Jennings has been a master distributor for the suddenly red-hot Knicks. Despite his bench role, he actually leads the team in assists per game, the only NBA reserve doing so.
The team performs better when Jennings is playing the role of facilitator. In contests where he has had seven or more assists, the Knicks have won six of seven games.
On defense, Jennings has also been above average. Completely re-energized playing in Madison Square Garden, he has brought energy and toughness to a team that has lacked in those areas. In addition to leading the Knicks in assists, Jennings also leads the team in steals per game.
Jennings has become a cult favorite in New York, he plays in a way New York fans can understand. In a sense, he is New York. Flashy and exciting, but at the same time tough and hard-nosed.
Jennings plays to the crowd at Madison Square Garden and the fans have reciprocated the love.
The 2016-17 Knicks still have work to do, they are two games below .500 at 9-11 on the season. What has been encouraging is that this team looks like they generally enjoy playing with each other. In the past few seasons, that was an area that New York definitely had lacked.
Brandon Jennings probably won't win NBA Sixth Man of the Year, not with Lou Williams and Jamal Crawford scoring like they currently are. However, he could earn himself a much bigger contract next season if he keeps playing self-less basketball and being a good teammate.
This article originally appeared on