A More Careful, Calculated Shot at Life from Stauskas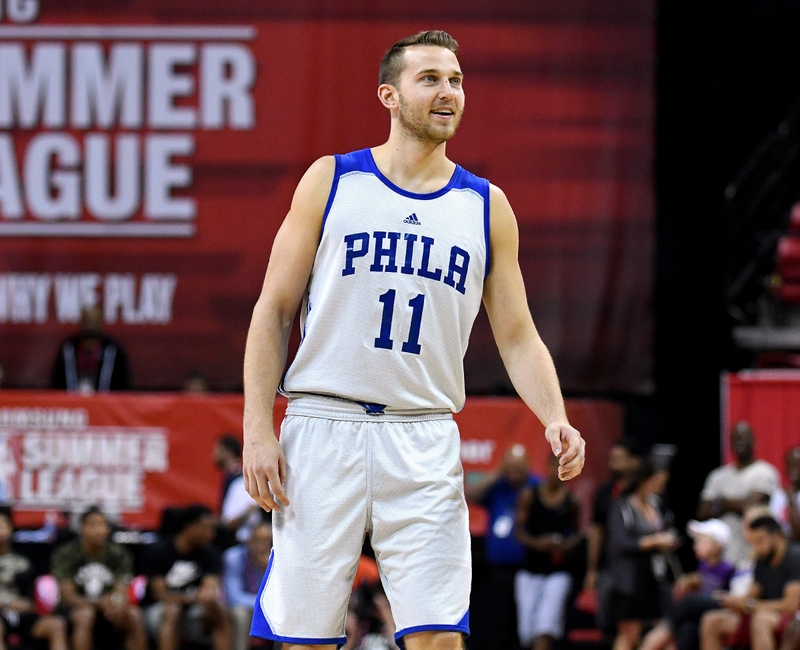 Philadelphia 76ers guard Nik Stauskas has had a stellar start to his third season in the league due to some mind adjustments made in the offseason.
In today's society, mental health is often not valued as highly as it should be. It seems like "therapist" is a bad and embarrassing word that we try to shove under a carpet sometimes.
For some people, though, therapy works. Unlocking parts of the mind that were previously hard to handle can be a really beneficial thing in almost anyone's life. Nik Stauskas put an emphasis on his mind this summer, which was a bit of a gamble on himself in the eyes of the basketball world.
Stauskas elected to not represent Team Canada in the Rio Olympics this summer. With his first two seasons in the NBA resulting in less than optimal overall performances, deciding to not even participate with his national team was a risky move. Teams that might have been looking to see more from him — including the Sixers — this summer weren't able to see it.
More from The Sixer Sense
During the Philadelphia 76ers' Summer League, Nik did play a few games, but he didn't put up performances that were worth talking about. He shot 35 percent from the floor and put up 11 points per game while playing nearly 30 minutes in the two games he appeared in.
So, his summer was clearly not filled with too much basketball. This was contrary to summers of other players such as Dario Saric, who first appeared in a qualifying tournament with Croatia, and then the Olympics, and then came right to training camp.
With that much time away from competitive basketball, despite the opportunity to play for Team Canada, one would think Stauskas wasted a summer. He didn't just take a vacation, though. His emphasis this offseason was on the mind part of basketball.
Through the first two seasons with Stauskas, a few things were clear. First off, he was not going to shine quite as brightly right away as he did in college. Second, he wasn't feeling good about his game. Every time Stauskas touched the ball, it just looked like the ball wouldn't go in based on the body language Stauskas carried himself with.
He wasn't confident, and he knew that. So instead of moping more, he went out to fix it by hiring a sports psychologist.
Before you knock it, know that many other players in the NBA — Ben Simmons included — have done the same thing. Players have realized that just as important as keeping their body in check is keeping their mind sharp. That's the new wave. Being an NBA player is so much more than just 82 games of 48 minutes. It's an entire lifestyle.
Speaking to Keith Pompey about the new strategy, Stauskas had this to say:
Every player out there is going to have some negative thoughts going through their mind… But it's just being able to choose which thoughts you want to focus on more. And if you don't have discipline to choose which thoughts you can focus on, then sometimes it's going to mess you up a little bit.
Nik has been seeing a specialist since at least September, and it's clear that the techniques he's learning are working in game. It makes sense that this was really the last piece of the puzzle to come through for Nik. The skills — shooting, getting open, and cutting towards the rim — were always there for Nik. It was the confidence that was missing.
So far this season Stauskas is averaging 40 percent shooting from the 3-point zone and 53 percent from the field, scoring 9.3 points per game.
What we see that's more important, is the fact that Nik seems to know his game a bit better this season. We've seen him take a few more drives to the hoop and a few less 3-pointers this year. Personally, I like the new Stauskas. Nothing he has done has really stuck out like a sore thumb as to say, "I don't fit with this group of players," and what he has been able to do is up the intensity for the team.
Stauksas has hit the rim with confidence, and taken less 3-pointers that he knows he won't make. His decision making this season is much better than in his first two years in the league.
It's hard for me to rationalize why people would complain about a player who so clearly knows his niche and what he's good at, but some just aren't content with a Stausaks that doesn't solely patrol the arc and only shoot 3-pointers.
But that's all okay. If you're ragging on Stauskas' play this season, he doesn't care. He told Pompey that he stopped caring what people think — or at least is attempting to — in all of this sport psychology process. Maybe that was the big issue — being unable to filter out he noise. Whatever it was, it's working now that he's fixed it.
I think we all could take a lesson from Nik. There's a huge emphasis in today's world on eating right and getting to the gym, but above all, let's make sure our minds are in the right place. It's a pretty solid initiative from Nik, I would say.
This article originally appeared on