With McConnell Struggling, Cat Barber Looks Like Better Option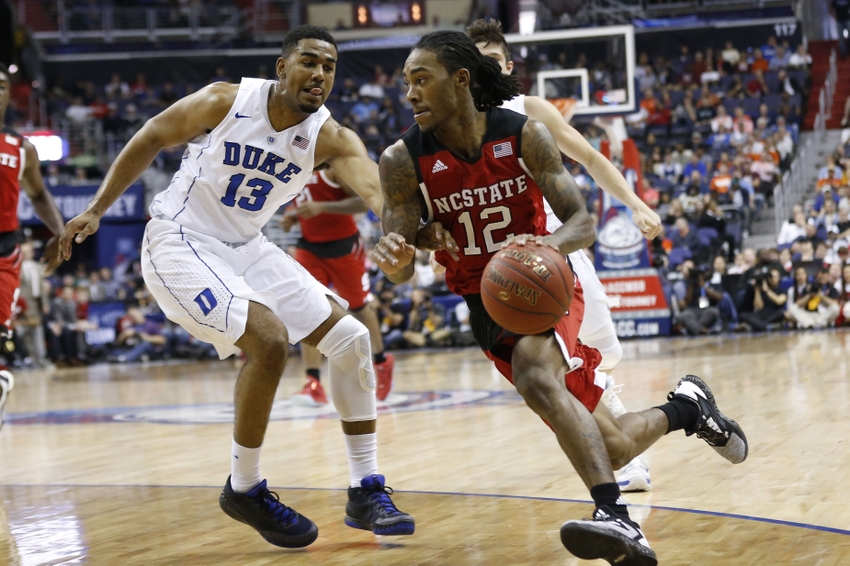 With T.J. McConnell struggling to keep up as the Philadelphia 76ers' backup point guard, it's looking more and more like undrafted rookie Cat Barber may have been the better option.
The Philadelphia 76ers and fans alike were largely optimistic of T.J. McConnell's chances of improving during his second campaign with the team.  You see, the undrafted rookie out of Arizona had been a pleasant surprise on a guard-deprived unit last season. Some even pointed to McConnell as the better starting point guard option in comparison to Sergio Rodriguez.  Many thought his defensive hustle and offensive savvy combine into the  two-way presence on the outside that head coach Brett Brown seeks .
That optimism, however, was relatively short-lived. McConnell has regressed tremendously so far this season.  It's looking more and more likely that he will be pushed further to the periphery of the rotation once Jerryd Bayless returns. That's where Cat Barber comes into play, as the rookie out of N.C. State–who some argued should have made the roster–looks like someone who could have produced more in the areas McConnell has struggled with.
The most pressing concern with McConnell has been his lack of efficiency offensively.  He struggles both at his 3-point and overall field goal percentages.  Both shots have dropped significantly in production thus far this season. So far this season, the team has  improved weapons around him.   The abundance of other scoring options should make it easier for him to find holes in the defense.  Where last season he hesitated by choice, this year his decline in from accuracy.
That is concerning.
McConnell has always been viewed as a defensive asset, but his inability to score this season has stagnated the offense on some possessions this year.  His role has evolved from a potential starter to a clear tertiary option at point guard when the full rotation is healthy.
McConnell is averaging just 4 points per game in 19 minutes of play.  Furthermore, he has shot a worrisome 11 percent or hindrance to the bench's functionality at times.
Currently, the point guard spot scores less than hoped for.  Despite Rodriguez's keen eye for passing the ball, he simply has not delivered enough offense to create much of a scoring threat. The Spaniard can knock down shots from deep on occasion, but doesn't do much damage in that department. With neither of the main one guards in Philly's rotation putting up many points, defenses can game plan around that–a sizable weakness when considering the improvements the team has made elsewhere.
Barber could help fix a number of those problems. He needs time to fully develop his promising skills.  Meanwhile, he proved himself as an explosive scorer during his time with N.C. State. He's extremely light on his feet–thus the nickname Cat.  He also has the ability to penetrate the defense and find openings that McConnell can't exploit.
He must rework his finishing touch around the rim a bit heading up to the next level.  Still, Barber gets to the basket at will when desired.  Nor does he show any hesitancy to take contract in doing so. Philadelphia needs more scoring to stand alongside Embiid and Ilyasova as of late.  Barber is that someone off the bench who could act as an offensive spark plug.
When Jerryd Bayless' returns to the rotation, much of this will correct itself. But there's still reason to consider bringing up Barber. His upside resides much higher than that of McConnell given his superior athleticism, and his ability to score at such a high clip during short bursts could make him an ideal tertiary point guard, as opposed to McConnell's somewhat lackluster play thus far.
The Sixers assigned Barber to their D-League team, the Delaware 87ers, after signing him to a partially guaranteed deal during training camp, meaning he's easily accessible should Philadelphia choose to take that route.
This is still a team based in the future, and as of right now, McConnell's future utility seems to be wearing thin if he doesn't turn his play around fairly soon. With the current backup likely to see his minutes cut more once Bayless returns, there's not much against giving Barber a shot at the next level.
I wasn't all that high on Barber coming into the draft.  But he deserved a draft spot–something he didn't attain. Many NBA teams walked right on past him in the draft. Barber could use that to fuel a sizable chip on his shoulder as he tries to work himself into NBA relevance.
The Sixers aren't winning games.  While McConnell isn't the cause, he has failed to show up as the effective secondary point guard that was largely expected coming into the season. It's time to mix up the rotation a bit and give Barber a real chance.
More from The Sixer Sense
This article originally appeared on