Why LeBron James Is Right To Refuse A Meeting With Phil Jackson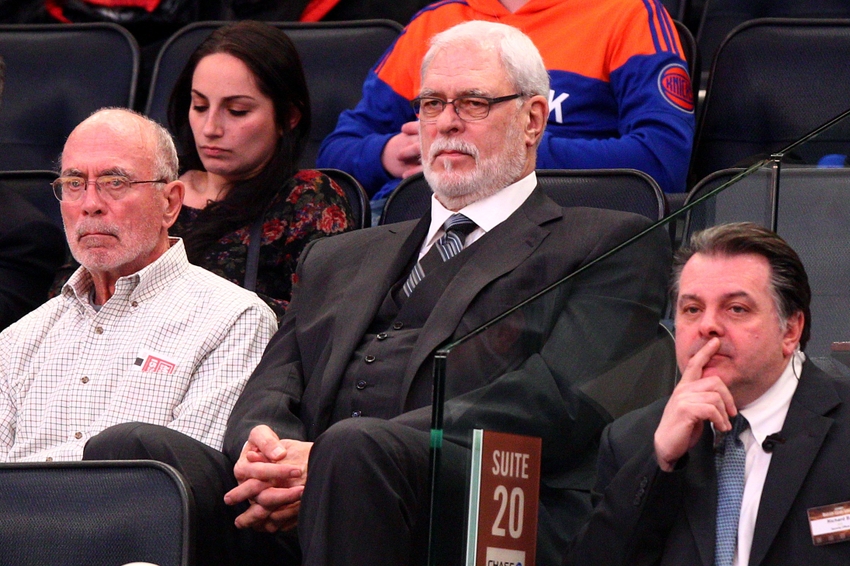 LeBron Janes said he won't meet with Phil Jackson and he's right not to.
After Phil Jackson called out LeBron James in an interview with ESPN's Jackie MacMullan, and James fired back, James doesn't have any intentions of meeting with Jackson to discuss his recent comments. He shouldn't. What Jackson said isn't enough to run a man's entire reputation into the ground but it was more than a careless mistake. Jackson, who isn't one of the notable NBA figures in James' circle, was speaking from the outside looking in. From his perception, which is literally the lens in which he looks through life, Jackson looked at James, his success and the success of his friends and called them a "posse".
The term "posse" may not have to strike anyone as incredibly demeaning. They don't have to know that the dictionary definition of "posse", which James cited. The definition of "posse" could have ambiguous connotations, such as the Merriam-Webster dictionary definition of a "posse" as a "large group often with a common interest". James friends and himself do seem to all be interested in achieving a certain baseline of goals on personal and professional levels.
Even Jackson would retweet one Clarence Gains in an attempt to change the perception of what he said as demeaning terminology.
Yet, as the New York Times correctly pointed out, the meaning of the word "posse" has a different meaning in a dictionary than it does when applied to the culture. Now, it also simply means a celebrity's entourage, A group of people without individual success.
Jackson probably sent out the retweet thinking that nobody would find it weird he's saying that James having a worthy and positive organization of people that he wanted to be treated specially was the start of anarchy in Miami. Jackson also probably sent out this retweet believing that people wouldn't reference his 2004 book, The Last Season. Yet, even twelve years ago Jackson had shown that his belief of the word "posse" wasn't truly a benign comment.
"Yet as talented as (LeBron James) definitely appears to be, I don't believe any nineteen-year-old should be playing in the NBA. These young men grow so dependent on their posse's, who fetch their cars and their girls, that they can't possibly develop into mature, self-sufficient human beings. One day, I'm convinced, we'll find out the true extent of the psychological damage that's been caused."
Jackson's original comment to MacMullan wasn't a case of a president of basketball operations pining for his players. He barely answered the question MacMullan asked him at all. This was a case of Jackson accusing James of undermining Pat Riley and the Heat's wishes, or at least attempting to. It was an explanation of why Dwyane Wade would feel inclined to leave Miami, as if James had shown Wade that he could stand up to Riley and ask to be paid, no treated, like a player of his stature should be treated. It was a derogatory statement that Jackson made to belittle the significance of the people around James. James' closest friends and most-trusted business associates.
Like Detroit Pistons head coach Stan Van Gundy said, he never found himself using the word posse unless he was using the word in connection with the people that hung around his black players. It, like James said, shows how far African-Americans have to go to be respected for their accomplishments.
James doesn't feel personally attacked but as an African-American male, a leader in the community and one of the premier role models (one of the reasons he and Tiger Woods are the only two players to be named Sportsperson of the Year twice), he has to make a stand for the people who aren't in the spotlight. People like his friends and business partners exist everywhere and too often are perceived as less than the successful individual's they are, dismissed even.
James' message is clear. African-Americans shouldn't be dismissed simply because of the color of their skin. African-Americans, who have shown the ability to overcome adversity throughout American history, shouldn't be dismissed at all.
He has a right to make a stance for the dismissed African-Americans gearing their way towards success. Especially given Jackson's lack of acknowledgment that he was wrong to use the word posse in what was a derogatory statement to James and many others, James is right not to meet with Jackson at all. While building bridges across divides is important for social activism, so is acknowledging wrongs.
More from King James Gospel
This article originally appeared on