Which Nets Are Playing Up to Their Contract This Season?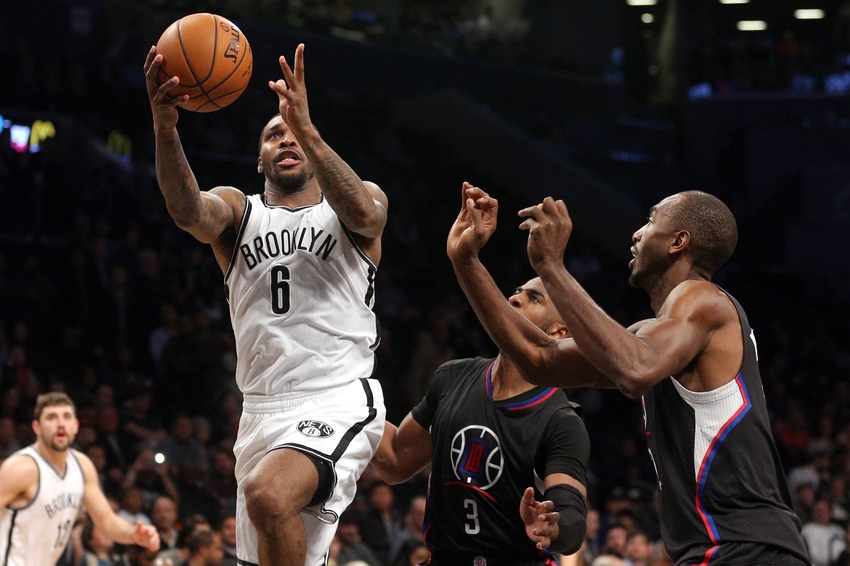 The Brooklyn Nets' current roster only includes four players from the 2015-16 season. Despite the Nets' 5-14 record to start the 2016-17 season, many of Sean Marks' free agent signings have proven to be good value.
When Mikhail Prokorov decided to go in a different direction with the Brooklyn Nets' front office, it brought about a new vision for the organization. Sean Marks and company made some big moves from the start by bringing in new head coach, Kenny Atkinson, and trading away the team's second best player, Thaddeus Young.
Want your voice heard? Join the Nothin' But Nets team!
The Nets essentially had a blank slate going into free agency with the exception of tenured star Brook Lopez. The front office threw some big offer sheets at previously touted role players such as Allen Crabbe and Tyler Johnson, but both offers were matched, resulting in the Nets not spending a lot of money in total last summer.
Right from the opening tip in Boston, it became clear that Marks snagged players in free agency who had one valuable trait: the ability to shoot the three ball. Players who had never played consistent rotation minutes before were all of a sudden getting the green light to fire away to show their worth.
Brooklyn is shooting 35.2 three-pointers per contest, which is a rate that is top 10 in the league. Every free agent signing has contributed to this statistic, but some are converting more then others.
More from Nothin' But Nets
Some free agent pickups have proven to be failures at this point in the season, while some have shown that they have a future in the NBA. The Nets' biggest free agent signing, Jeremy Lin, has had little opportunity to play up to his $36 million contract, as he has been injured for well over hall of the season. However, considering Brooklyn's major struggles since his injury, Lin is arguably one of the most important players on the team.
With this roster overhaul, the question then must be asked is: of the Nets' eight new signings since the new regime took over, which players have played up to their contract?
Sean Kilpatrick
Perhaps Marks' best value pickup since taking over as general manager, Sean Kilpatrick is signed through next season. Over that time span, the Nets will only be paying him a minimum salary, which is an absolute steal for any team's sixth man.
Kilpatrick came to the Nets after bouncing around the league, including playing in a contest for the Timberwolves simply because he was in close proximity to where the game took place that night. Marks must have seen something in Kilpatrick after signing him to a 10-day contract last season, as he was quick to lock him up on a cheap three-year contract.
This season, the University of Cincinnati alum was named the Nets' primary scoring option off the bench. He has lived up to that role and his first long-term contract, as he is currently averaging 16.2 points per game on 42 percent shooting from the field. While it is still early in the season, this kind of stat line is almost unheard of for an undrafted player on a salary that is less then one million dollars.
His per-36 minute numbers are also impressive, as he is averaging 21.4 points per game, which is good for second highest on the team, as well as 6.4 rebounds per contest.
Kilpatrick has also shown the ability to take over a game on the offensive side of the ball. He headed the charge for a Nets' comeback in their most impressive win of the season against the Los Angeles Clippers. The 6-foot-4 guard poured on a career-high 38 points in the victory.
These traits, combined with the huge offensive spark he provides off the bench, are what make Kilpatrick's contract one of the friendliest in the NBA.
Joe Harris
Joe Harris had only knocked down 32 three-pointers in his first two years in the league, where he mostly stuck to the bench for a contending Cleveland Cavaliers team. As a result, not a lot of teams paid him much mind when he hit the free agent market in July. The Nets' front office was then able swoop in and sign him on two-year minimum contract. Taking a chance on Harris made sense, as he excels in the one thing Marks and Atkinson value most: three-point shooting.
As the season began, Harris received consistent rotation minutes and has proven to be a valuable commodity off the bench. He has scored more points in his first 19 games with the Nets (183) then he did in two seasons with the Cavs (139).
He has clearly received the green light to fire away from behind the arc, as he is attempting a whopping 5.1 threes per contest. While Harris doesn't have the ability to take over a game like Kilpatrick has shown, he is still more than a good value for his shooting ability alone. Simply put, a sub one million dollar contract for a three-point specialist in today's NBA is an asset that any team would welcome.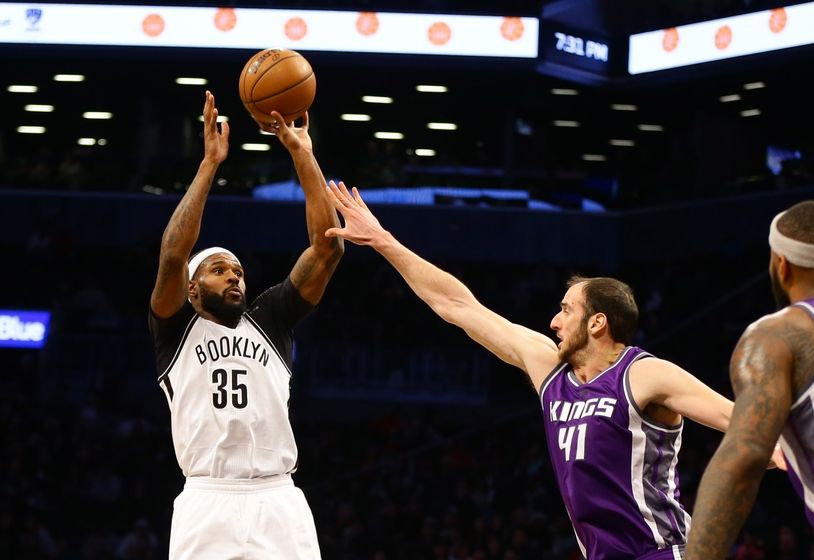 Trevor Booker
After coming off the bench for nearly six seasons, Trevor Booker has taken full advantage of his first starting role in the NBA. He averages 10.4 points per game and 8.3 rebounds a contest but has truly excelled in parts of the game that don't show up on stat sheets.
Almost every possession, fans will see Booker diving for every loose ball and fighting for every rebound even when his teammates may have already given up hope in a game. Booker has clearly not taken one cent of his $18 million contract for granted while proving that he can be a reliable energy big for the Nets.
As the salary cap continues to increase next summer, Booker's contract will look even more valuable while ultimately take up a smaller percentage of the Nets' cap. While he may not be a starter in the league long term, Booker has shown through his work ethic that he deserved a raise this past offseason.
This article originally appeared on