Where the Thunder Rank: Week 2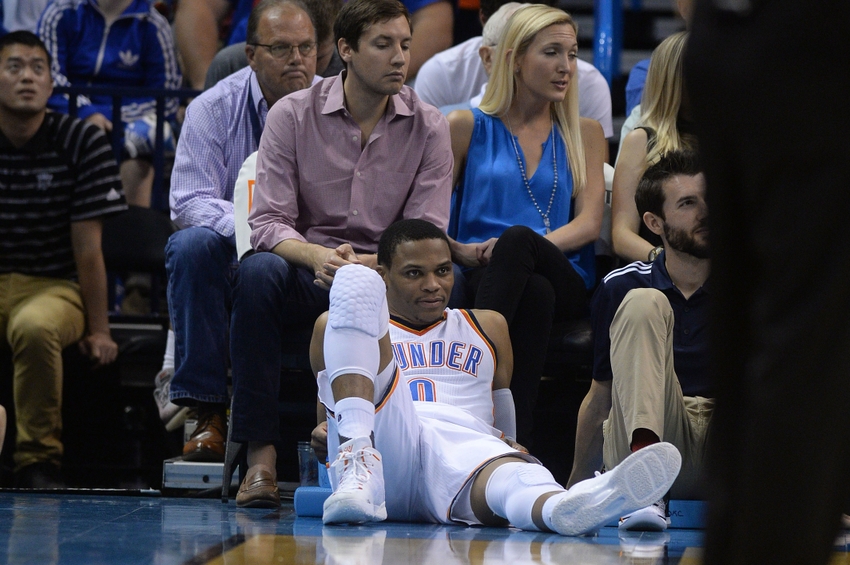 The second week of the NBA is in the books and the Thunder sit at the top of the Western Conference.
The Thunder finish the second week of the season 2-1 with wins against the Minnesota Timberwolves and the LA Clippers. Then there was their loss, but we won't go there.
So how do the Thunder rank after a second solid week?
Marc Stein of ESPN was impressed enough to move them up seven spots in his rankings, all the way up to number five.
After averaging 38.7 points, 12.0 rebounds and 11.7 assists in the Thunder's 3-0 start to snag Western Conference Player of the Week honors, Russell Westbrook saw his Week 2 numbers recede to something closer to mortal levels: 27.7 points, 6.0 boards and 7.7 assists. But fear not. An eventful Week 3 looms for Angry Russ and OKC, with DeMar DeRozan and the Raptors visiting Wednesday in a showdown of the league's top scorers, followed by Westbrook's 28th birthday on the eve of Devin Booker's visit Sunday.
Want your voice heard? Join the Thunderous Intentions team!
Matt Moore of CBS had a similar feeling to Stein and moved OKC up eight spots to number five as well.
They jump 10 because they are tied for the best record in the West, even after the massacre at Oracle. That was a back-to-back loss vs. a top team, the very definition of a schedule loss. Meanwhile they have a quality win vs. the Clippers, and guys like Victor Oladipo are settling in. I'm not sold on them, but by golly, I respect the resume.
More from Thunderous Intentions
John Schuhmann of NBA.com gives us a full consensus also slotting the Thunder at number five.
Pace: 104.1 (4) OffRtg: 97.1 (25) DefRtg: 95.2 (4) NetRtg:+1.9 (11)

Thursday's loss in Oakland, with Kevin Durant dropping 39 on his old team, was certainly humbling. But the bottom line is that the Thunder earned a split in a tough, road back-to-back against the Clippers and Warriors. The win over L.A. and Saturday's win over the Wolves (who ranked seventh offensively entering the game) give credence to the legitimacy of their defense. Last season, their starting lineup was the defensive unit. It's early, but this season, the starters have allowed 101.2 points per 100 possessions, while all other lineups have allowed just 93.4.
The Thunder have a four game homestand this week that includes; Miami Heat, Toronto Raptors, Los Angeles Clippers, and Orlando Magic. I will see you back here next week to tell you how people think they did.
This article originally appeared on