Westbrook, Thunder Blow Out Brooklyn to Push Record to 8-5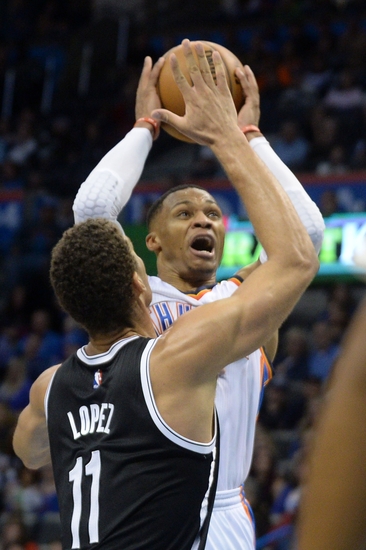 The Thunder were able to outlast a hot start from Brooklyn, defeating the Nets at the Peake on Friday night 124-105 improving to 8-5 on the young season.
What more can you say? Even Jeremy Lin couldn't believe what he was seeing. Russell Westbrook is a one-man basketball show. Russ put up yet another triple-double, needing only 25 minutes to get to his fourth triple-double in 13 games on the season.
Tonight was perhaps his most efficient night of the year, as he finished with 30 points on 13-21 shooting with 11 boards and 13 dimes. He looked completely in control the entire night, didn't force a single shot, and he put on a clinic from start to finish, as he also only turned the ball over 3 times. In a masterful, MVP caliber season, tonight was my favorite Westbrook game to date.
Westbrook is clearly Batman, and it's becoming more and more apparent that Victor Oladipo is Robin. Dipo finished with 26 points with 6 assists and 5 rebounds. He shot 11-17 from the floor and 3-6 from behind the arc. As the season progresses, Victor is looking more and more comfortable with his role in the Thunder offense. It's becoming clearer that playing next to Russ is paying dividends for the fourth year man. He's looking more and more confident by the game.
Want your voice heard? Join the Thunderous Intentions team!
Billy Donovan continued tinkering with his lineup configurations and we saw a few new looks again tonight. Unfortunately, Semaj Christon was forced from the game in the third quarter and was apparently being checked for a concussion, despite it looking like a lower body injury. Losing Christon could be a major blow to the already thin Thunder bench. Donovan also staggered Westbrook and Dipo in a very effective way tonight, as Dipo picked up a considerable amount of minutes as the point guard when Russ was resting.
Three players came off the pine and put up double-digit points for the Thunder; Alex Abrines put up 10 (on an inefficient 4-10, 2-7 from deep), Joffrey Lauvergne had 13 on 6-9, and Enes Kanter made the most of his limited run tonight, putting up 13 points in 13 minutes. Lauvergne especially played well tonight.
This one wasn't all easy for the Thunder, as the Nets led by double figures at one point, paced by an unreal start for the Nets, fueled particularly by the sweet shooting stroke of Brook Lopez?
Wait, what?
Brook Lopez, who finished with 22 points, got off to an incredibly hot start, hitting 4 threes in the first quarter. Ultimately, this proved to be a double-edged sword for the Nets, as Lopez also only corralled 4 rebounds, and the Nets as a team were out-rebounded by 16.
The Thunder would finish the evening 49-89 from the field, good for 55.1%, and 23 of those 49 made shots came off an assist. They moved the ball really well all evening, and the play of the year (to me) came in the first quarter when Victor Oladipo delivered a behind-the-back pass to Russ, who immediately fired a no-look bullet to Roberson for an easy bucket at the rim. Later on, Russ hit a back-cutting Dipo for a vicious alley-oop.
More from Thunderous Intentions
On the flip side, the Thunder were able to outlast the hot start by Brooklyn, holding them to 35-83 (42.2%) from the floor. The Nets also only had 6 fast break points (OKC had 18), and the Thunder outscored the Nets 62-42 in the paint, 15 of which came from Steven Adams, who did typical Steven Adams things, like getting into a mini confrontation with Trevor Booker.
But, seriously, this one was all about Russell Westbrook, so here's two more fun facts about the ridiculous season he's having. Russ currently has 4 triple-doubles, the rest of the NBA has 5 (3 of which are from former Thunder Buddy James Harden). Russ currently has 8 games with 30+ points, 7+ rebounds, and 7+ assists. The rest of the NBA has 6 of those. Just stop it.
But seriously, don't ever stop, Russ.
This article originally appeared on