Washington Wizards Three Takeaways: Wizards Meet Rock Bottom In Philadelphia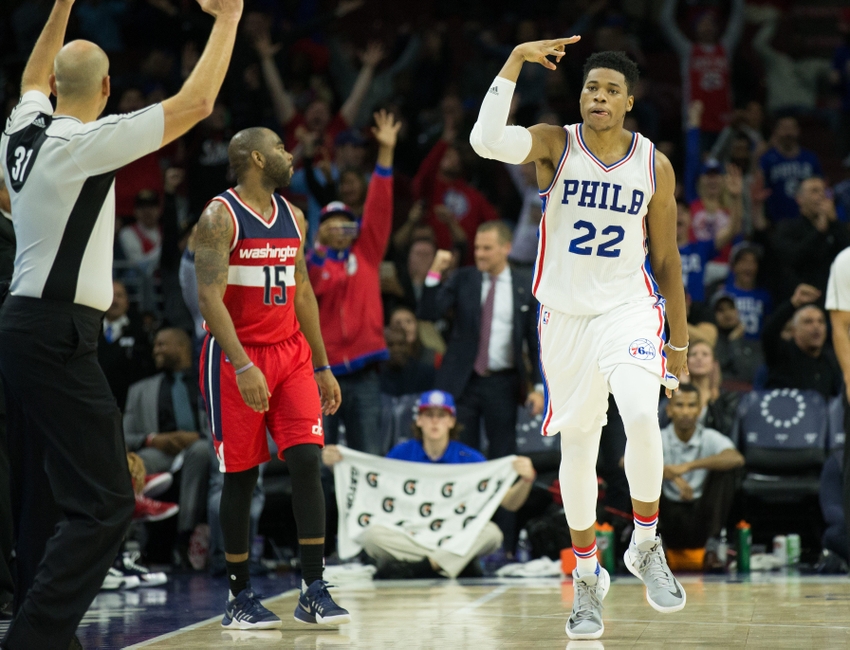 Washington Wizards hoped to gain some momentum against the Philadelphia 76ers on Wednesday night, but instead hit rock bottom.
Prior to Wednesday night's game, both Bradley Beal and Marcin Gortat blamed some of their teammates for the Washington Wizards' abysmal record.
Beal warned "those players who don't show up will sit out games." Ironically, Beal missed his third straight contest with a minor hamstring injury.
Gortat threw the second unit under the bus, calling them "one of the worst benches in the league"
Washington – record aside – has been miserable. The team seems to lack chemistry and the leadership has failed.
It's almost as if the team is accidentally tanking. And on Wednesday, that's exactly what the Wizards did, losing to the historically bad Philadelphia 76ers, 109-102.
Wizards forgot they had a game
Thematically this season, the Washington Wizards have lost winnable games because they ran out of gas. Against the Sixers, the team started on empty.
Despite three days off, the Wizards looked sluggish and the Sixers took advantage early.
It was as if they sleepwalked through the first quarter and didn't wake up until after the half.
Markieff Morris got in very early foul trouble, committing back-to-back fouls in the first minute of the game.
Andrew Nicholson came in for Morris. Philly took advantage of Morris' absence and Nicholson's presence.
The Wizards' defense was nonexistent, allowing the Sixers, the worst team in the league, to shoot over 60 percent in the first quarter.
Count on Keef
One player who doesn't appear to run out of gas, besides Wall, and who starts and finishes the game with a sense of urgency, is Markieff Morris.
Although, Morris was in foul trouble, he played fearless and left everything on the floor.
Morris tried to will the Wizards to a win.
He hustled, hit numerous 3-point shots in the third quarter and was often the only one displaying constant effort. Morris finished the game with 19 points.
Without Wall, the Wizards fall
Hoping to start playing back-to-back games, Wall only played 24 minutes against the Sixers. He played just 7 minutes in the first half.
Somehow, he still managed to carry the team.
Wall ended the game with 27 points, which accounts for more than 1 point for every single minute played (I'm a math wizard, obviously).
When Wall wasn't on the floor, the team looked discombobulated, as they usually do when he's taking a breather.
Washington will return home to face the New York Knicks on Thursday.
This article originally appeared on