Washington Wizards Are Entering Make or Break Stretch of 2016-17 NBA Season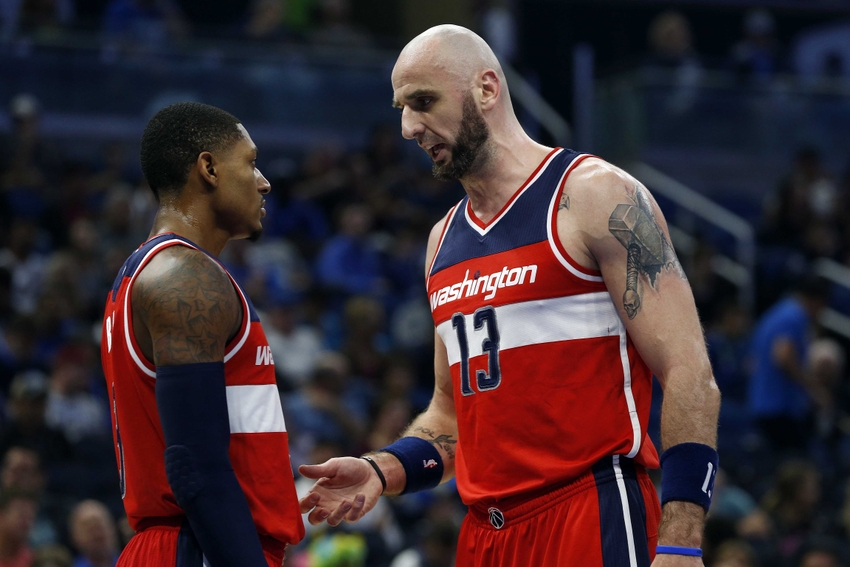 Washington Wizards need their max contract shooting guard, Bradley Beal, to step up before the team slips into a deep hole.
The Washington Wizards are on the precipice of a defining stretch in the schedule – one that could determine if this team has playoff potential or is more likely to be lottery bound.
That may sound like a strong statement for early regular season basketball, but at 1-5 and near the bottom of the Eastern Conference, this may not be the ideal time to have in order, the Boston Celtics, Cleveland Cavaliers and Chicago Bulls on the schedule.
A slow start to the season can quickly go from bad to worse if Washington isn't careful and before Thanksgiving weekend hits, fans may be more worried about the future of this team than the present.
How Washington navigates through this difficult part of the schedule and what they look like as a result will come down in large part to the play of their newly minted shooting guard, Bradley Beal.
One half of the self-anointed leaders of the Washington Wizards, the onus is now on the co-Alpha to start living up to his billing and elevate his play and the play of those around him.
Ironically, this stretch began with Beal facing off against James Harden, a player who will long be link to the Wizards as it was reported in 2012 that Washington had turned down an offer of Harden for Beal and his then-teammate, Chris Singleton.
Harden has moved on since that point, turning into a MVP caliber player and leading the Houston Rockets to the Western Conference Finals in 2015.
His stat-line this year is an other-worldly 31.6 points, 12.7 assists and 7.1 rebounds per game with a PER of 34.45.
Harden scored 32 points and dished out 15 assists against the Wizards on Monday night.
Beal, on the other hand, has had his moments, including stellar play for a player of his age in the postseason.
In his first playoff appearance in the 2014 postseason, Beal became the first player since Magic Johnson in 1980 to score at least 25 points in three playoff games before the age of 21.
He followed it up with yet another outstanding showing in the 2015 postseason, averaging 23.4 points, 5.5 rebounds and 4.6 assists per game.
Beal was decisive and played with a temperament that in each instance led fans to believe that he was on the cusp of a doing something special in the NBA.
Unfortunately for Washington, those playoff performances have not been the launching point for regular season success.
Although there are several factors this can be attributed to (among them injuries), at 23-years-old and now in his fifth year in the league, the time is now.
Beal is averaging 17.5 points but is only shooting 38.7 percent from the field and 30.3 percent from the 3-point line with a below league average PER (14.14).
After Washington's recent loss to the Orlando Magic, Beal had this to say:
"I think coach is pretty fed up with the way we're playing and I think he's going to start playing guys who want to play and guys who want to show up."
While Beal is justified in being fed up with the play of those around him, in particular the play of the bench, is it really appropriate for him to make this statement coming off a 6-17 shooting night where he only contributed 3 rebounds and 3 assists?
Where is the player who in John Wall's absence averaged 23.7 points, 7.3 assists and 4.7 rebounds during the 2015 postseason series against the Atlanta Hawks?
As a leader of the team, isn't the onus on Beal now to raise his level of play and the level of play of those around him before critiquing the play of others who aren't expected to or are overmatched when asked to handle the nightly burden of carrying this team?
Beal worked diligently this summer, bypassing an opportunity to play with the US Men's team in Rio to focus on his health, conditioning and building this skill-set to a point where he can fulfill the expectations that come along with a max level contract.
Beal worked with skills coach Drew Hanlen to improve his ball handling and playmaking skills in addition to shooting off the dribble.
The preseason seemed to validate the decision to bypass the Olympic team opportunity.
Beal played in 6 preseason contests, averaging approximately 24 minutes per game,15.3 points and 3.7 assists on 46.1 percent shooting from the field and 52.2 percent shooting from the 3 point line.
In their last game versus the Toronto Raptors, Beal displayed the playmaking side to his game with 9 assists and zero turnovers.
Then the regular season started and the Beal who has frustrated fans returned; the player who lacks the anger and decisiveness of Playoff Beal and also seems, at times, lost in his approach to the game.
The emphasis on ball handling and play-making has morphed into Beal overdribbling and/or turning down open shots for more contested looks.
We're only six games into the season and while it's early to make a conclusion on Beal, Washington doesn't have the luxury of waiting around if they want to make the NBA Playoffs.
The abysmal play of Washington's bench along with Wall's lack of availability for the back end of back-to-back games puts extra stress on the starters, and none more so than their max-contract shooting guard.
At 1-5, the Washington Wizards are staring down the barrel of a large early season hole. The "what if" continues to loom of Beal's head. In year five, it's time for production to equal Beal's talent and billing.
This article originally appeared on