Video Rewind: Warriors make magic on the break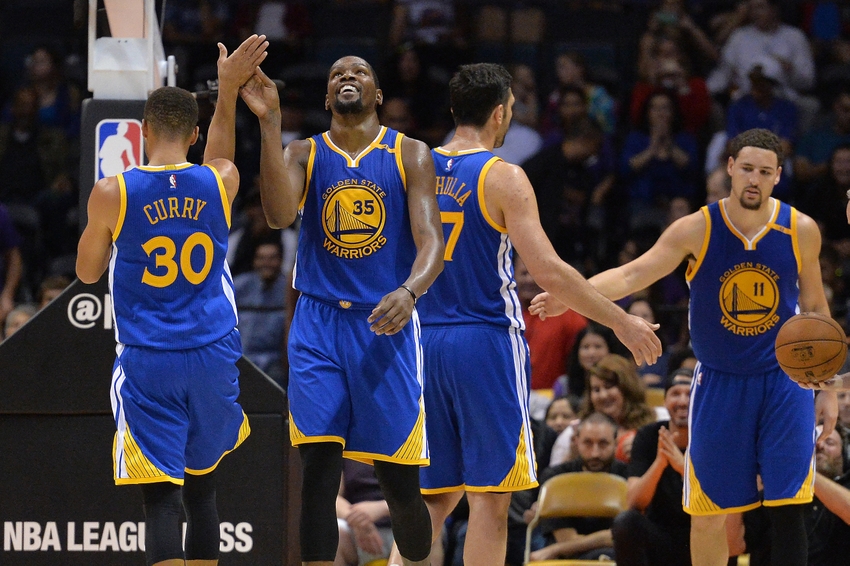 The Golden State Warriors, with Steph Curry, Klay Thompson, and Kevin Durant, made some magic on the fast break against the Lakers.
The Golden State Warriors were amazing on the fast break last year. They now have Kevin Durant. That makes them as close to unguardable as possible.
The Dubs have weapons all over the floor. They have guys that can drive and finish at the rim just as easily as they can pull up from 30 feet and drain a three in an opponent's face. They always have options.
The league's General Managers recently voted the Warriors as the most exciting team to watch. They've been must-see TV for years now. Adding Durant just increases that. They showed why they're the most exciting and deadly team in the league on Wednesday night against the Los Angeles Lakers.
This is such a fun play. First, Steph Curry picked off a pass. Then the Warriors were off to the races.
Curry, who had just completed a beautiful behind-the-back pass right before, went to it again. It was a little off target, but luckily Kevin Durant has great instincts, long arms, and huge hands. He turned and snatched the ball before it could go out of bounds. He lost his balance, but as he was going down, he found Klay Thompson on the wing.
He was wide open  for three. The pass was on the money and Thompson could step into his shot smoothly. He's not going to miss very many of those.
The Warriors are still learning how to play together. They also need to figure out how to not get too hung up on going for the big home run play. Curry's behind-the-back pass was off target and if it wasn't for Durant's great save, it would have been a turnover.
But it's preseason and they had a big lead over the Lakers. It's not that big of a deal. I won't ruin this one. I'm just going to enjoy it and get excited to see what else this team can come up with.
More from Blue Man Hoop
This article originally appeared on