How Utah's late collapse left the Jazz in a desperate situation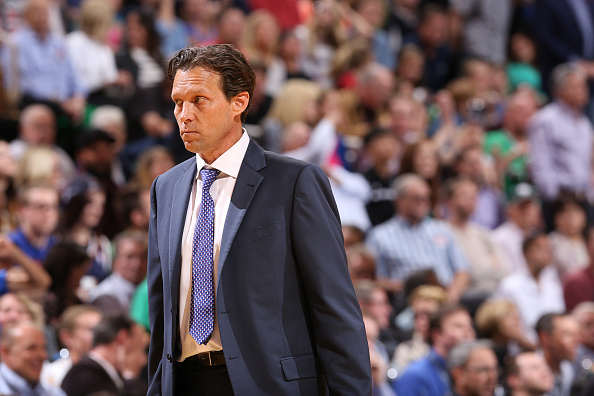 The Utah Jazz were supposed to make the playoffs this season. They ended the 2014-15 campaign with a historically-great defense and a bubbling cast of evolving talent that appeared more than ready to snag an eight seed, at the very least.
Unfortunately, the point guard situation was a question mark up until they traded for Shelvin Mack (yes, Shelvin Mack) at the trade deadline, and injuries to key players like Derrick Favors, Rudy Gobert and Alec Burks never allowed the Jazz to separate themselves from the bottom of the postseason standings like most figured they would.
But just about every other playoff team in the Western Conference has a health-related excuse to lean on. The Dallas Mavericks don't have Chandler Parsons, the Los Angeles Clippers missed Blake Griffin for over half the year and the Memphis Grizzlies have suffered more injuries to meaningful contributors than there are fingers on a hand.
The Jazz can still technically advance to their first postseason since 2012 if they beat the Los Angeles Lakers on Wednesday, then watch the Houston Rockets lose to the Sacramento Kings. But that feels like an unlikely scenario:
Utah should've beat the resting Clippers lineup at home Friday and not had to worry about it. https://t.co/77W7QBRX9k

— Brian Mahoney (@briancmahoney) April 12, 2016
How did the Jazz get here? They're one of the five best rebounding teams in the league, with a top-10 defense and several young studs who've shown serious growth throughout the year — rookie forward Trey Lyles has at times been a magic elixir, and second-year guard Rodney Hood looks like a star in the making.
Since the All-Star break, their defense has regained its form as a top-3 outfit, and the team's point differential ranks in the top 10. On paper, this is a playoff team.
But Utah's offense is a humongous problem. They operate in sludge, devoid of fast-break opportunities or timely assists, even though they move the ball a ton, generate corner threes and rarely isolate — and are effective when they do.
This isn't the DNA of an antiquated process, which leads us back to injuries and inexperience as something to blame; why Utah couldn't defend its home-court in a huge game Monday night against the Dallas Mavericks (via Deseret News):
"I think some days are diamonds and some days are stones. Tonight was no doubt a stone," Jazz forward Gordon Hayward said. "Tough way to lose for us." "This," echoed Jazz guard Rodney Hood, "is a tough one to lose."
"I just timed it real good. It helped that it was a white guy." — Dirk on his block of Jeff Withey

— Dwain Price (@DwainPrice) April 12, 2016
But Friday's loss against a Los Angeles Clippers team that didn't have Chris Paul, Griffin, DeAndre Jordan or J.J. Redick is inexcusable. Gordon Hayward (Utah's leading scorer) and Hood combined for 91 minutes in that one, and the Jazz still lost by three.
They're 40-41 heading into Wednesday night's finale against Kobe Bryant and the Lakers, and playoff odds aren't in their favor.
The Jazz haven't had much luck with health, but that hardly shields them from the weight of their preseason expectations. This team already has their core in place, and they're built to win now. Adding a point guard will help next year's squad — even if it's just a healthy Dante Exum — but Utah's inability to make the playoffs when they had a golden ticket staring them square in the face on Friday should really make the team's front office wonder which players on this year's roster are worth keeping around for next year's run.
The Jazz are quietly one of the most disappointing teams in the league.